3Doodler 2.0 hit Kickstarter and the initial goal of 30.000$ was reached in just 16 minutes (it's well above $300.000 as we write), showing clearly how much anticipation has built up around pioneering 3D printing technologies and this product in particular. The 3D printing pen will be funded on Sun, Jan 25 2015.
While 1.0 was somewhat bulky and limited in the sense of printing options it inspired stunning creations nonetheless, proving the endless possibilities that imagination can reach even with an experimental vehicle. 3Doodler allows people to "draw" real 3D objects in the air, by melting and extruding colored PLA or ABS plastic strips, without the need for CAD software.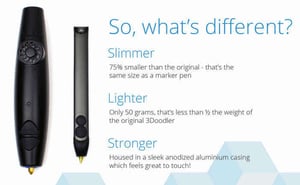 Drawing closer to perfection
The new and improved version promises to do a lot more: it features a sleek anodized aluminum case that is nice to feel and easier to handle. It is also 50% lighter and 75% thinner, allowing for a a more pleasant and accurate 3D drawing. The improved airflow allows for the dramatic decrease in size (no more over-sized fans) and a 50% decrease in the power consumption. The actual temperature values that the plastic raw material is heated at can now be set by the user for high optimization and fine tuning of the printed result. This setting combined with the new easy-to-use speed controls expands the abilities of the 3Doodle 2.0 and makes it more customizable and fit for every style or technique. Double clicking the buttons that control speed also triggers a continuous flow mode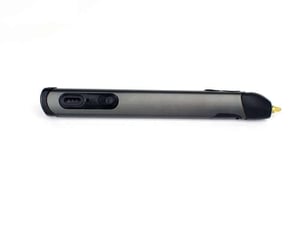 With a more efficient the pen can now 3D draw non-stop, without any pause due to overheating. The nozzle was also completely re-designed to allow for a more coherent and higher resolution material deposition, while the drive system, which feeds the plastic filament strips to the pen, was re-engineered for a smoother function.
3D Writing Accessories
With the new pen being upgraded in every sense, the topping of this cake is in the new set of accessories. There is now a portable power pack called "JetPack" that allows users to Doodle on the go for over 3 hours using PLA filaments and 2 hours with ABS material. Another very useful accessory is the activation foot pedal, that gives your fingers a break and makes printing of larger creations easier on the hand. The new replacement nozzle set includes of six different purposed nozzles that will expand the possibilities and enhance the result even more!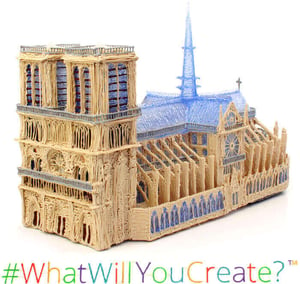 The only thing that remains the same is the 3D printing pen's mass appeal. People can use it for artistic creations, educators can use it for teaching purposes and the visually impaired can use it as a communication tool and alternative mean of expression. From simplistic toys to complex jewelry, the only limit – as is often the case in 3D printing – is your imagination. In fact there are many stencils and sample drawings to help you get started with your new 3Doodle 2.0 even if your drawing abilities are below par. And the price – starting at $99 with 4 packs of 25 plastic filaments each – makes it something anyone can own.
License: The text of "Improved 3Doodler 2.0 takes 3D to the Masses" by All3DP is licensed under a Creative Commons Attribution 4.0 International License.
Stay informed with notifications from All3DP.
You get a notification when a new article is published.