Boston Dynamics, a Google company, have unveiled a smaller, lighter and more agile version of their ATLAS humanoid which has 3D printed legs.
What is so remarkable about this new 3d printed robot is that it can do things that robots have never been able to do before including, as you can see in the video below, walking on uneven terrain like woods. And believe us, for machines, walking in an upright position is a very, very difficult task.
You are also able to see the new ATLAS robot lifting and placing boxes on shelves, and even being pushed to the floor by an engineer only to get up again with ease.
Interestingly enough, late last year Marc Raibert, founder and president of Boston Dynamics, mentioned in a conference talk that additive manufacturing was something that Boston Dynamics was focusing on.
And it seems that they've followed through meaning these new developments make it one of the most advanced humanoids in existence.
3D Printed Robot: How did Boston Dynamics Update ATLAS?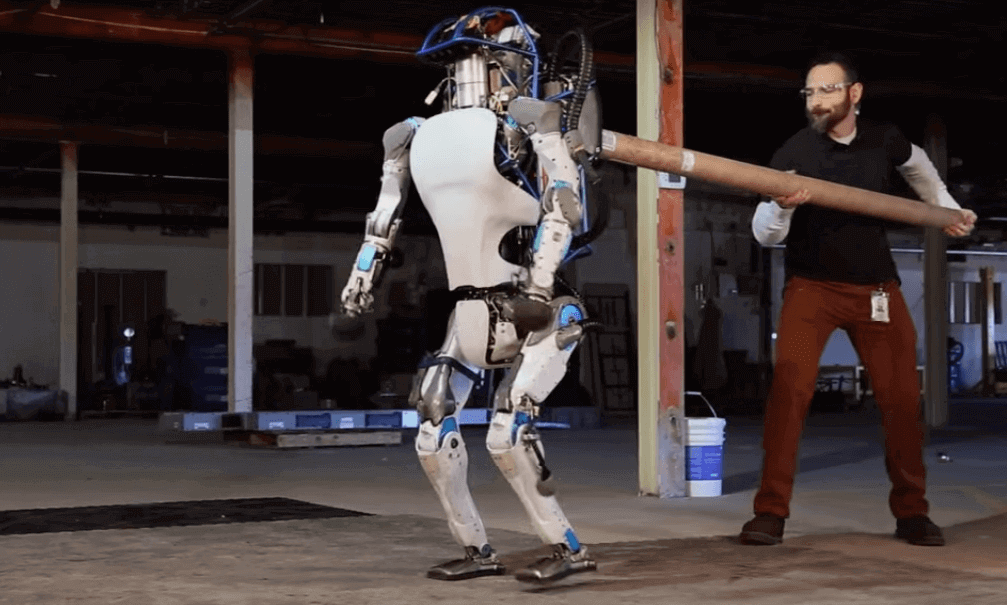 Recently, Raibert was interviewed by IEEE Spectrum. He told:
"The engineering team did a huge amount of work to make ATLAS lighter and more compact. One thing we did was use 3D printing to create the legs, so the actuators and hydraulic lines are embedded in the structure, rather than made out of separate components. We also developed custom servo-valves that are significantly smaller and lighter (and work better) than the aerospace versions we had been using."
Raibert claims the agility of this new robot comes down to his controls team which has been refining old algorithms and working on new ones, as well as improving the strength-to-weight ratio of the 3D Printed robot.

Currently, although it appears to move alone in the video below, Raibert said that for the outdoor scenes, a human provides general steering via radio. However, to adjust to terrain variations, the robot does use its stereo and LIDAR sensors.
During the scenes indoors Raibert said the robot "chases the box around and stacks the boxes autonomously, once someone gets it set up and tells it to go."
Raibert also explained: "Our long-term goal is to make robots that have mobility, dexterity, perception and intelligence comparable to humans and animals, or perhaps exceeding them; this robot is a step along the way."
What do you think of this? Let us know in the comments.
https://www.youtube.com/watch?v=rVlhMGQgDkY
License: The text of "Google Unveils Bipedal 3D Printed Robot" by All3DP is licensed under a Creative Commons Attribution 4.0 International License.
Subscribe to updates from All3DP
You are subscribed to updates from All3DP
Subscribe
You can't subscribe to updates from All3DP. Learn more…