HP Inc. have shared further information about their Multi Jet Fusion (MJF) 3D printer, which they're betting will revolutionize the 3D printing industry.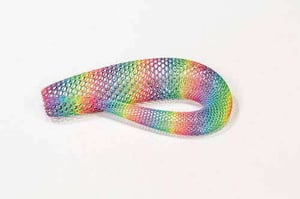 At the Autodesk University 2015 conference in Las Vegas last December, technology giant HP were focused primarily on their new line of 2D printers.
But they did present some new color samples from their long-awaited Multi Jet Fusion (MJF) 3D Printer, and revealed further information about the new machines (together with upcoming plans from their new 3D printing division).
So far, all that's known is that they're developing a full color 3D printing process. HP also promise that it will be up to ten times faster than current 3D printing standards, and will be considerably cheaper than most industrial 3D printers on the market. The process is also supposedly based on their existing, high resolution 2D thermal inkjet technology.
At the Autodesk University session, they revealed that although the full color 3D printer would not be available in 2016, they will be releasing a single colour 3D printer with slightly less advanced technology at the end of the year.
Supposedly, these MJF 3D printers will be able to control things like the level of density or strength, the texture of the part, friction, and will even be able to give parts electrical and thermal properties.
Software strategy program manager for HP Inc.'s 3D printing business, Luis Baldez, told Design News:
"Imagine a product that combines an injection-molded rigid material housing, another part that's made of a rubber-like material, and another that has electronic traces. What if you could print them all in one part with multiple behaviors: soft, rigid, or electrical traces? The long-term vision for HP MJF technology is to create parts with controllably variable, even quite different, mechanical and physical properties within a single part, or among separate parts processed simultaneously in the working area. This is accomplished by controlling the interaction of the fusing and detailing agents with each other, with the material to be fused, and with additional transforming agents."
Unfortunately, we still don't have any specific details about the printer size, how much it would cost, or even the materials that it would use.
There are still a lot of critical information which HP needs to release, but if the company manages to fulfil their promises with this technology… 3D printing really could take a huge leap forward. Watch this space!
Excited about the Multi Jet Fusion? Or do you think it's just vaporware? Let us know in the comments.

License: The text of "HP Reveals More Details about Multi Jet Fusion 3D Printing" by All3DP is licensed under a Creative Commons Attribution 4.0 International License.
Stay informed with notifications from All3DP.
You get a notification when a new article is published.