Here's everything you need to know about how to hire the best 3D designer for your needs.

You have rummaged through the vast collections of 3D files at Thingiverse, but nothing meets your standards? You simply want to 3D print a coffee mug that has your name carved deep into the ceramic? Need a home design in 3D? And how much does 3D design cost?
Or maybe you own a small business and need a life-size prototype to discuss with your team – but you can't do it yourself? In that case, you need to hire a 3D designer who can turn your idea into a 3D printable file.
In this article, we will guide you through the major steps of finding the best 3D designer.
There are basically two choices. First, we will show you how to hire a 3D designer the old-fashioned way: reviewing portfolios, negotiating terms and provisioning against potential legal problems. The second possibility involves freelance marketplaces which have become extremely popular over the last decade. While the legal details are similar, the process by which a qualified 3D designer can be found is vastly different.
If you want to jump ahead, click here to go right to the topic that interests you most.
How to Hire the Best 3D Designer for Your Needs
I. Before you Hire a 3D Designer
II. Hire a 3D Designer on the Web
III. Hire a 3D Designer on Freelance Marketplaces
I. Things to Know Before you Hire a 3D Designer
First, you should get a clear idea of your project. As easy as it sounds, this makes a huge difference if the requirements call for a 3D designer with technical or design skills. Does the project require 3D printed snap-fit parts? Do you want a part that has special visual properties? Once you understand what qualifications a candidate for your design project has to bring to the table, you will have an easier time finding a 3D designer from the vast pool artists and freelancers who advertise their services on the web. Also, it will enable you to communicate with your designer more effectively, if you know what aspects are crucial to the success of the 3D design.
The second fundamental question you should ask yourself is, what is this design worth to me or my company? If you need it for private amusement or as a first proof of concept you will most likely not need deep pockets. Understandably enough, it is difficult to determine what a reasonable budget for more complex projects is unless you already have years of experience on your back. Before commissioning your project, you should ask the 3D designer for his hourly rate and how long it will take him to complete it. If you are uncertain whether you're getting a good price, request quotes for your project from two or more 3D designers of comparable qualifications.
II. Hire a 3D Designer on the Web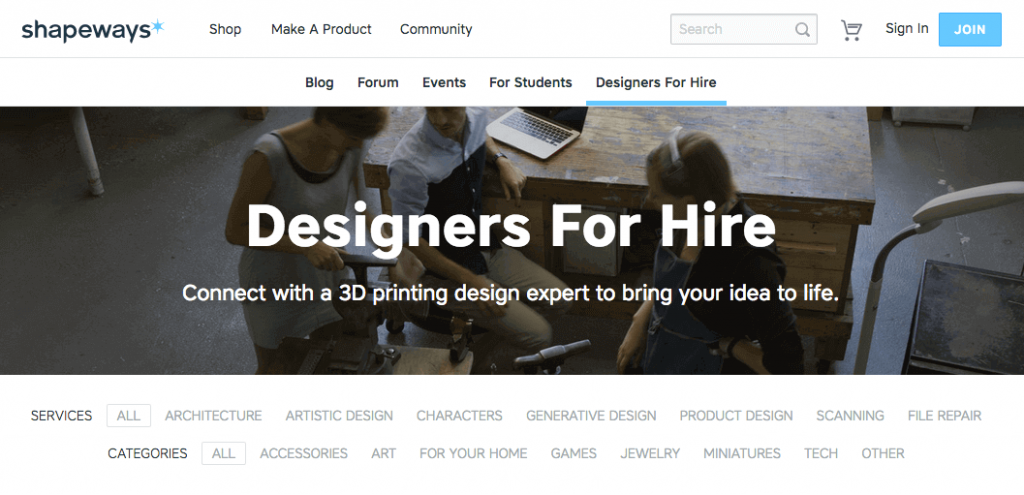 Often 3D designers are graduates of design schools who are either full-time freelancers or do freelance work besides their day job. But it is true that this trade attracts amateurs who want to make an extra buck – which is not to say their work is any worse. In any case, your main focus should be the 3D designer's portfolio of completed projects, as it will show you what 3D modeling techniques he has mastered and which quality grade he can achieve.
1. 3D Designers and Where to Hire Them
a. Hire a 3D Designer via an Online 3D Printing Service
Little by little, the big online 3D printing services are entering the 3D design market:
b. Hire a 3D Designer via a Rapid Prototyping Service
Most rapid prototyping services are run by engineers and designers who are trained not only to 3D print your parts, they can also design them from scratch. So, if you only have 2D sketches, prototyping services are happy to do all the necessary CAD work for you, usually at a fixed hourly rate.
In case your project proves to be more complex, they will refer you to experienced 3D designers and engineers to work with you. There are too many to list them all here – read our article on Online 3D Printing Services / Rapid Prototyping Services.
c. Hire a 3D Designer at a 3D File Marketplace
Another great resource for 3D files are marketplaces – some of them allow you to commission 3D files.
d. Hire a 3D Designer in Online Communities
3D designers have a range of online communities where they can exchange on technical matters and showcase their own work. Some of these pages even host design contests and post challenges – in short, these are places where discourse within the community is stimulated. In addition, 3D designers also turn to these pages to look for work.
2. Price
Let's talk about money. As mentioned above, 3D designers usually expect to be paid by the hour. A seasoned 3D designer will charge $30 to $70 per hour. This should not alarm you. Most 3D designers know exactly just how good they are and won't sell their labor below its worth if you want to set quality before affordability. (Still, there are many designers and artists who do 3D modeling on the side and don't depend on it to survive, may give you a better price.) It happens more than one would expect that clients lopsidedly retract from commissions, if the artist has not made provisions for such as situation, he may receive no payment at all for his work. Therefore professional 3D designers are forced to approach their clients as partners in a business transaction.
Many established artists will expect either 50% upfront and 50% upon delivery of files. Alternatively, it is common to agree on a set of milestones with payment after each milestone. This is a precaution if they don't get paid they can stop working until paid. Once a project has been successfully completed, the bills are paid and a basis for trust exists with the client, many artists are open to other arrangements, like being paid upon completion of the project.
Most freelance 3D designers have been burnt by doing work when suddenly the other end of the line went dead; emails went unanswered and she or he had no income for the time they spent on working on the project. So don't take it as a personal insult if an artist is upfront about money. He is merely trying to make a living. To that end, he wants to see that you are indeed committed to the project.
It is best to be forthcoming about payment. If you post on a community board, choose the appropriate section: usually, there are separate sections for paid/freelance work and unpaid work. If you can't pay or won't pay, don't waste everybody's time by pretending otherwise.
3. Terms and Conditions to Hire a 3D Designer
Commissioning a 3D designer has many benefits, but it can involve quite a bit of paperwork for both parties. When you find a 3D designer outside of a freelance marketplace the contractual details have to be negotiated directly between both parties. Usually, he will suggest a template contract downloaded from the web. Template contract services like Shake are also popular. It's worth to carefully read the small print. To stay on the safe site, keep an eye on the following issues. But keep in mind that we are not offering legal advice, consider this food for thought.
a. Intellectual Property
Intellectual property is a hot-button topic in an economy that heavily monetarizes brands, trademarked items, and designs. Only because you commission a design doesn't automatically grant you intellectual property rights. If you only want your name on a 3D printed coffee mug, it is hardly worth bothering with it, but if you plan to sell the design or a derivative of it, you want to avoid a costly copyright infringement lawsuit. So, when drawing up the contract secure the intellectual property of the design for yourself or your company.
b. Non-Disclosure Agreements
In order for the artist to begin working with you, it may be necessary to share trade secrets with him. Think about the layout of your workshop or any other sensitive information concerning your business. As you don't want this kind of information to fall into the hands of your competitors, any contract should contain a provision against this. But really, you this should already be on your mind when you first find a 3D designer.
c. Source Files
So have found a 3D designer and he turned out to be a real godsend for you, but he may not be available for follow-up work and you may have to commission another 3D designer. As you want him to pick the project up seamlessly. To provision for this scenario, be sure to get your hands on ALL the files the 3D designer produced while working on your project. The finished 3D files are not enough, as these are often of lower quality. So, you want the source file, he used in his 3D modeling software (3ds, dae, etc.).
III. Hire a 3D Designer on Freelance Marketplaces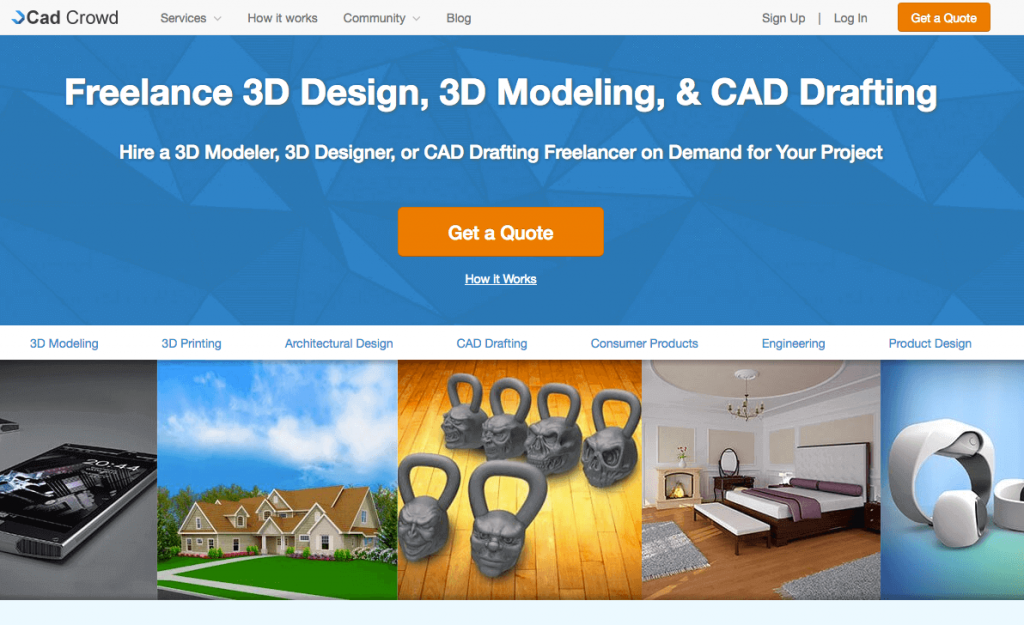 1. How Freelance Marketplaces Hire 3D Designers
Freelance marketplaces act as a matchmaking service of sorts between the client and the 3D designer. The marketplace controls the environment and every transaction between the two parties. Typically, you find a 3D designer by rummaging through their portfolios, you communicate and exchange files, all via the marketplace. Also, it arranges the payroll as an escrow service, which gives a sense of security to the client and the 3D designer alike. Another advantage of marketplaces is that they will take care of legal matters between the two parties (see below).
2. Hire a 3D Designer for a Project
Normally, you view the profile of a 3D designer and buy individual projects from him on a marketplace. The price given is a package that includes briefing, the work itself, and agreed upon a number of revisions and the delivery of the final data.
3. Hire a 3D Designer via Competition
Some platforms offer other ways to bring client and 3D designer together like design competitions. You write a project brief that outlines the corner points. Artists then submit their designs from which you can choose the winner. Marketplaces like CADCrowd promise that competitions will attract possibly dozens of entries.
4. Hire a 3D Designer as an Intermediary
If you are unsure as to what technical or artistic requirements are necessary for your project, you can outsource even this stage of the process. For a fee, the service will review your project by qualified professionals who know their designers' qualifications, can determine the project's requirements, and will assign the perfect candidate.
5. Hire a 3D Designer at Freelance Marketplaces
Here's a short overview of freelance marketplaces where 3D designers are offering their services:
6 .Price
So, let's address the issue that is on everyone's mind whenever freelance marketplaces are mentioned. In recent years, many small businesses were drawn to freelancers from outside North America and Europe, as wages there are much lower and people are often well educated. On the other hand, the experience has not been solely a positive one. The language barrier and cultural differences can give you a hard time to reach a common denominator.
While English is widely spoken in countries where most online freelancers are recruited from, you can by no means assume that your freelance 3D designers are fluent speakers. Thus, communicating minute intricacies or design requirements can well become a game of patience. So, if you are in need of a high-quality work, but not fluent in either Hindi or Tagalog, you may be better of with a native English speaker.
Different work ethics are the second factor to consider before hiring a 3D designer from overseas. Indians and Filipinos are less likely to pass on a job opportunity simply because it is above their skill level. So, be wary of reviewing work samples of any freelance 3D designer before you hire him.
Ultimately it comes down to this: $5 for a small project may seem like a good deal, but it will only give you $5's worth. If your fine with that, roll with it!
7. Terms and Conditions of Marketplaces
Buying a project from a freelance marketplace is by far more convenient for clients than finding a 3D designer yourself. This is because it will take care of all the dreaded paperwork that is involved.
a. Payroll
Usually, payroll is controlled by the marketplace as an escrow service, this provision gives a measure of safety to client and freelancer alike. The client can release the funds once a milestone is reached and the freelancer can appeal to a third party in case a conflict arises.
b. Intellectual Property
Usually, you will get ownership of the intellectual property when you buy from a 3D designer on a freelance marketplace. However, some 3D designers charge extra for commercial use – read their profile pages carefully.
c. Non-Disclosure Agreements
When 3D designers register with a marketplace they sign an NDA for all projects that they will be involved with. So, you don't have to worry about your freelancer spilling the beans about your sensitive business informations.
d. Vetting
Most marketplaces will authenticate email addresses, clients can view success rates of past jobs and feedback thereof. If you want to make sure your freelancer really is as qualified as he appears, you can pay the marketplace extra to handpick one who meets your project's requirements. But generally, the portfolio should give you all you need to assess the 3D designer's skills.
e. Monitoring
Understandably enough, you only want to pay the hours your 3D designer is working on your project, therefore marketplaces have a handful of mechanisms to monitor your freelancer's work. You can view his work diary and even screenshots taken automatically of his screen.
License: The text of "How to Hire the Best 3D Designer for Your Needs" by All3DP is licensed under a Creative Commons Attribution 4.0 International License.
Subscribe to updates from All3DP
You are subscribed to updates from All3DP
Subscribe
You can't subscribe to updates from All3DP. Learn more…