What you need to know: Two-year-old toddler Violet was born with a rare deformity. Plastic surgeons used 3D printing to help her.
Two-year-old Violet Pietrok smiles prettily these days. The toddler was born with Tessier, a rare facial deformity that cleft her eyes far apart from one another, no cartilage on her nose, and a large growth over her left eye. Thanks to 3D printing and a team of anesthesiologists, nurses, and caregivers, the nine-hour surgery reshaped Violet's face. She and her family traveled from Oregon to Boston for the procedure.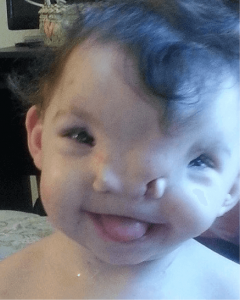 According to Dr. John Meara, a reconstructive surgeon who operated on Violet, "We were actually able to do the procedure before going into the operating room." By making cuts on the model and not the child, surgeons identified potential issues and made modifications to the procedure accordingly. Quick thinking not only saves time, it also saves lives. Forced to make critical decisions at a moment's notice, surgeons know the feeling all too well.
Dr. Meara performed similar surgeries on other children in the past. That's what caused Violet's family to make the long drive to Boston. They knew they could trust him. The 3D printer lays resin down to form layer upon layer of acrylic. The 3D printed model serves as a guide for how to perform the surgery without difficulty.
Violet's family set up a Facebook community page documenting her journey. Like every two-year-old, she loves playing with other children and exploring. Her mischievous grin says it all. Sitting among snacks she poured onto the floor, the toddler looks up at the camera with a smile that melts hearts. It is stories like hers that encourage other parents to seek the same type of solutions for their children.
Facial reconstruction via 3D printing is the type of breakthrough the medical community waited for. 3D printed limbs help children and adults function easier. Children all over the country sport robotic arms. Animals born without legs make use of their 3D printed prosthetics. Simply put, 3D printing changes lives.
License: The text of "How 3D printing reshaped one toddler's face" by All3DP is licensed under a Creative Commons Attribution 4.0 International License.
Subscribe to updates from All3DP
You are subscribed to updates from All3DP
Subscribe
You can't subscribe to updates from All3DP. Learn more…