Students from the University of Hong Kong baked 2,000 bricks to create the world's first 3D printed terracotta pavilion.
Architecture students at the University of Hong Kong (HKU) have designed and constructed the world's first 3D printed terracotta pavilion. To create the towering structure, the students used a combination 3D printing and robotics.
The Ceramic Constelation Pavilion stands 3.8 meters tall, and is primarily composed of bricks that were 3D printed before being baked. Working alongside HKU's Faculty of Architecture was property developer Sino Group.
The aim of the pavilion is to show how 3D printing can benefit architecture. The students began by 3D printing the individual terracotta bricks and then fired every single one at 1025 degrees Celsius. They explain in a statement:
"The Pavilion is the first outcome of a new collaboration between The Faculty of Architecture at HKU and Sino Group… In a context that has been largely shaped by standardization and mass production, the project seeks to overcome the constraints of today's architectural production through the introduction of a structure made entirely of non-standard components."
Benefits of Unique 3D Printed Bricks
The students hope to prove that mass production isn't the only efficient method of building. Indeed, the possibility exists to create buildings where each brick has a unique design.
The final structure consists of 2,000 bricks, which required three weeks of printing and firing. An impressive 700 kg of terracotta was used for all of the bricks, with each one taking just two or three minutes to print.
In order to build the tower, the students used load-bearing features and a giant wooden structure. The design's overall stability relies on each individual brick, its place in the structure and its shape.
Due to the twisting nature of the structure, wherein bricks rotate upon each other, it's possible at points to see through the walls. And while the material is historically significant in Asia, its use hasn't been popular for centuries.
The final assembly took the students ten days, and was accomplished during a workshop. Similar workshops are being developed by the Sino Group Robotic Architecture Series, which encourages the use of robotics in building and production.
Interested in 3D printing in clay? Check out our article 3D Printing Clay: Printing Ceramic Art from A 3D Printer.
Sources: Designboom, Dezeen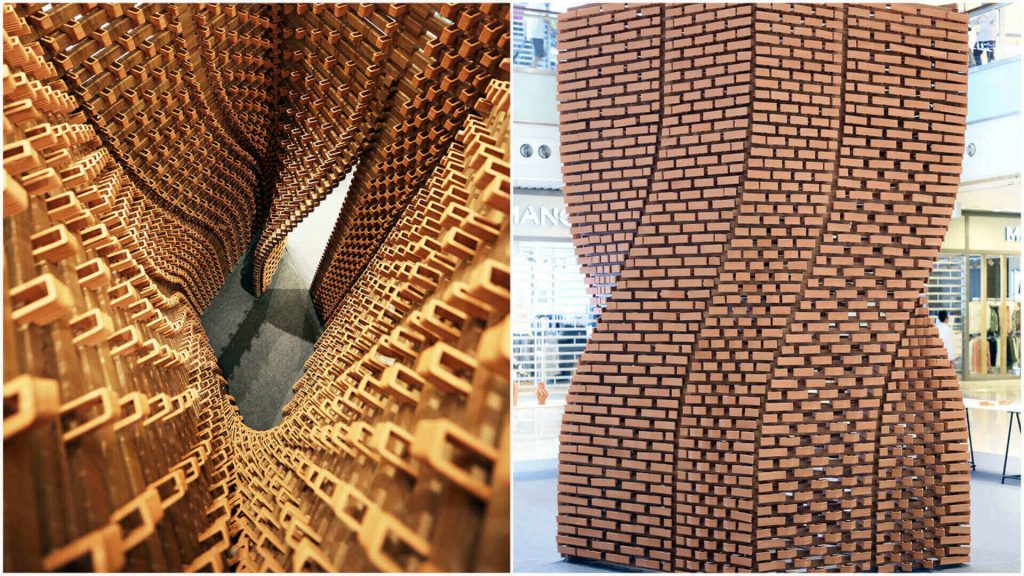 License: The text of "Hong Kong Students Create World's First 3D Printed Terracotta Pavilion" by All3DP is licensed under a Creative Commons Attribution 4.0 International License.
Subscribe to updates from All3DP
You are subscribed to updates from All3DP
Subscribe
You can't subscribe to updates from All3DP. Learn more…