Honda employees come together, using their skills in design, 3D scanning, and printing to create a prosthetic arm for their colleague.
Workers at a Honda factory in Ohio, USA, came together to help a colleague out and build a personalized prosthetic arm. The coworkers at the auto plant relied on their combined skills, hard work, and 3D printers to create the prosthetic.
The recipient of the 3D print is Tony Leonard, who has suffered from a spinal condition since his childhood. As an adult, the condition brings several problems, including a rare disease that made it necessary to amputate his arm.
Unfortunately, without a replacement, Leonard was unable to balance or walk and relied on a wheelchair. So, his colleagues decided to put their use of mechanics and engineering to a slightly different use than usual.
Rather than a car part, they created a limb. "Everyone's got a certain talent," said David Macke, the project's utility guy. "And by theirselves, they could do pretty good. But when you bring a whole group of people with different talents together, that's when things start clicking."
With some hard work and the latest technology, the Honda team were able to create a custom prosthetic. It was Leonard's manager, Frank Kahle, who came up with the idea to 3D print an arm: "Knowing the different technologies that we have, the scanning and the 3D printing, it was pretty obvious to me that we were capable of doing it."
The team pulled together, did their research, and began the 3D scanning, designing, and printing process required to create a prosthetic.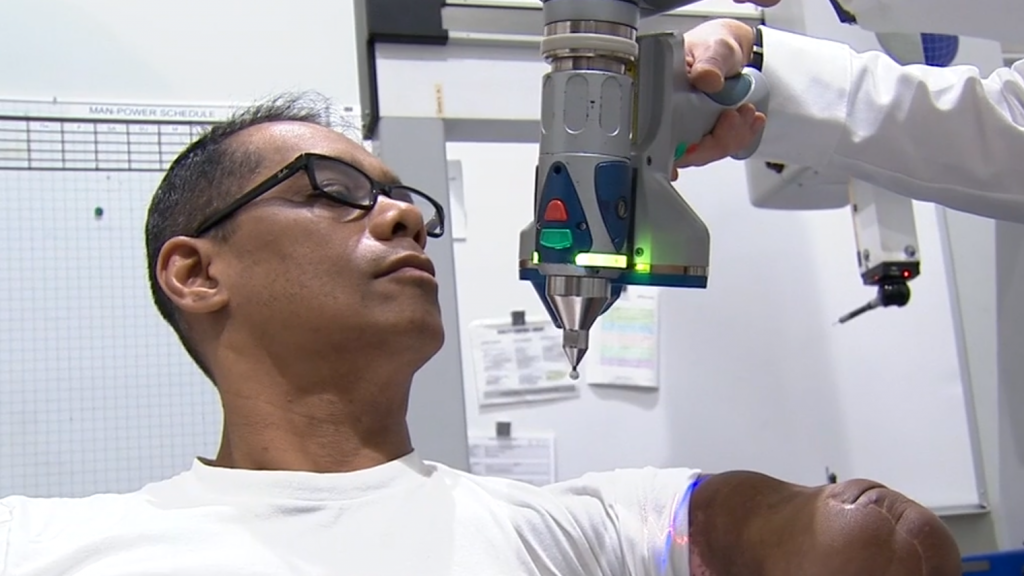 How Honda Employees Used their Skills to Create a Prosthetic Limb
Les Bowers was the engineer who assembled the parts and brought in the right people for each task. Meanwhile, Richard Crawson developed a stand so Leonard's arms could easily and comfortably be scanned.
They repeated this process until they had a reliable 3D model. Then, electrical design engineer Corey Howard worked on creating lifelike prosthetic fingers.
The team developed and tweaked the design until it was perfect. When it was time for Leonard to try out the prosthetic, he hadn't walked for two years. "I was totally surprised how stable I was at first. I was excited. My adrenaline was pumping. And I was happy," Leonard explains.
The team have since built six arms for Leonard, each time improving upon the previous design. In fact, their work was more useful for Leonard than the top-of-the-line prosthetic, which he received through his insurance.
"They got me out of this chair," Leonard said. "How do you thank the guys for doing that for you? Only thing I can think of is to continue to get stronger and use the very product they provided for me."
Every year, Honda holds a conference on problem solving in factories. Usually, teams are awarded for innovative car designs. But last year, unsurprisingly, the award went to the Ohio team. Their hard work paid off in more ways than one!
Source: CBS News
License: The text of "Honda Employees 3D Print Prosthetic Arm for Colleague" by All3DP is licensed under a Creative Commons Attribution 4.0 International License.
Subscribe to updates from All3DP
You are subscribed to updates from All3DP
Subscribe
You can't subscribe to updates from All3DP. Learn more…