Yes, it's still Towel Day. All3DP author James Steury put together a fine collection of Douglas Adams paraphernalia.
Here is part 2. And if you missed out on part 1: A click here gets you directly to Hitchhiker's Guide to the Galaxy swag (part 1).
Digital Watches are Pretty Cool
No, this section isn't about digital watches. Sorry to disappoint. It is, however, about a pretty cool pen holder whose mere presence will liven up your boring desk and remind you how utterly insignificant we really are. Where do the digital watches come in? Read on to find out.
Prologue to The Hitchhiker's Guide to the Galaxy

Far out in the uncharted backwaters of the unfashionable end of the western spiral arm of the Galaxy lies a small unregarded yellow sun. Orbiting this at a distance of roughly ninety-two million miles is an utterly insignificant little blue green planet whose ape-descended life forms are so amazingly primitive that they still think digital watches are a pretty neat idea. This planet has – or rather had – a problem, which was this: most of the people on it were unhappy for pretty much of the time.  Many solutions were suggested for this problem, but most of these  were largely concerned with the movements of small green pieces of paper, which is odd because on the whole it wasn't the small green pieces of paper that were unhappy. And so the problem remained; lots of the people were mean, and most of them were miserable, even the ones with digital watches.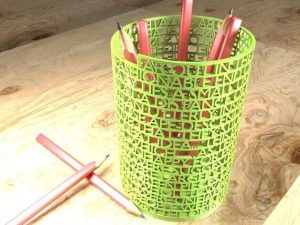 Over on Thingiverse, maker roman_hegglin has immortalized these word with a 3D printed piece aptly dubbed Tower of 42.
The first five sentences of Douglas Adams' sci-fi masterwork spiral around an empty space that is just the right size for the myriad #2 pencils cluttering up your desk top (no, no not your computer screen, the actual top of your desk).
You can download the STL file from Thingiverse and print the tower yourself.
If you don't have access to a 3D printer, upload the 3D model to our 3D Printing Price Comparison to find the best online 3D printing services for you.
The Emblem to end all emblems
"Show your interplanetary literacy and readiness for galactic exploration with this Hitchhiker's Guide Emblem! And remember, even in the most dire of circumstances, DON'T PANIC!"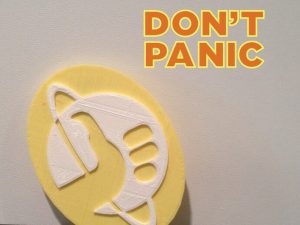 This wise counsel from maker ibudmen kicks off the description of the aforementioned Hitchhiker's Guide emblem over on Thingiverse.com. Sure, you can't eat it but this familiar image in plastic will last a lot longer than the one made out of cookie dough.
Up for a real challenge? Why not try remixing this thing to print in metal. "To what end?" you might ask. Wouldn't this make a great hood ornament? Who wants a leaping jaguar or a three-pointed star?
You can download the STL file for this design from Thingiverse and print it yourself and if you don't haveprinter upload the 3D model to our 3D Printing Price Comparison to find the best online 3D printing services for you. Whatever you choose, thumbs up on your choice to print this iconic emblem.
And finally
Though the mice have been 3D printing for millennia – the dolphins for centuries – we're finally catching up and this Hitchhiker's Guide memorabilia is proof that we know how to put a powerful technology to the best use. Hear a spaceship approaching to pick you up? Before you leave, why not print these cool reminders of the best that humanity has to offer and add them to your hitchhiking essentials. Who knows? If you happen aboard the Heart of Gold, you may actually turn into a cookie or a pencil at some point in your travels. Wouldn't these items be useful at a time like that? I think so.
License: The text of "Hitchhiker's Guide to the Galaxy swag (part 2)" by All3DP is licensed under a Creative Commons Attribution 4.0 International License.
Subscribe to updates from All3DP
You are subscribed to updates from All3DP
Subscribe
You can't subscribe to updates from All3DP. Learn more…