You've got your towel, your electronic thumb, and your well-worn copy of The Hitchhiker's Guide to the Galaxy – honestly, what more could you need – and you're ready to see what the Milky Way has to offer. Now if you could only get a ship to stop and pick you up. Oh, well. That's the hitchhiking game for you. While you wait, why not check out this cool 3D printed Hitchhiker's Guide swag that would make a Vogon smile (if that were even possible).
Plastic + Dough = Delicious?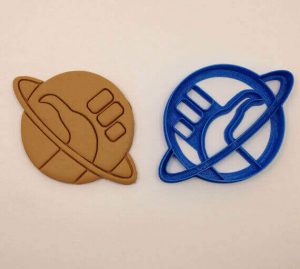 Feeling a bit peckish?  I know a great diner at the edge of the galaxy that serves the best cookies.
A bit closer to home, maker BoeTech has combined their love for cookies and Douglas Adams' well-known masterpiece (truly, two of the best things to come from our brief existence here on Sol 3) in one 3D printed magnum opus: the Hitchhiker's Guide to the Galaxy thumb cookie cutter.
The brilliantly designed and 3D printed cookie cutter results in a tasty treat that displays the familiar hitchhiker's thumb and ringed planet design. It's a great way to enjoy your favorite baked treat while professing your love for all things Adams (there are other ways but to do this but they're all considerably more dangerous).
So head on over to Etsy and purchase the invention of the century before the hyperspace bypass destroys us all:
The first best advice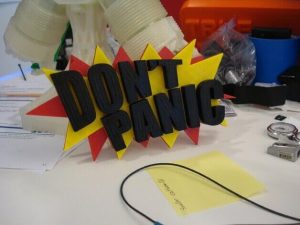 Before "Keep Calm" became popular*, "Don't Panic" was the best advice around. Over on Thingiverse, maker Skimbal (a.k.a. Michael Curry) has the file for a 3D printable item that can daily remind us to keep our anxiety in check.
This "Don't Panic" plaque – just nine large friendly letters (and an apostrophe) – can help us put life in perspective and treat it with the levity it deserves. Whether it's aliens building a hyperspace bypass or crazy humans with nuclear devices, we'll probably all be vaporized in the next few minutes anyway.
Zip on over to Thingiverse right now and download plans for your very own "Don't Panic" plaque. Afraid to do it yourself? Don't panic and let the professionals do it for you: Use the buttons below to buy the preconfigured plaque or to configure the size and materials through All3DP's printing service, 3DP.click.
* "Keep Calm and Carry On" was a poster first produced in 1939 by the British government in preparation for the predicted mass air attacks of World War 2. Although 2.45 million copies were printed, the poster was hardly ever publicly displayed and was little known until a copy was rediscovered in 2000.
If you don't have a 3D printer use our 3D Printing Price Comparison find the best online 3D printing service to order it from.
Part 2
Don't miss out on part 2 of this tribute to Douglas Adams – online at 12AM.
And if it's not online yet: You know. Don't panic!
License: The text of "Hitchhiker's Guide to the Galaxy swag (part 1)" by All3DP is licensed under a Creative Commons Attribution 4.0 International License.
Subscribe to updates from All3DP
You are subscribed to updates from All3DP
Subscribe
You can't subscribe to updates from All3DP. Learn more…