Hauke-Scheer has a very special hobby, putting his own head on a fully articulated 3D printed action figure.

GI Joe would become a whole lot cooler if Hauke-Scheer had anything to do with it. He's a 3D character designer with over a decade of industry experience, developing characters for animations, advertising and games.
Now, Scheer has perfected the art of creating sturdy action figures. But, rather than using regular methods, Scheer is creating his elaborate figurines using a Form 2 3D printer.
Better yet, he's also offering anyone the chance to have their head on a fully articulated action figure. It could make the perfect present for the kids if you've got a long business trip overseas?
Scheer explains on his website that by using 3D printing, his figures have almost the same properties as a mass produced PVC figure. From sturdy joints to the ability to hold accessories, Scheer's figurines are far more advanced than the majority of 3D printed options available. He's even capturing attention online thanks to his YouTube channel and portfolio.
Scheer intends on making "your ideas come true" no matter whether you're a toy manufacturer or simply a 3D printing enthusiast. Currently, he offers a range of services from designing and modeling a figure to printing and painting it.
Hauke-Scheer Immortalized as an Action Figure
Scheer makes each figurine to order. If you choose to add your own face to your unique 3D printed figure, you'll also have to send a photo reference.
Scheer then models your face to fit with your new super articulated body, creating a very convincing look. However, you'll need to spend €220 for an unpainted model of yourself, or €280 for a full paint-job.
After doing so, you'll receive your 7 inches (18 cm) tall figurine in the post (the cost of which isn't included in the price tag). Residents of the EU also need to add 19% sales tax.
However, Scheer also has other options available over in his shop if you're hoping to spend less. Every figure is printed in ABS plastic and fully assembled.
Check out Scheer's Facebook to find out more about his figures. Or, if you're interested in his previous work, check out his most popular personal work, called Mechawhales.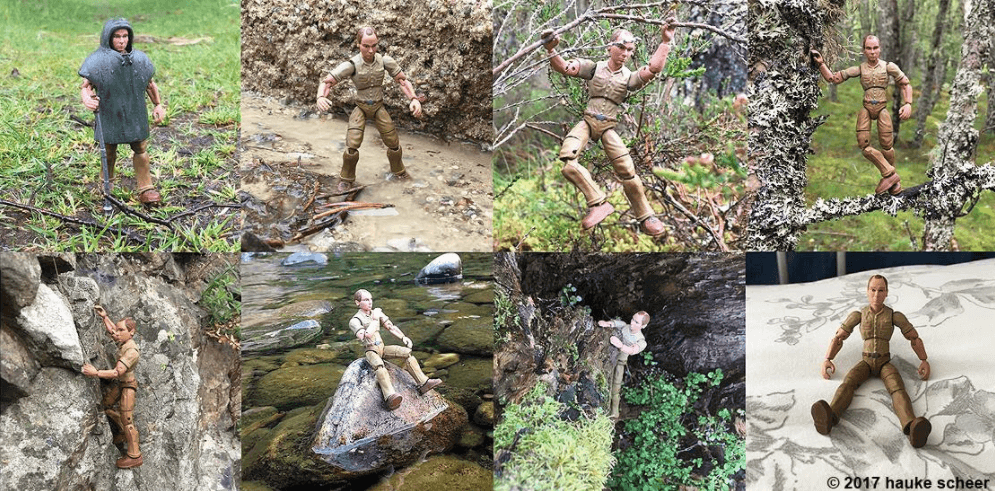 License: The text of "Hauke-Scheer Creates Mini-Me Action Figures with 3D Printing" by All3DP is licensed under a Creative Commons Attribution 4.0 International License.
Subscribe to updates from All3DP
You are subscribed to updates from All3DP
Subscribe
You can't subscribe to updates from All3DP. Learn more…