The 3D printed Halo Energy Sword is the ultimate cosplay prop for fans of the Master Chief. Devastating plasma beams not included.
"A noble and ancient weapon, wielded by the strongest of Sangheili, requires great skill and bravery to use, and inspires fear in those who face its elegant plasma blade." – Thel Vadamee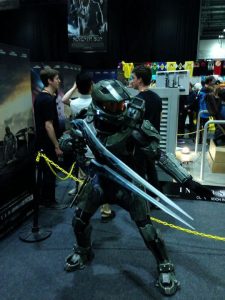 If you've ever played a game of Halo – and you probably have – then this weapon has saved you a thousand times over. In the venerable FPS series, the Halo Energy Sword is an extremely powerful and devastating melee weapon for close quarters combat. Whenever you're in a tight situation on the battlefield, the sword is an excellent choice to save your full-metal-plated butt.
According to the Halo Wikia, "the Type-1 Energy Weapon/Sword consists of a curved hilt, housing an energy storage module and a device for projecting the plasma that forms the blade." Well, 3D printing won't provide you the stable plasma beams, but at least it can produce a good looking replica of the Halo Energy sword.
Also, in real life, the sword won't be able to cut or slice, it simply looks great (but it is very pointy, so be careful). If you're into Halo cosplay, this should be an interesting prop to have.
This design was conceived by Daniel Schunemann , who works in the VFX industry. You can download the files for free at MyMiniFactory.
Construction
The design is extremely elegant. The two pointy blades are attached to a single middle piece, so the whole sword consists just of three pieces. If you go for plastic (PLA / ABS) as a material, the assembly of the 3D printed components just needs some glue and some sandpaper. Assembly should be easy to achieve.
How to get the Halo Energy Sword
The prop is too big print for most home printers. Unless your printer can match the measurements of 1260mm x 471mm x 81.37mm, you should order the blade through a professional 3D printing service (like Shapeways, Sculpteo or i.Materialise). Alternatively, you could scale the files to a smaller size, but honestly, that would be a shame.
To find out where to get the best 3d printing price, please upload the files to our 3D Printing Price Comparison.
The All3DP verdict
The 3D printed Halo Energy Sword is the ultimate prop for cosplay fans. It's just a shame that the dimensions are too big for the majority of home printers.
License: The text of "Halo Energy Sword is Cutting Edge Cosplay" by All3DP is licensed under a Creative Commons Attribution 4.0 International License.
Subscribe to updates from All3DP
You are subscribed to updates from All3DP
Subscribe
You can't subscribe to updates from All3DP. Learn more…