Why you should read this? Because you could be the King of Grill at your next BBQ.
3D printed food has been in the works for some time now and it looks like it is going to get huge in 2015. Some of the chocolate and sugar-based creations that we've seen so far are astonishing, clearly indicating the new possibilities that open up for the pastry making industry. However, while chocolate and sugar are (relatively) easily melted and deposited in layers with high precision, the same in not as easy to achieve when it comes to more "conventional" food. Like the meat in burgers, for example. That is why BotBQ (pronounced: "botbecue") was created.
Get Your Burgers Flowin'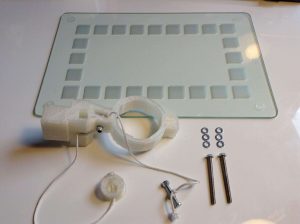 Over the past few months, Jason Ray has been exploring the limitations and possibilities of 3D printed burgers through the design of special "meat extruders". As Jason explains it, this passion began around open source 3D printing and drove him to pursuit innovative solutions in the most unexplored realms of 3D food printing (3DFP). The development of Rays's BotBQ 3D printer is still at an early stage. He has focused his efforts in perfecting the extruder as all the rest can be derived from similar barbeque arrangements.
"I decided I would work on the overall BBQ design later and just figure out how I would get the burgers "flowing". The BotBQ extruder is attached to the extended burger printing bed and has the potential to print a "burger-block" with the dimensions of approx 20 x 20 x 12 cm."
Grind it, Print it, Eat it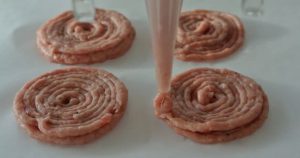 Minor inconsistencies of the meaty material causes several difficulties to the operating quality of the BotBQ extruder, but after extensive trial and error Jason can provide a few tips for the aspiring operators of a 3D burger printers. "It really depends on how well you grind the meat before loading it in the hamburger housing. I normally ask to butcher to grind my meat 4 to 6 times. I recommend mixing in a little bit of your favorite oil of choice before loading, as well as lubing up the hamburger housing. The meat type isn't really something of consequence, but the fat content of your meat of choice is. The fattier the meat the better it will extrude."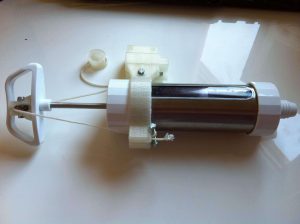 All of Jason's work and knowledge is open for sharing and using. He is working on various open source hardware projects and BotBQ is just one of them. On his website, users may find detailed technical specifications, a "Bill of Materials" (for the extruder) and even instructional videos on how to attach the BBQ extruder to any 3D printer. Jason is quite clear on the benefits of open source hardware: "Why would I (or anyone) want to deter someone from learning from my mistakes, or using something that I made in order to better improve something they are working on… Or most importantly… stop them from even starting? With the growth of open source and shared licenses it doesn't have to be this way. If something I've done even inspires one person to do something then everybody wins!"
Think about Food Differently
Jason is not planning to release a ready-to-use kit just yet, as the system is still under development and constantly trying to keep up with the latest developments in 3DFP technologies. His own approach on the future of meat production and consuming is one that actually wants to do away with the massive animal breeding and slaughtering that is taking place right now. "I think we need to start thinking about food differently", he says. "The population is growing at a very rapid rate and with all the crazy changes taking place in our world, we have to take the next step in nutrition too. The way we consume food hasn't changed since a really long time ago. We have to decide where to take it, it's up to us to advance and we need to do it now." Perhaps the BotBQ should be tailored to be compatible with the bioprinted, in-vitro grown meat of the future.
License: The text of "You Get the Beer, BotBQ Takes Care of the Grill" by All3DP is licensed under a Creative Commons Attribution 4.0 International License.
Subscribe to updates from All3DP
You are subscribed to updates from All3DP
Subscribe
You can't subscribe to updates from All3DP. Learn more…