GE Additive has announced an extremely ambitious goal to sell 10,000 3D printing machines over the next 10 years. 
It can be argued that General Electric (GE) was one of the earliest adopters of additive manufacturing technology. The company first started using 3D printing in the '90s with 3D printing pioneer Greg Morris, but strictly focused their use on prototyping purposes.
The company soon realized that they could develop intricate parts for jet engines using 3D printing technology. They found that this technology could efficiently reduce the amount of time and cost it took to complete complex parts.
But the Boston company's most recent 3D printing endeavors prove that they are just getting started. Earlier this week, the manufacturing titan announced their goal to sell 10,000 3D printing machines over the next 10 years.
Over the last year, GE acquired a majority stake in two prominent European industrial 3D printer manufacturers, Arcam AB from Sweden and the German company Concept Laser. According to Tim Warden, the senior sales director of GE Additive, the ambitious goal will be accompanied by a large investment increase.
Now, GE seems focused on adapting Concept Laser's 3D printing technology to go beyond prototyping and into large-scale production.
In an annual letter to shareholders, GE Chairman and CEO Jeff Immelt discussed the company's investment in 3D printing technology. He writes:
"The long-term market potential for additive manufacturing  huge at about $75 billion. We plan to build a business with $1 billion of revenue in additive equipment and service by 2020, from $300 million today."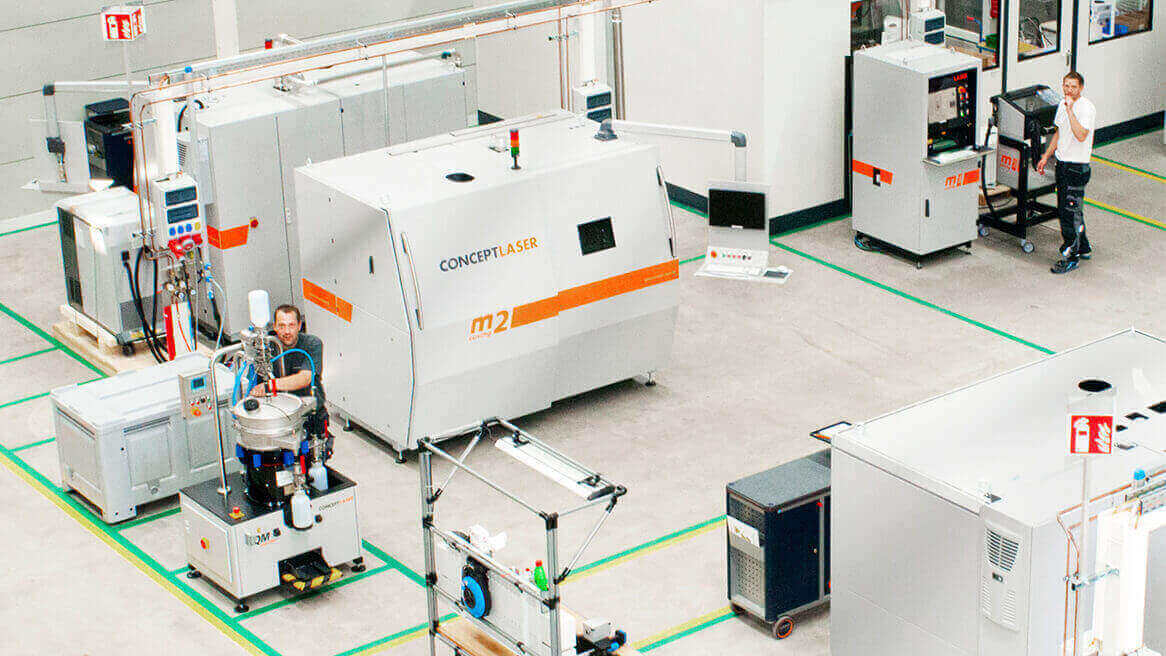 GE Additive and the Future of 3D Printing
Although they've been involved with 3D printing for decades, the company got seriously involved in 2012. Six engineers were told to see what portion of an engine they could 3D print. It took them 18 months for them to reduce 900 separate parts to just 16.
Since then, GE has focused on investing heavily in this emerging technology. They are now working on growing their 3D printing base and using the technology across multiple industries.
Mohammad Ehteshami, the head of GE Additive, explains that the company's recent investments are just the very first steps. He says:
"Today, there are hundreds of big planes flying between cities around the world and carrying machine components. Tomorrow, you won't need to do all of that. You'll just print what you need."
GE Additive recently opened the Additive Training Center (ATC). Several times a year, hundreds of engineers gather to receive training with 3D printing technology and then take this knowledge back to their sector. This so-called "manufacturing boot camp" aims to help "spread the additive gospel".
When Ehteshami first heard of 3D printing, he says he had an "epiphany of disruption." He explains:
"Once you start thinking about it, you realize both intellectually and emotionally 'Oh my God, if I don't start moving, somebody else will.' You are excited because you are an engineer, but you are also afraid because you are a human being. Both of these feelings start pulling at you to say: 'I've got to go, I've got to go.' And you start running."
Now, with the backing of GE, the "epiphany of disruption" that 3D printing creates may soon spread into every type of industry.
License: The text of "GE Additive Aims to Sell 10,000 3D Printers Over Next Decade" by All3DP is licensed under a Creative Commons Attribution 4.0 International License.
Subscribe to updates from All3DP
You are subscribed to updates from All3DP
Subscribe
You can't subscribe to updates from All3DP. Learn more…