GE Additive has revealed it's building the world's largest metal 3D printer. The as yet unnamed machine is planned for release next year.
Printing metals is a hot topic of the 3D printing industry at the moment. Concept Laser are at it, drawing interest from the likes of GE Additive, who is now a hefty stakeholder. It's big business.
Which is perhaps why GE Additive is doubling down with plans to go even bigger and better. The company has lifted the lid on the news that it is creating a huge metal 3D printer, said to be the world's largest.
The printer appears to use direct metal laser sintering, from what we can glean from a report on the GE website. This is a process in which a high powered laser traces the part's print path through a mist of fine metal powder. Consequently the metal melts and reforms into a solid which, when repeated layer by layer much like any other 3D printing method, gradually forms the finished, seamless metal part.
The first working unit, dubbed Atlas, demonstrates the technology at a reduced build volume from the proposed final production unit. When finalized, the machine will be capable of printing in a space of 1 cubic meter.
General Electric's new 3D printing arm, GE Additive, is developing the printer. Mohammad Ehteshami, vice president and general manager of GE Additive said:
"The machine will 3D print aviation parts suitable for making jet engine structural components and parts for single-aisle aircraft… It will also be applicable for manufacturers in the automotive, power, and oil and gas industries."
Currently, Concept Laser creates the biggest metal power printer. However, the German company's engineers will working with GE Additive to develop the new machine. Check out the video below for a demonstration of  Concept Laser's progress in this field.
https://youtu.be/P65XSVVEfrk
GE Additive Goes Big on Metal 3D Printing
Due to the increased build volume this new machine will potentially offer, prints such as such as engine blocks in their entirety become a tantalizing prospect. Such big prints could dramatically cut down on time, waste and costs.
It's curious though that GE Additive, as a major stakeholder in Concept Laser, should work on its own competing product. Perhaps a scatter-gun approach to stake a large claim on this budding and lucrative fork of the industry. Regardless of the reason, there's no doubt that there is a market for the machines.
At the Paris Air Show alone — where GE Additive announced the new printer — all manner of jumbo jets are on show that benefit from metal 3D printing. Including the Airbus A350 XWB, which flies with parts in its wings that were fabricated on machines by Concept Laser.
GE Additive plans to unveil the final version of its metal printing machine in Germany at the Formnext show, in November.
The machine is due to release next year. But until then, Ehteshami adds: "We have customers collaborating with us, and they will receive beta versions of the machine by year's end."
Source: GE Reports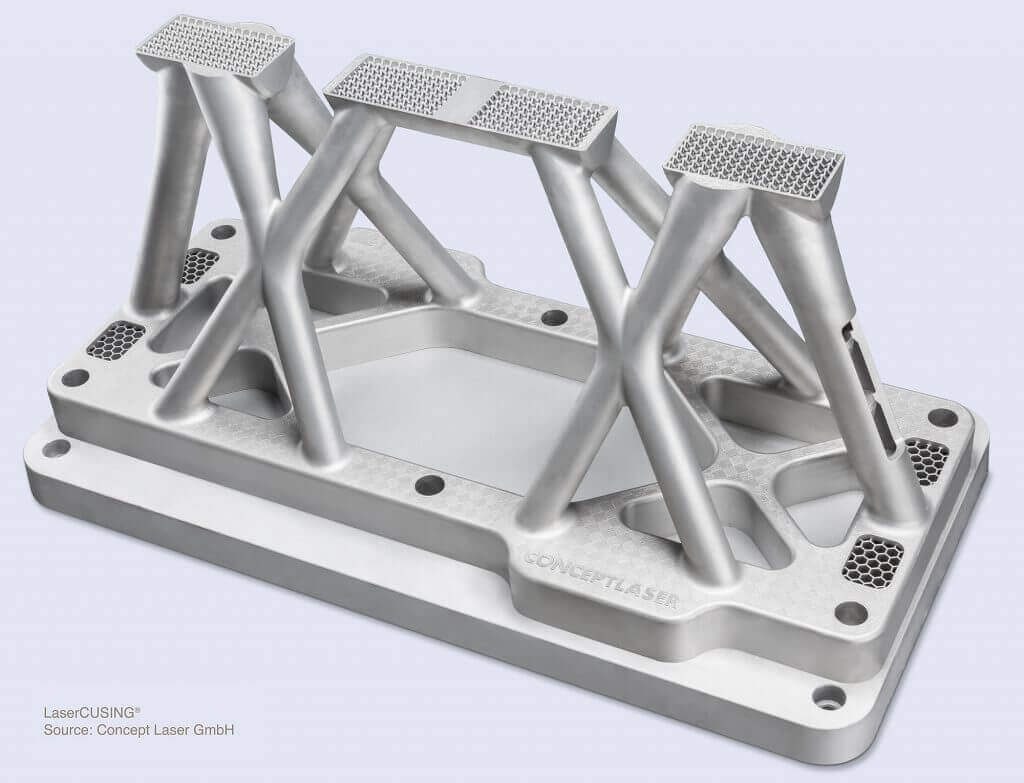 License: The text of "GE Additive is Building the Largest Metal 3D Printer in the World" by All3DP is licensed under a Creative Commons Attribution 4.0 International License.
Subscribe to updates from All3DP
You are subscribed to updates from All3DP
Subscribe
You can't subscribe to updates from All3DP. Learn more…