Steelcase, MIT's Self-Assembly Lab and designer Christophe Guberan have developed a speedy and scalable rapid liquid printing method.
Soon, you could find that 3D printing is as commonplace as an office chair. Or that's the collaborative plan of the aforementioned folk, who've turned their collective minds to developing a new 3D printing process.
They unveiled the new process at Milano Design Week. The partnership focuses mainly on furniture design — specifically on customization. They hope to enhance the working environment by redesigning everyday furniture.
This new 3D printing process goes by the term Rapid Liquid Printing. The results of months of collaboration on this project, the new technique can extrude a rubber-like material inside a vat of supporting gel. The process yields objects with a organic look and feel, that print rapidly in a 3D space thanks to the supporting goo.
So far they've used this process to recreate a pre-existing design of Steelcase's, the intricate Bassline table top. This is said to have only taken 28 minutes, rather than the 50 hours it could have taken using current printing methods.
3D Printing with Rapid Liquid Printing
Ultimately, the best part of this process is that gravity is no longer an issue. Product designers using it are able to draw in 3D space without the need for traditional support material, structures or layers. As well as this, the printing process is a lot quicker than current methods.
Rather than requiring to be set using light or temperature, the process uses a two-part mixing process which chemically-cures the material inside the vat. This means every stage of production, from extrusion to curing, happens during the printing process.
So far, their tests have proven that Rapid Liquid Printing can significantly reduce printing times. However, currently the gel printing option means metal or plastic prints are out of the question, for now.
Yuka Hiyoshi, turnstone senior industrial designer, explains the material saying:
"As a designer, what's most fascinating and unique about Rapid Liquid Printing is the line quality of the print. It's soft, almost organic. It evokes images of brushstrokes or the branches of plants… The printing speed is very impressive. In the far future, large scale objects could be printed in minutes instead of days. Also, it's not limited to typical 3D printing material making the technology very desirable from a design perspective."
Source: Steelcase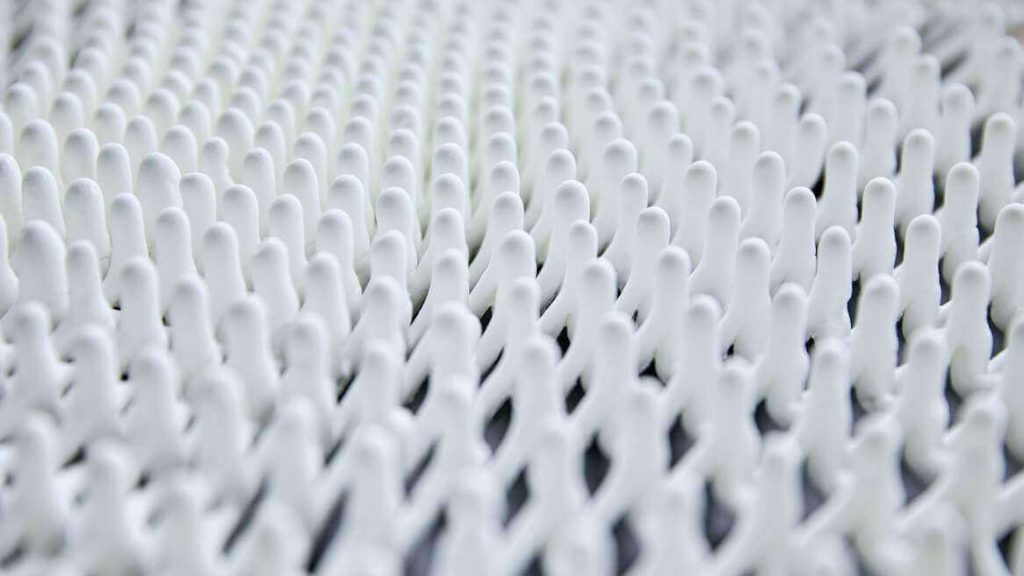 License: The text of "Furniture of the Future Made with Rapid Liquid Printing and Drawn in Gel" by All3DP is licensed under a Creative Commons Attribution 4.0 International License.
Subscribe to updates from All3DP
You are subscribed to updates from All3DP
Subscribe
You can't subscribe to updates from All3DP. Learn more…