A French designer is making art out of NASA's open source digital files, including the Apollo 11 table displaying an accurate 3D model of the moon. 
Imagine eating dinner while admiring NASA's famous moon landing. French designer, Harold Sangourd, created an Apollo 11 table thanks to NASA's open source multimedia.
Apollo 11 was the third manned mission to the moon, but the first time man set foot on it. Hundreds of millions of people followed the event from across the globe. It's no wonder Sangourd is still honoring the event today through his artwork.
Sangourd has two works of art which use digital files from NASA's archives. His Apollo landscapes are hanging pieces of which are made using steel structures, polyurethane, and resin.
However, his Apollo 11 table also displays a lunar crater and is covered by molded fiberglass. The 3D model includes the accurate topology of real surfaces of the Moon. Sangourd explains that these real surfaces "constitute an artistic and poetic landscape".
"In order to recreate the topology of the surface of the Moon, it was necessary to obtain digital files from the NASA archives… The physical properties of lunar soil are the result of the gradual disintegration of rocks, caused by continuous bombardment from meteorites over millions of years. The three surfaces (of the collection), recreated as mural installations, correspond precisely to areas of lunar earth," said Sangourd.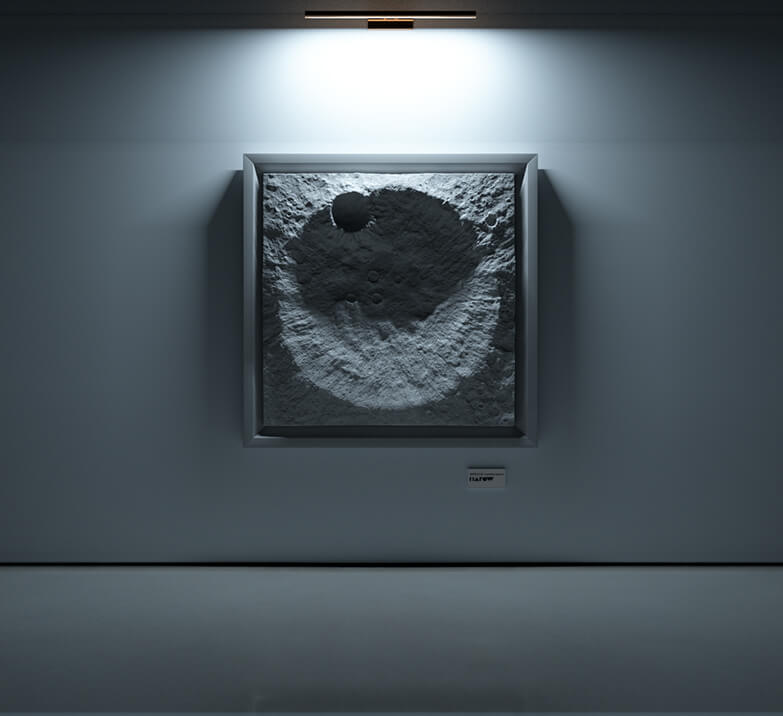 Fly me to the Moon
To create his art, Sangourd uses a 3D modeling process that based on NASA's digital files and images. Both theApollo landscapes collection and table are the results of this.
Sangourd explains on his website that the craters are sculpted on a fiberglass slab. They are then covered with a layer of resin. Thanks to this material, shadows play over the surface and the transparency allows you to see the moon while you eat – whether you're looking up at the real thing, or down.
For optimum polymerization, Sangourd adds that's it's necessary to delay between each layer of resin. This is due to the "physicochemical, dynamic, and thermal properties" of this resin. Sangourd also needs to work in a sterile and confined space to ensure perfect polymerization too.
Everything from the top of the table to the bottom has some link to NASA's mission. The table legs are also similar to moon-landing spacecraft. "The feet, a contemporary representation of those of the LEM module, require precision manufacturing. Each piece is sculpted to the micro-millimeter, delicately and directly from the block, which is composed of a brass and aluminum alloy," Sangourd adds on his website.
Source: SolidSmack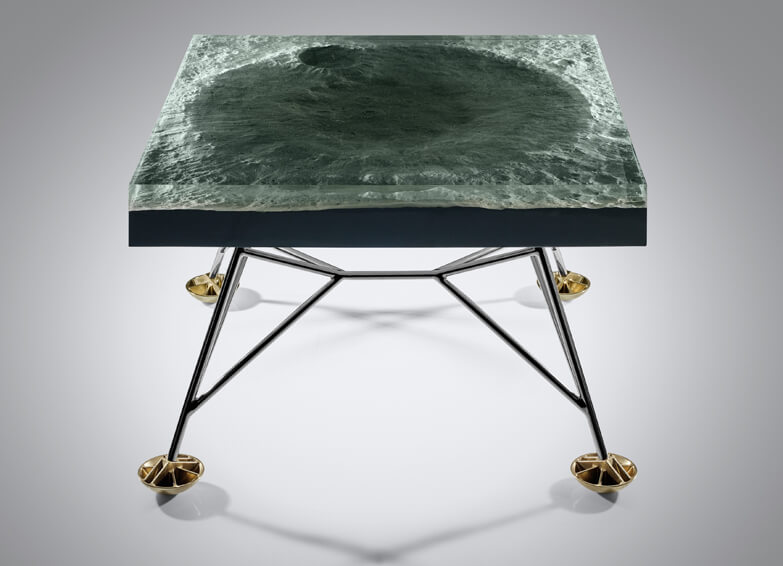 License: The text of "Amazing Apollo 11 Table Shows Accurate 3D Model of the Moon's Surface" by All3DP is licensed under a Creative Commons Attribution 4.0 International License.
Subscribe to updates from All3DP
You are subscribed to updates from All3DP
Subscribe
You can't subscribe to updates from All3DP. Learn more…