Key industry player Formlabs' first office outside of United States has had a busy first few months, and is now hiring more European staff.
Formlabs opened their European office in Berlin in March, the goal to provide customer support for German and French users of their desktop stereo-lithography 3D printers, and general marketing for Europe. The small team is highly international comprising five people of five different nationalities: French, Ukrainian, Tunisian, German and Italian. Staff use multiple languages in customer support, UX design, sales and marketing roles.
Since March they have been busy translating their materials and attending trade fairs in Europe including Start Up World in Munich, medical conferences, Euromold in Dusseldorf, Pioneers Festival in Vienna, and 3D Printshow in London.
In the documentary Print the Legend, available to stream on Netflix, Formlabs is depicted as the plucky underdog of the industry, described as "a rag-tag group of people with various different skills". As other companies such as Makerbot grew and changed beyond their origins in the RepRap community, Formlabs were told: "You guys are 'it' now".
European Market is Key to Formlabs Growth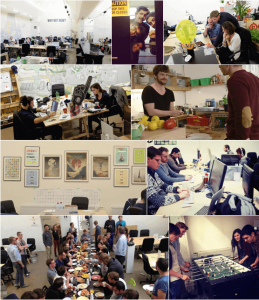 The Formlabs Boston headquarters has now grown to a team of 120, but the Berlin office only has five staff, and it still feels like a start up. In the buzzing co-work space Rainmaking Loft in central Berlin, where different start ups hire space, Formlabs have their own office, with a stylish Form 1+ 3D printer on each desk.
Formlabs sold the first desktop stereolithography printer and aim at the 'prosumer' market, particularly engineers and architects who need to prototype their designs. They also have customers in the medical sector – in dental surgeries, hospitals and research labs – and jewelry makers, fashion designers and filmmakers use their printers.
In 2013, their 13-day Kickstarter campaign raised a record $2.9 million, one of the most successful technology Kickstarters ever. Formlabs has been selling their printers in Europe since the Kickstarter, but demand grew to a level that they were able to expand to a physical space in Europe.
Although Formlabs have a warehouse in the UK, which ships machines to the EU and provides repairs for Europe, they decided on the German capital for their European base. "The German 3D printer market is the biggest in Europe and the country has a strong engineering tradition," explains Formlabs marketing manager Sara Bonomi.
Berlin itself is home to a large number of medium to small businesses, the market for their printers, and is a young and international city with lots of talent, mirroring Formlabs itself – a young team with founders who met at MIT. Furthermore, space, which the company needed, is relatively cheap in Berlin compared to other European cities like London.
And now Formlabs are hiring again in Europe – looking for German speakers for customer support roles and a European Operations Lead. Sara Bonomi says: "They will probably be technical people with some engineering background, but the essential thing is their passion for 3D printing".
License: The text of "Formlabs Berlin Office Up and Running, and Growing" by All3DP is licensed under a Creative Commons Attribution 4.0 International License.
Subscribe to updates from All3DP
You are subscribed to updates from All3DP
Subscribe
You can't subscribe to updates from All3DP. Learn more…