Every serious meal's final objective is getting to the desserts. The same seems to be true for food 3D printing: whatever new inventions are introduced, they often end up focusing on new ways to 3D print sweets. Since most sweets are either made of sugar or chocolate, these two products are the ones most "food makers" have been focusing on. Let's go take a look at what some of the leading companies and innovators in this segment, ChocEdge, 3D Systems, Hans Fouche, RIB and more, have achieved so far.
Sugar and Chocolate also represent two very different types of products. While chocolate can be melted into a paste and thus extruded through a syringe, sugar is powdery and needs to be 3D printed through processes that are derived from powder based 3D printing, such as selective sintering and binder jetting.
Selective Sugar Sintering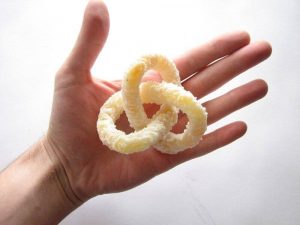 The very first attempt to create 3D dimensional shapes with sugar was a project called CandyFab, by Oskay and Lenore Edman of Evil Mad Scientist Laboratories in 2007. They introduced the CandyFab 4000, a homemade 3D printer based on particular version of the selective sintering process. While high end plastic and metal 3D printers use selective laser sintering (SLS), the CandyFab was based on a technology called SHASAM, an acronym which stands for "selective hot air sintering and melting". Using a focused heat source that moved along a bed of sugar, it melted the particles together to create "caramelized" sculptures.
While today most 3D food 3D printing is done by more affordable extrusion based systems, in the early days laser sintering was preferred. In fact, since chocolate can also be found as powder, four mechatronics engineering students at the University of Waterloo, who call themselves the 3D Chocolateering, built a low cost system to create chocolate 3D structures by selective laser sintering. For the students it was mostly an exercise in the development of a low cost SLS machine (currently they start at around €200.000) but the use of this technique to create the chocolate structures allowed them to experiment with very complex geometries.
3D Printed Chocolate for the Masses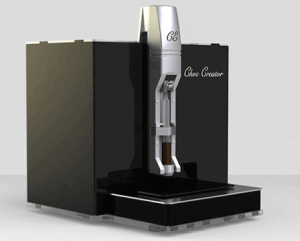 While these are all fascinating experiments, the first commercial food 3D printer was an extrusion based chocolate 3D printer called ChocCreator. It was the result of a project which began in 2010, when scientists at the University of Exeter, in England, built a 3D printer using a heated extruder capable of printing with high-quality chocolate. To do this, they developed a new manufacturing method called chocolate additive layer manufacturing or ChocALM. Led by Dr. Lian Hao, the team investigated the material properties and behavior of high quality chocolate. The result of the experiments revealed that parameters, such as the rate of extrusion, the speed of movement of the nozzle and the height of the nozzle, were critical for a successful layer deposition.
The optimization of these parameters allowed the system ChocALM to create three-dimensional shapes of chocolate without compromising the quality of the chocolate itself. Dr. Hao ChocEdge, who led the research, founded the company ChocEdge to produce and distribute the first 3D chocolate printer in 2012, at a price of about £ 3,000. ChocEdge has since launched version 2.0 of its 3D printer in 2014.
A Global Movement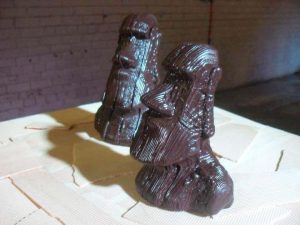 South African inventor Hans Fouche does not sell his giant Cheetah 8-nozzle 3D printer although he uses it to build a profitable business out of chocolate 3D printing. His creations range from a large size, realistic looking tractor to the Easter Island statues he build for a Chocnology Exhibit.
Fouche is the best representative of a huge movement of makers who have been using syringe based extruders on their filament 3D printers to experiment with many different types of chocolate. The Italian chain of 3D print shops 3DiTALY used a PowerWASP 3D printer to makes sweets out of traditional "Modica" chocolate for their opening in Ragusa, Sicily, while Food Form and the experimental Robots in Gastronomy group built machines that can 3D print with icecream. And these are just the tip of the iceberg.
2015: the Year of Food 3D Printing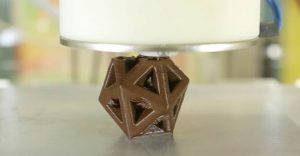 All these projects are culminating this year with the launch of two food 3D printers by 3D Systems, one of the world largest industrial 3D printer manufacturers. The Cocojet is an extrusion based 3D printer which is the result of a collaboration with Hershey, the global leader in the production of chocolate and sweets made of chocolate. The Cocojet is a modified version of the Cube Pro desktop 3D Printer, based on 3D Systems' version of plastic filament 3D printing.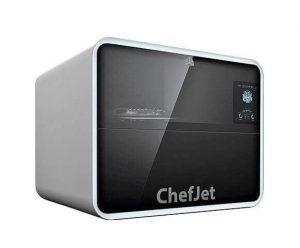 The other project has been ongoing for a few years and has already been used to create some of the most amazing sugar sculptures ever seen. It is called Chefjet and was first presented in early 2014. The Chefjet 3D 3D prints (mostly with sugar so far but also with other powdered materials, including chocolate) using a variant of binder jetting technology, where a bed of powder is deposited and each layer created by using a glue-like resin to bind the particles together. In the case of sugar, the "binder" is water.
The Chefjet's technology was invented by a small Los Angeles studio called The Sugar Lab. It was based on 3D Systems' owned Zcorp technology patent, however, instead of taking the small studio to court, 3D Systems found it to be more convenient to acquire them and continue develop their machine. The Chefjet has since been used to make some incredible, full color, sugar sculptures. Since artistic cake-topping is a very powerful trend these days this machine may be the first real consumer success by 3D Systems in its quest to get 3D printers inside people's houses. The kitchen (and the stomach) is a great place to start.
License: The text of "Food 3D Printing Starts from the Sweet Ending" by All3DP is licensed under a Creative Commons Attribution 4.0 International License.
Subscribe to updates from All3DP
You are subscribed to updates from All3DP
Subscribe
You can't subscribe to updates from All3DP. Learn more…