FlashForge has unveiled their latest 3D printer line. It includes the Inventor, a desktop printer geared towards educational use.
Like many other Chinese 3D printer manufacturers, FlashForge has thrived by balancing its efforts between affordability and performance. At the recently held Inside 3D Printing New York conference, the company was on the scene with their latest product line.
The new Inventor series is comprised of two different desktop 3D printers, both of which seem exceptionally intuitive. The Inventor is engineered for the educational sector, while the "II" model is said to operate with the intuitiveness of a smartphone.
FlashForge Inventor: Engineered for the Educational Environment
The first model in their new FDM 3D printing product line is the Inventor I, a reformulated version of the FlashForge Dreamer. It's especially useful for educational purposes. Features include automated recovery from power failure, live camera monitoring, and also a sleeker overall design.
With a calming aquamarine and white body, the Inventor fits right into the classroom setting. The real-time monitoring allows teachers and students to watch the printing process remotely from a PC or smartphone.
For those unfortunate occasions when power failure occurs, the Inventor will automatically resume printing, saving both filament and valuable time.
The build volume of this printer is 230 x 150 x 160 mm, and even includes dual extrusion via a MK9 extruder head. This allows for multi-color prints, as well as use of soluble support structures. It's compatible with PLA, PVA, ABS, HIPS, and other speciality materials.
This new printer is also equipped with a heated build plate, while offering 0.1 to 0.4 mm layer thickness.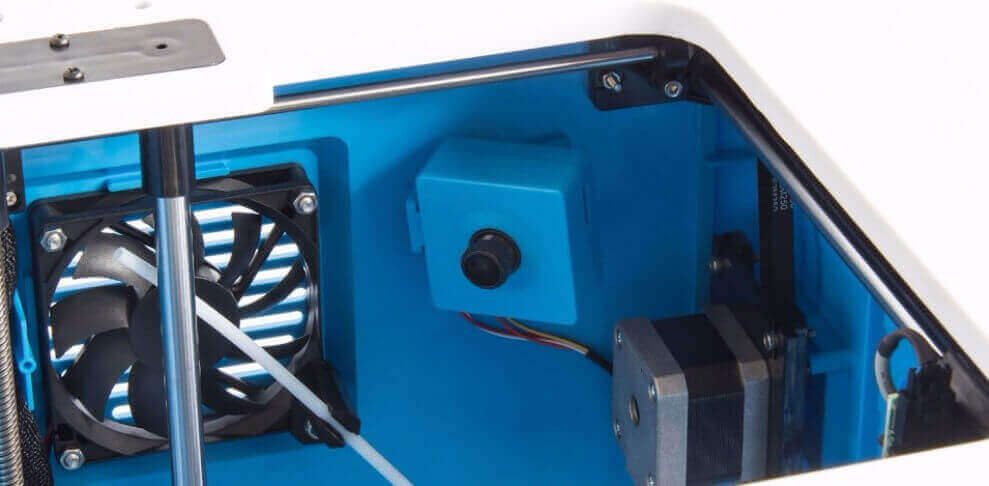 FlashForge Inventor II: As Intuitive as Your Smartphone
The other new printer model is an upgraded and more sleek version of the now-retired FlashForge Finder.
The Inventor II printer operates through a user-friendly HD touchscreen, requiring only four clicks to start a print. You can also preview the model in the interface, further eliminating the need for a computer.
The Inventor II is controllable through a USB cable or WiFi. Features range from enclosed housing to an integrated sensor that stops pressure when the door is opened. Once closed again, the printer automatically resumes the printing process. There's also an onboard camera allowing users to monitor prints from a remote location.
The build volume of 150 x 140 x 100 mm is a major improvement over the Finder model. It also allows you to switch the built-in filament guide off, enabling use of third-party materials. The printer has a single extruder, and is compatible with PLA, PET, and TPU.
FlashForge has been slow to share the exact retail price for their new 3D printer line. However, what we do know for certain is that the Chinese company is aiming for the educational sector with a much sleeker and more advanced product line.
Stay tuned for more information on the Inventor and Inventor II as the details continue to emerge.
License: The text of "FlashForge Targets Education With Inventor 3D Printer Line" by All3DP is licensed under a Creative Commons Attribution 4.0 International License.
Subscribe to updates from All3DP
You are subscribed to updates from All3DP
Subscribe
You can't subscribe to updates from All3DP. Learn more…