Is it possible that we could create everything we need from materials from space? Planetary Resources believe the future of space colonization and industrialization can now be visualized.
Planetary Resources is an asteroid mining company and their goal is to "expand the economy of humanity into space through the use and pursuit of resources".
But what does this actually mean? So far their mission has involved working in collaboration with 3D Systems to develop the first ever direct metal print from asteroid metals! At the CES  2016 in Las Vegas, Nevada, they unveiled this geometric object on the Engadget stage.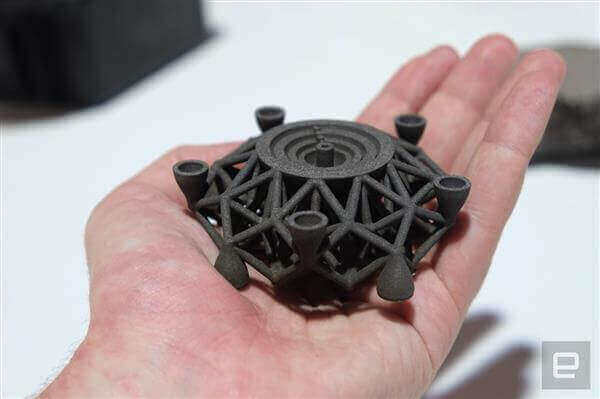 CEO of Planetary Resources, Chris Lewicki, said their end goal is to one day be able to mine space's infinite resources "in the same way that we have shipping and commerce going on between all the different countries and continents here on earth, our vision is to have space be just another one of those places."
However, to prove what they can do for now, the 3D printed object from asteroid metal was on display to show us what may be possible in the future of space.
This spacecraft prototype was 3D printed from an actual asteroid too. The asteroid used for the print materials was sourced from the Campo Del Cielo impact near Argentina, and is composed of iron, nickel and cobalt which are similar materials to refinery grade steel.
The asteroid was pulverized, powdered and processed on the new 3D Systems (NYSE: DDD) ProX DMP 320 metals 3D printer. And the final design is reminiscent of that which could be produced from a 3D printer in the zero gravity environment of space.
If this interests you and you want to learn more about how Lewicki intends to create "the next Vegas strip in outer space", then make sure to watch the video below! The segment starts at 2 hours and 27 minutes. Or you could check out the Planetary Resources website too.
License: The text of "First Ever 3D Printed Object From Asteroid Metals" by All3DP is licensed under a Creative Commons Attribution 4.0 International License.
Subscribe to updates from All3DP
You are subscribed to updates from All3DP
Subscribe
You can't subscribe to updates from All3DP. Learn more…