Designer Eliza Wrobel created a Ferris Wheel Bookshelf, with shelves instead of passengers, putting interior design in strict rotation.
If you're not interested in hanging a boring old painting on your wall — and would much rather have something useful — this Ferris Wheel Bookshelf is a magical inspiration.
As the name implies, this intriguing artefact is a wall-mounted wheel, with weighted shelves that remain perfectly horizontal while the wheel turns (powered by a 12V electric motor). Isn't gravity a miraculous thing?
Designer Eliza Wrobel came up with the rotating shelf as a storage solution for exotic trinkets she brought home from her travels. She made it using just one multitool machine, a ZMorph 2.0 SX multitool 3D printer.
Check out the making of the Ferris Wheel Bookshelf in the video below:
The Making of the Ferris Wheel Bookshelf
To build the shelf, Wrobel applied her skills in 3D printing, CNC milling and laser engraving, all of which could be done using the one multitool machine.
The gear mechanism and wall mounting were 3D printed, as were the gold shelves and black counterweights. Wrobel used standard settings on her printer and several PLA filaments for most of these parts. She also used 6% infill in a honeycomb pattern for the gold shelves, which made them durable but not too heavy.
To create the base of the Ferris Wheel, she used CNC-cut plywood pieces 6.5mm thick. She laser engraved each piece with a dimensional pattern of her own design.
The plywood pieces were then placed around the center. Wood filler was placed beneath them, allowing the structure to harden, and Wrobel used varnish to give the Ferris Wheel a perfect finish.
Once everything was ready, Wrobel was able to join everything together with screws. She then hung her unique shelf on the wall.
When the motor is running, the Ferris Wheel steadily moves while also keeping the shelves in a horizontal position thanks to the 3D printed counterweights.
It just goes to show, with the proper tools you can create items that not only add a unique touch to your living space, but also stay useful at the same time.
Source: ZMorph Blog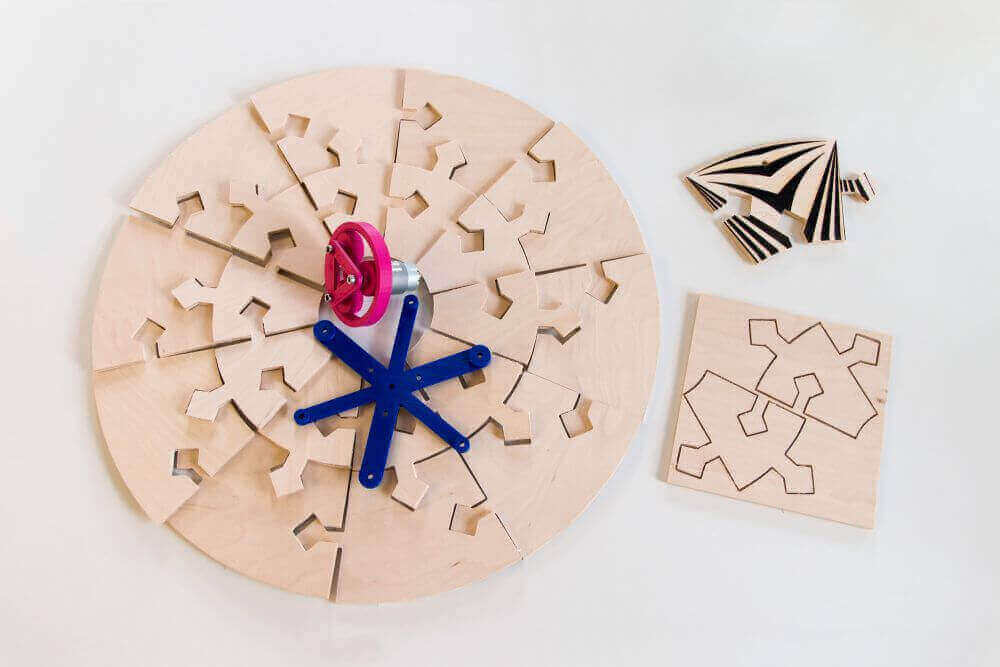 License: The text of "Jazz Up your Home with a Ferris Wheel Bookshelf" by All3DP is licensed under a Creative Commons Attribution 4.0 International License.
Subscribe to updates from All3DP
You are subscribed to updates from All3DP
Subscribe
You can't subscribe to updates from All3DP. Learn more…