According to the website QuotesDaddy, "Three things tell a man:  his eyes, his friends, and his favorite quotes."  Your eyes and your friends are there for all to see, but your favorite quote often goes unseen… until now.
Through the miracle of modern manufacturing, i.Materialise can place your favorite quote front and center for all to see by 3D printing a lampshade that reveals a pithy phrase when the bulb is illuminated.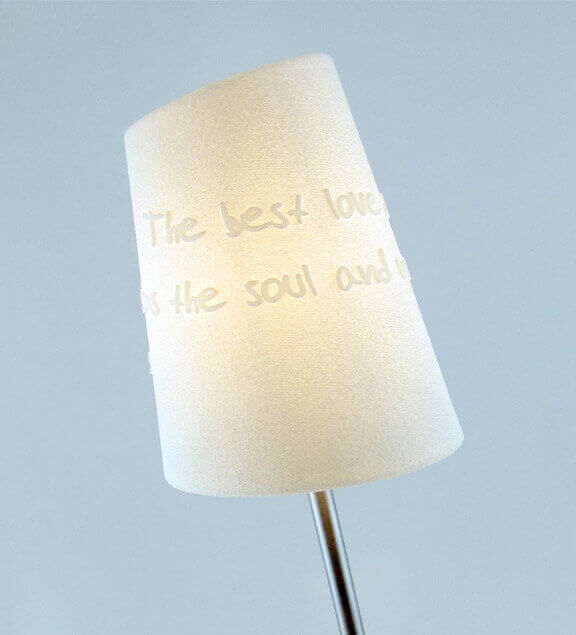 Customizing your lamp is easy
The shade is composed of polyamide and produced using selective laser sintering.  All said and done, the height of the shade is 14.8 cm.  Add the metal base, dimmer, and light bulb – included in the package – and your new found source of inspiration stretches 43.4 cm from the 9.9 cm-wide base to the top of the custom shade.
All you have to do is:
 Choose the shape.
 Type the inside message (140 characters or less).
Choose your font (3 options thus far).
Type the top text signature (24 characters or less).
Choose your surface (Tornado, Street, or Denim).
Print your favorite quote in a lampshade.
It's just that simple.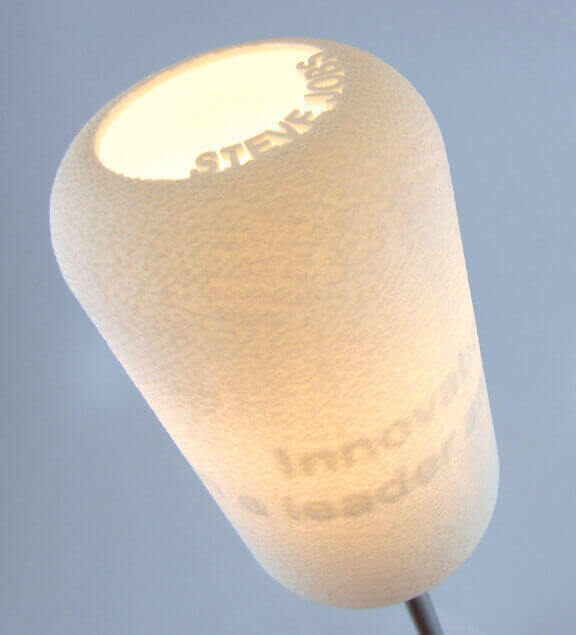 How about the "Will you marry me?"-lamp
Needless to say, you won't be lighting a room with this item but the real appeal is, of course, the shade.  Already set with a lamp on your desk?  How about giving one of these as a gift?  This would make a truly unique way to propose.  "I love you darling!  Will you be my wife?" fits nicely in the space provided.
i.Materialise even provides links to various websites to help you find just the right words for your 3-D printed lampshade.  So really, you have no excuse.
Customize your lamp at i.Materialise
License: The text of "Your Favorite Quote in a Lampshade" by All3DP is licensed under a Creative Commons Attribution 4.0 International License.
Subscribe to updates from All3DP
You are subscribed to updates from All3DP
Subscribe
You can't subscribe to updates from All3DP. Learn more…