Who should read this: anyone who wants to know what the future of photography will be like
When you step inside a miniature 3D printed statuette shop you are not just walking inside a new fad or some king of novelty shop, you are entering the future of photography. Just like the first photographers in the 1800's these studios are the very beginning of a phenomenon we will come to know as "physical photography", that is the possibility to instantly 3D scan someone or something (or somewhere) and have it reproduced as a full color, high resolution, miniature 3D copy.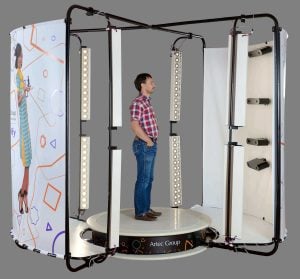 To create colored 3D selfies – that is to "develop" the three dimensional, physical photos – you will need a professional 3D printer such as a Projet 660 or Projet 4500 by 3D Systems. These models are able to 3D print colored objects in plastic or gypsum with high precision and good production rates. Another great choice is the IRIS by mcor Technologies, which uses normal sheets of A4 paper instead, and offers the highest possible color selection (over a million colors and 508 dpi).
3D Cameras
For the 3D scanning process, that is the actual three dimensional photo itself, the most common solution today is Artec's EVA 3D scanner. Its technology however requires that the scanned subject remains almost motionless for 10-15 minutes, which is not possible when scanning pets or children. That is why is Artec created the Shapify 3D scanning booth that utilizes four individual 3D scanners to complete a scan in only 12 seconds. After the scanning is done, all data is sent to the central server for digital processing so that it doesn't need more than a few minutes to complete.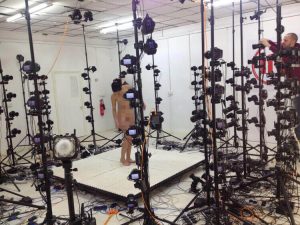 The only thing quicker and more efficient than Artec's 3D scanning booth is a photogrammetric booth. Photogrammetry is basically a technique that allows people to create 3D models of objects using a set of photographs that depict the object from various different angles and positions. Todays this is achieved rapidly through software algorythms, but the science of making measurements from photographs is almost as old as photography itself. The photogrammetric booth is made up of dozens (even more than a hundred) DSLR digital cameras that are aligned in a box measurement set-up. The operator snaps all the pictures simultaneously, capturing the object or person from every angle. The software then "stitches" the picture together automatically by comparing the common points of each image. The 3D model is finally generated in a matter of minutes.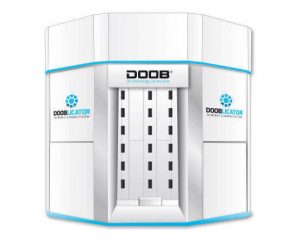 The main limitation of this technology is that these booths can not be easily moved and transported. To answer this demand, a German company called Doob Group built the "Dooblicator" photogrammetry booth, which is somewhat more compact and thus can be moved into specific locations such as concerts or sporting events. The Dooblicator is often made available to companies and organizations to explore and exploit the possibilities of instant 3D scanning. With it, Doob Group is creating a Doob "empire", opening Doob Stores, that 3D scan and 3D print people in almost no time all over the world. After the first concept store in Dusseldorf more branches opened in Santa Monica, Tokyo and New York City.
Supersize Me
Creating a clone out of thin air by using a 3D printer may cost you between 100€ and 700€ depending on the size of the model (from about 10 to about 30 cm). 3D Scanning yourself for it is a significantly costly part of the procedure but you don't always need to scan your whole body. If you want to create a personalized action-figure like Iron Man, for example, you will only need to scan and 3D print your face on Marvel's superhero's armor. The same could be done with the body of a footballer or a sportsman, or even a completely fictional and unique character.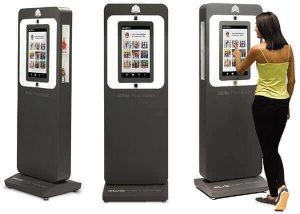 This is what 3D Systems aims for with its new 3D Me Booth. This innovative system allows you to create a 3D model by simply taking a picture of the face and integrating it on a set of 200 "body" presets. This way, creating an avatar takes only seconds and is much less expensive compared to what other similar services charge. Printing can also be ordered through the App 3D Me and the online system Cubify.
A similar system has been created in America by 3D+Me. Instead of using generic bodies, the SuperAwesomeMe Booth uses super heroes from Marvel comics like Iron Man and Captain America, as well as real-life athletes from popular sports in the US. Since the body is basically a preset, the final cost of the custom action figures is less than that of a "traditional" Mini-me. The whole system is relatively transportable, so 3D+Me organizes tours and promotional events involving some of the most famous toy stores in the country. Just like we used to do with 2D photos, only in a whole new dimension.
Are you interested in getting a 3D selfie? Then find our list of figurine studios here.
License: The text of "3D Selfies: Enter to the Photo Studios of the 21st Century" by All3DP is licensed under a Creative Commons Attribution 4.0 International License.
Subscribe to updates from All3DP
You are subscribed to updates from All3DP
Subscribe
You can't subscribe to updates from All3DP. Learn more…