The introduction video for Tomorrowland, one of the largest electronic music festivals in the world, this year featured a 3D printed ring.
You may have heard of Tomorrowland for its diverse lineup of DJs and fairy-tale themed stages. The festival, which made 180,000 visitors come to Boom, Belgium, this year, also boasts record-breaking ticket sales.
Before the festival every year, an introduction video is posted to warm up attendees. This year the theme was "The Elixir of Life" and 3D printing played a role too.
Materialise were tasked with the creation of a unique object which would function as one of the props in the video. They chose to design a magical ring. In the video below, if you look closely, you can see the ring holding together the protagonist's scarf at 1:52.
How did Materialise Make the Ring?
Materialise said on their blog: "One of the biggest advantages of 3D Printing is – of course – its freedom of design. Which is exactly what was needed for this project: to fit in with the Tomorrowland aesthetic, the design of the ring had to look organic and esoteric as if a nimble woodland elf had crafted it with magic."
The "Elixir of Life" theme had a heavy focus on nature. This was mirrored in the main stage too which was made to look like a giant tree.
The ring was designed to match this and mimics the roots of a tree growing together. Materialise said: "Not having any woodland elves at our disposal, we chose to use Stereolithography to print out the final design."
In order to give the ring and aged metal look, the resin was cured. The precious stone was then inlaid after some important final touches.
The impressive result adds a lot to the video. Let us know what you think of the design in the comments.
(Source: Materialise Blog)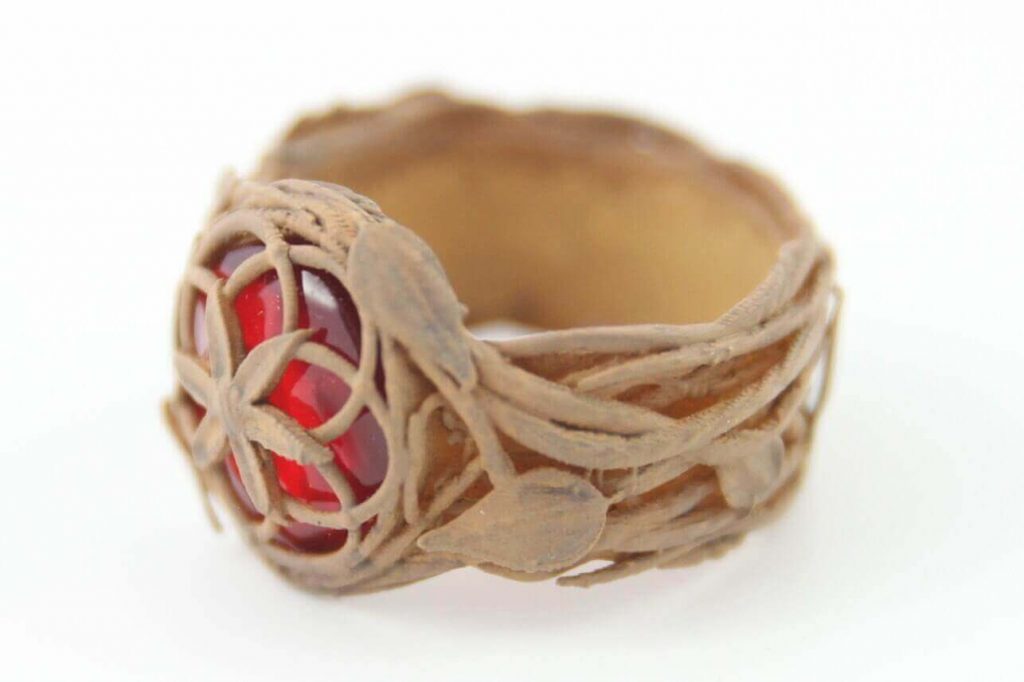 License: The text of "3D Printed Ring Features in Tomorrowland Music Festival Teaser" by All3DP is licensed under a Creative Commons Attribution 4.0 International License.
Subscribe to updates from All3DP
You are subscribed to updates from All3DP
Subscribe
You can't subscribe to updates from All3DP. Learn more…