The Urban Cabin is a 3D printed proof-of-concept by Dutch studio DUS Architects, offering sustainable micro-dwellings in urban environments.
A 3D printed micro home is causing a sensation in Amsterdam, ready to welcome guests with a new and unconventional approach to housing solutions.
Built by Dutch studio DUS Architects, the Urban Cabin was fabricated using fused filament fabrication (FFF) and sustainable bio-plastics. Its purpose is to show how 3D printing can offer solutions for disaster relief and temporary functional housing.
Once the need for the cabin is gone, it can even be shredded and recycled for other 3D printing projects. According to the project brief on their site:
"The building is a research into compact and sustainable dwelling solutions in urban environments. 3D printing techniques can be used particularly well for small temporary dwellings or in disaster areas. After use, the bio print material can be shredded entirely and re-printed into new designs."
The tiny house is situated in a former industrial area and takes up only 25 cubic metres. It has just one window and one door, with a bathtub and "pocket park" grass lawn situated outside.

Urban Cabin is Plastic Fantastic
Inside the cabin, there's only room for a bed, which can be folded into a seat when not in use. There's no bathroom, however; guests are invited to take their baths au naturale in the garden.
The tiny space is very stylish, with a black cubist surface made from bio-based filament. The filament contains linseed oil, and was the result of a collaboration between DUS and Henkel, the German FMCG (fast moving consumer goods) company.
For the flooring, concrete was poured in a patterned grid which reaches out into the garden to provide a pathway.
The architects added: "The Urban Cabin is part of the 3D Print Living Lab by DUS architects. It is another step in using the in-house developed 3D print technology to build sustainable, customizable and on-demand housing solutions for the fast growing cities around the globe. "
One such project the team are working on is a full-size 3D printed canal house. Plans for this canal house were first unveiled in 2013, and should be completed at the beginning of next year.
What do you think? Can you see yourself sleeping soundly in a 3D printed urban cabin? Let us know in the comments.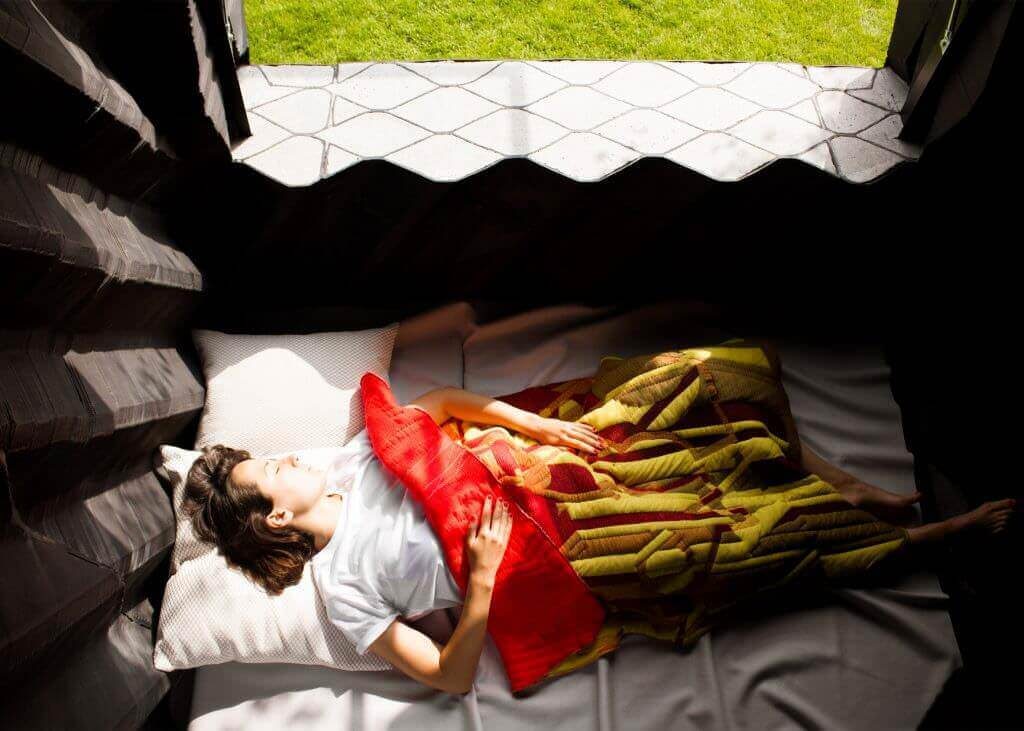 License: The text of "DUS Architects Build 3D Printed Urban Cabin in Amsterdam" by All3DP is licensed under a Creative Commons Attribution 4.0 International License.
Subscribe to updates from All3DP
You are subscribed to updates from All3DP
Subscribe
You can't subscribe to updates from All3DP. Learn more…