Mix your own drinks at any party with Anouk Wipprecht's 3D printed robotic cocktail dress; the DrinkBot can pour an Old Fashioned on command.
Don't Miss:
Dutch fashion designer Anouk Wipprecht has taken the term "cocktail dress" quite literally with her latest masterpiece.
Her robotic cocktail dress — made from leather, 3D printed parts and custom electronics — that can pour you cocktails while you socialize. Never again will you have to wait in line at the bar!
Wipprecht has shared detailed instructions on how you can make your own robotic cocktail dress on Instructables. The official name for the project is (drumroll please) the DrinkBot.
She explains its function plainly on her Instructables page: "Why would you want to do that? Because it's fun, twist-y, and it makes you the start on any cocktail party! Bringing your own set of drinks with you."
3D printing is featured in the front piece of the dress as a heart shape, which is where the shot glasses are held.
Watch Wipprecht on the Discovery Channel as she describes her robotic cocktail dress and some of her other 3D printed creations.
How to Make a Robotic Cocktail Dress of your Own
Wipprecht walks through the project step-by-step on her Instructables page, together with a long list of materials.
If you're tempted to make the dress yourself, you'll need the following:
A peristaltic pump from Party Robotics called 'Bartendro'. 

An ethernet cable , which you will cut open and reconnect.
A Teensy – this is a small 

development board design which has a 32 bit ARM Cortex-M4 platform. 
The dress also requires a momentary pushbutton, 4.8V 5A voltage regulator, a Dean Connector Pair M/F, LIPO Battery, a LIPO-charging station, and a water bottle which can hang from your hip. 
From here, you'll require a certain level of technical knowledge to put everything together. But the instructions are pretty clear for those who aren't afraid to get stuck in. Follow along and you'll have your very own unique dress in no time.
Elsewhere, you can enjoy more of Wipprecht's work. Two years ago, she created a 3D printed spider-inspired dress which protects its wearer from approaching predators.
What do you think of the DrinkBot dress? Would you take a shot if offered? Let us know in the comments.
Source: Engadget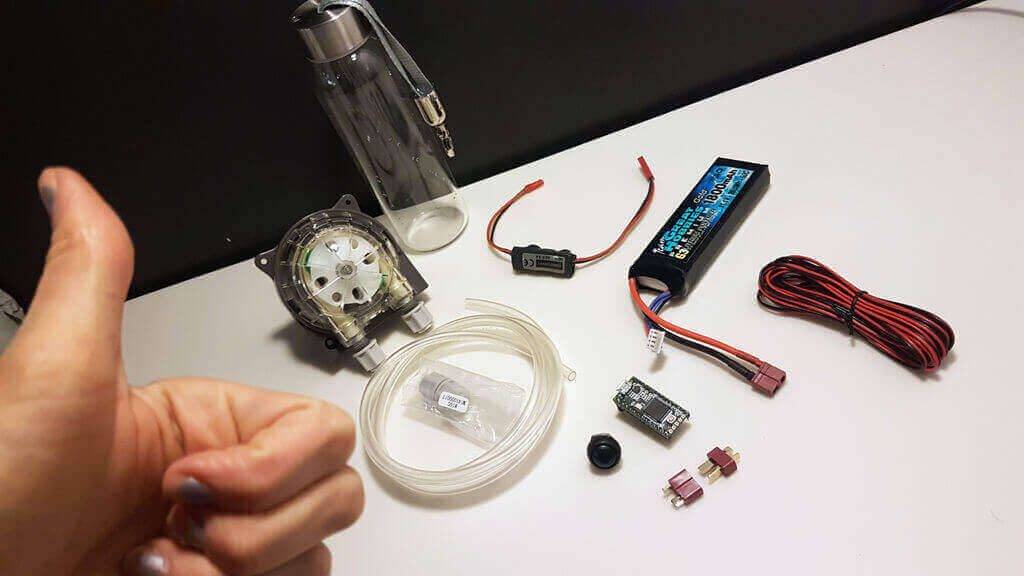 License: The text of "DrinkBot: Behold the 3D Printed Robotic Cocktail Dress" by All3DP is licensed under a Creative Commons Attribution 4.0 International License.
Subscribe to updates from All3DP
You are subscribed to updates from All3DP
Subscribe
You can't subscribe to updates from All3DP. Learn more…