Fat Dragon Games have launched the Dragonlock system on Kickstarter, a set of 3D printed, interlockable dungeon tiles for roleplaying games.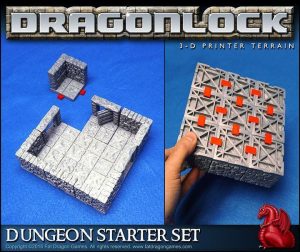 Some of us have only ever experienced roleplaying games from within the digial realms of the console or PC.
Others, however, prefer to do things the analogue way; with a group of friends gathered around a table, playing Dungeons & Dragons with a roll of the dice.
Fat Dragon Games is a game design company specialising in customizable terrains for roleplaying games. To date, they've specialized in papercraft models — artwork that's printed out on paper and then assembled into 3D models using scissors, glue, and a heck of a lot of patience.
But with their Dragonlock range, the company is taking things a step further. Launched on Kickstarter, Dragonlock is a "terrain system" with 3D printed dungeon pieces that snap together. They can even be stacked on top of each other to create multi-level dungeon designs.

Dragonlock follows the principle of local manufacturing that Fat Dragon Games had already established with their papercraft models. You simply buy the 3D model files, and then print them off at home. Print off only the tiles you need, and with a large selection of tiles to work with, an infinite variety of dungeons can be built.
Dungeons, Dragons, and Dragonlock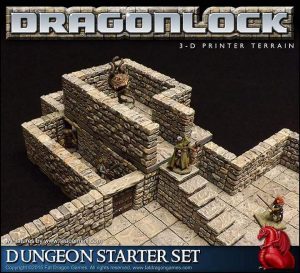 Since launch, the Dragonlock campaign has attracted nearly $28,000 pledges — from a modest goal of $500.
It's clear that a great deal of interest has been awoken in the RPG community, who are excited by the possibilities afforded by 3D printing.
One enthusiast is Geek Dad, who shares his thoughts:
"I know a few DMs (Dungeon Masters) that prefer theater-of-the-mind style gaming, and there's nothing wrong with it. In the right DM's hands, imagination can work wonders. But that's not my style. I want some visual elements to help me coordinate and manage exploration and combat, and between the 2D and 3D papercraft elements and now the 3D printed tiles, I think I'm going to be able to offer up my players (and my boys) some amazing sights in the coming years."
The Dragonlock campaign page also has a Q&A about 3D printing fundamentals at the bottom. Understandably, some fantasy fans remain unfamiliar with 3D printing technology, and need some guidance to take full advantage of this system.
Don't have access to a 3D printer? Not a problem, just hook up with 3D Hubs and find someone in your area who can print the tiles for you (for a fee). Alternatively, use the ALL3DP Price Comparison Service to find the best price and material for your print job from several professional services.
https://youtu.be/t9_jafLssdM
License: The text of "Dragonlock: 3D Printable Dungeon Terrain for Roleplaying Games" by All3DP is licensed under a Creative Commons Attribution 4.0 International License.
Subscribe to updates from All3DP
You are subscribed to updates from All3DP
Subscribe
You can't subscribe to updates from All3DP. Learn more…