Always wanted your own SLS 3D printer? Hoping for a cheaper alternative to the industrial machines? Check out this DIY project on Wevolver.
Vulca Man is a 17-year-old maker who recently released plans for his own DIY selective laser sintering (SLS) 3D printer. If you're tempted to have a go, then you can find the pretty complex design hosted on Wevolver.
He said of his project: "Since hearing about them, I have always wanted an SLS printer but they are very expensive and only really suitable for industrial use. As a result, I decided to build my own commercial SLS printer."
The young maker promises that he made everything himself and encourages other makers to create their own design too. Check out the finished SLS 3D printer fabricating a gear in the video below.
DIY SLS 3D Printer in 17 Steps
Vulca Man explains some of the technical specs if you manage to build your own. These include: 1W 445nm Laser diode, 8 x 8 x 8cm Build volume, 36 x 54 x 60 cm Outside dimensions, CORE-XY Movement, Speed: 60mm/s tested, 300mm/s possible.
To build the entire printer from scratch, Vulca Man estimates that the cost will be €400, which is substantially cheaper than the typical industrial SLS 3D printer on the market.
In 17 detailed steps, Vulca Man runs through everything you will need in order to put your printer together. You can find the instructions on his Wevolver page here.
The result appears to be pretty impressive, in the picture below you can see the first test print created using the DIY 3D printer. Vulca Man printed a simple gear shape which took one hour to print in black powder material at 60mm/s with the size of 3 x 3 x 0.5cm.
Are you tempted to build your own SLS 3D printer at home? Let us know what you think of the design in the comments.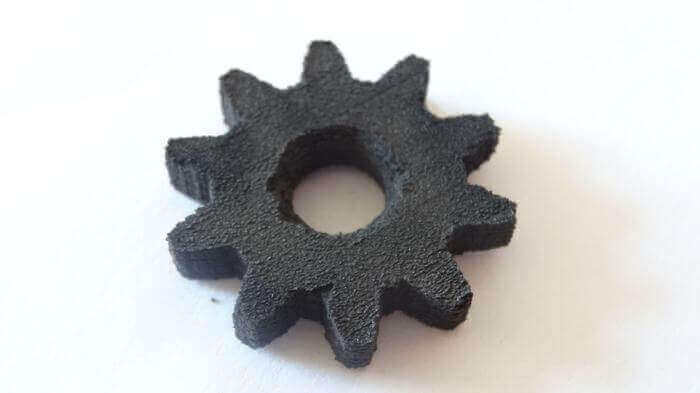 License: The text of "SLS 3D Printer: How to Build Your Own" by All3DP is licensed under a Creative Commons Attribution 4.0 International License.
Subscribe to updates from All3DP
You are subscribed to updates from All3DP
Subscribe
You can't subscribe to updates from All3DP. Learn more…