DIY Drones are steadily conquering the market with increasing number of applications and 3D printing helps speed up the process.
Drones have come to conquer everything during the last few years. They are rapidly booming in many professional fields. They are used by media producers (photography and video), for special crop irrigation, and even football tactics analysis. The latest trend is extreme drone customizing with 3D printing. Think about first person view (FMV) 3D visor-based drone racing. This makes us seriously think about new, upcoming, future entertainment concepts.
DIY Drones + 3D Printing = Great Team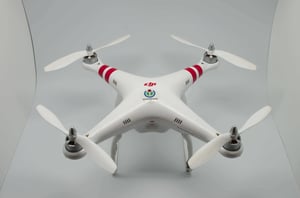 While drones are certainly sophisticated, they aren't exactly rocket science anymore. This makes it possible to enjoy building it from scratch or customize your DIY drone they own with new parts and accessories. 3D Printing is playing a key role in this process, as high precision production of lightweight plastic parts can only be achieved through this technology.
Relatively new are 3D printed drones design competitions. They are held online with lucrative grand prizes that push designers to create their 3D printable drone accessories. MyMiniFactory.com, one of the most popular curated 3D model marketplaces, is also organizing a similar competition that calls for innovative 3D printing designers to transform its standard "MicroDrone 3.0" into something epic. The top three designers (by downloads and votes) will receive their MicroDrones with their creation realized.
People have already built custom racing quad-copters that consist of 3D printed parts made from ABS plastics. They report good durability even when crashing on the ground at a speed of 40 miles per hour (65 km/h, for you Europans)! The total build time for such a DIY drone is around five hours.
3D Printing DIY Drones on Demand
Researchers from the University of Sheffield have gone a step further. They built a five ft. / 1.5 meters UAV (Unmanned Aerial Vehicle) in 24 hours. That's a lot faster compared to traditional methods of manufacturing such products. Sheffield's UAV consists of nine thermostatically jointed pieces of nylon that weighs less than 2 kilos!
The road for DIY drones seems to be already well paved in many countries around the globe.
In Japan, over 90% of all crop spraying activities are already performed by unmanned drones. . In the USA,
Amazon has announced their intention to make shipment of ordered products faster and less costly through the use of drones – although that's more a publicity stunt than reality.
In the UK, BAE Systems (British Aerospace) envisions a "search and rescue" system. It will be based on DIY drones that will be 3D printed inside aircrafts on the go, and will have the capacity to pick up survivors during disasters.
EasyJet is currently testing automated airplane inspection drones. Thay will quickly sweep the aircrafts to locate any problems. It is true that this kind of applications sounds somewhat funny only a year ago. But here we stand now watching them evolve in every corner of this world through the work of passionate engineers.
A New Angle on the World
DIY Drones are already capable of many amazing feats that fundamentally change the perspective of the way we see our world. From Point of View goggles that lets you "fly" free many hundred meters from where you are comfortably sited, to automated products that undertake and carry out a particular set of actions with astonishing precision.
3D printing is only going to make them more efficient, more customizable and more affordable. So these two different technology product sectors are actually growing side by side with one (3DP) to the benefit of the other (drones).

License: The text of "DIY Drones: Customize Your Drone with 3D Printing" by All3DP is licensed under a Creative Commons Attribution 4.0 International License.
Subscribe to updates from All3DP
You are subscribed to updates from All3DP
Subscribe
You can't subscribe to updates from All3DP. Learn more…