For his wife's birthday, maker Aleksander Wróblewski took inspiration from the Russian Tsars to design and 3D print a Faberge egg from scratch which could hold a surprise.

Struggling for unique gift ideas? Why not take inspiration from Aleksander Wróblewski? The maker recently uploaded a project he worked on for his wife's birthday which involved designing and 3D printing a Faberge egg perfume case from scratch.
Fit for a Russian Tsar, Peter Carl Fabergé's company, House of Fabergé, is the creator of these opening jewelled eggs. They were initially designed in 1885 as Easter gifts for Alexander III and Nicholas II's wives and mothers.
The last egg created by the House of Fabergé was believed to be in 1917, the year of the revolution, but now Wróblewski is bringing them back with a 3D printed twist. His final present looks great and certainly fit for a Tsar.
"When it opens it reveals EDP she really liked. When I got them I knew I have to make something more as I always try to give her something handmade and special," he adds.
3D Printing a Unique Birthday Present from Scratch
Wróblewski initially wanted his design to open with a set of rubber bands, but quickly decided to change to a spring-loaded mechanism. With this, the 3D printed leaves all open up together and the content is lifted up at the same time.
However, this took some planning. In order to test the design, Wróblewski used simulations before printing to avoid wasting PLA. Wróblewski designed the egg using Autodesk CAD software and 3D printed it in PLA on a Hypercube 3D printer (which he also built himself).
His initial prototypes were promising and with a few tweaks the mechanism worked well and could be easily put together. The final egg is printed in black and was sanded down with 100 and 220 grid sandpaper.
"It took me quite some time to archive smoothness I was satisfied with. Painted and sanded with 220, 600, and 1500 grid sandpaper alternately a couple of times," Wróblewski explains.
The process from initial design to a final coat of paint took one and a half months to complete. However, Wróblewski adds that towards the end of his project he began running out of time. This resulted in a slightly rushed spray paint job, but the final product looks fantastic in black and gold.
Wróblewski doesn't mention how well the gift went down with his wife, but it certainly was a thoughtful present.
Source: Imgur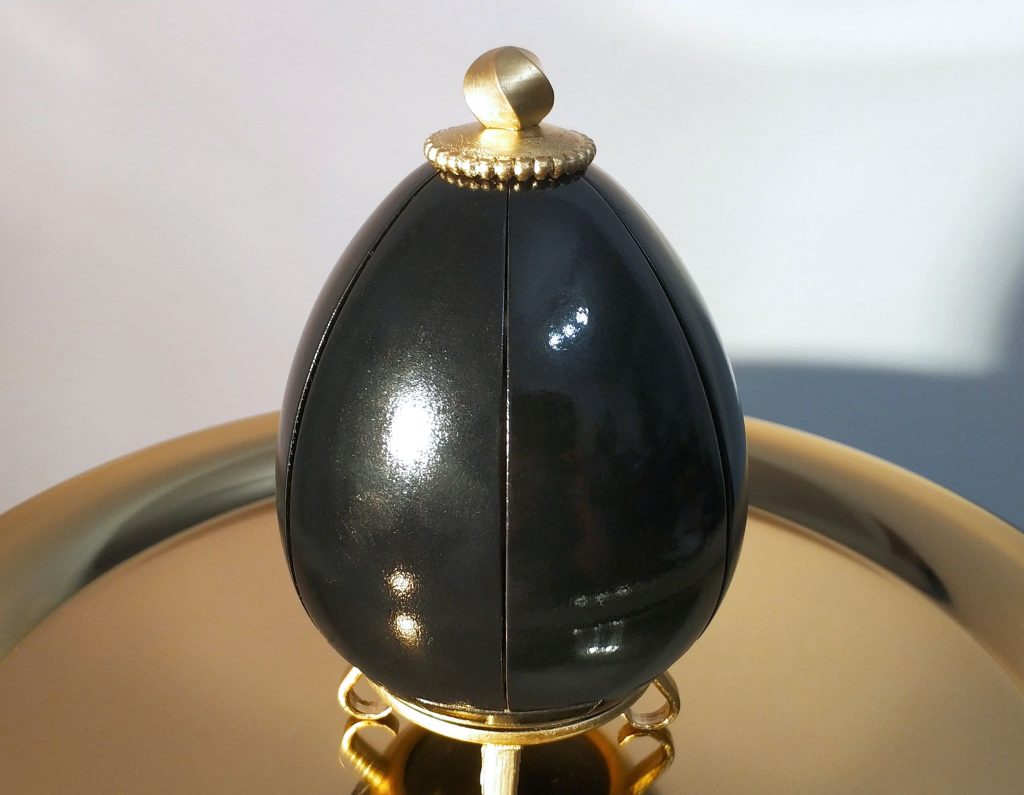 License: The text of "Designing and 3D Printing a Faberge Egg from Scratch" by All3DP is licensed under a Creative Commons Attribution 4.0 International License.
Subscribe to updates from All3DP
You are subscribed to updates from All3DP
Subscribe
You can't subscribe to updates from All3DP. Learn more…