Inspired by nature's beauty, Dutch designer Kiki van Eijk uses 3D printing to create lampshades imitating the foxglove flowers in her garden.
Nature is often an inspiration for artists, as was the case for Kiki van Eijk. Employing 3D printing technology, the Dutch designer created a set of foxglove lampshades.
Following the birth of her son, van Eijk began working on a project inspired by plants in her garden. The work is a collection of lights with lampshades which resemble digitalis, commonly called foxgloves.
The designer described the beginning of the thought process in an interview with Dezeen:
"I spend a lot of time in my garden and outdoors in general. But what caught my attention this spring was the digitalis – or foxgloves. When it gets its full bloom, (the plant) starts to get top-heavy and then it starts to bend down in all sorts of funny curves."
Producing the lampshades was made possible with a 3D printer belonging to her partner, designer Joost van Bleiswijk.
The couple presented their combined work in their exhibition "Tinkering Labs" during Dutch Design Week. The exhibition ran in their new studio from the 21st to the 29th of October.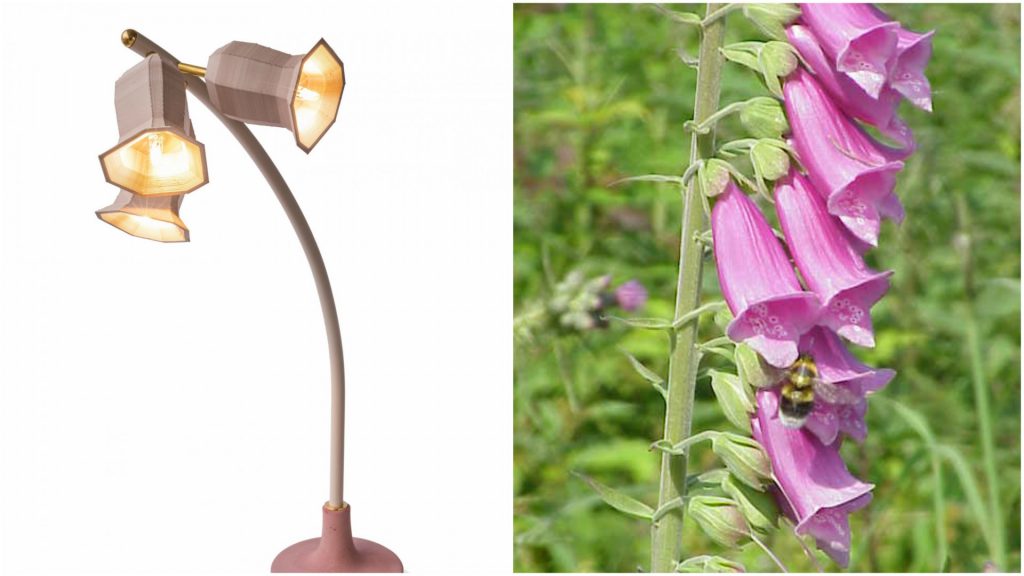 Beautiful Foxglove 3D Printed Lampshades
Van Eijk's design process began with experimenting using the 3D printer. The lampshades are printed with bioplastic, where extrusion marks are deliberately made to be visible. The designer explains:
"I love that imperfection that arises when plants get to the end of their bloom. I had the idea to 3D print the light shades in bioplastic in very low resolution, so you'd see the structure of the printing technique and give the material more soul. Here you see how low tech and high tech can form a perfect match!"
The foxglove shades are attached to hand-bent metal tubes and the lamps have cast-concrete bases. The resulting forms are very similar to foxglove plants, bringing the outdoors inside.
During Dutch Design Week, van Eijk displayed her lamps alongside the 3D printer which she used to create them. In case you missed the event, which took place in Eindhoven, you can check out Van Eijk's work on her website.
Source: Dezeen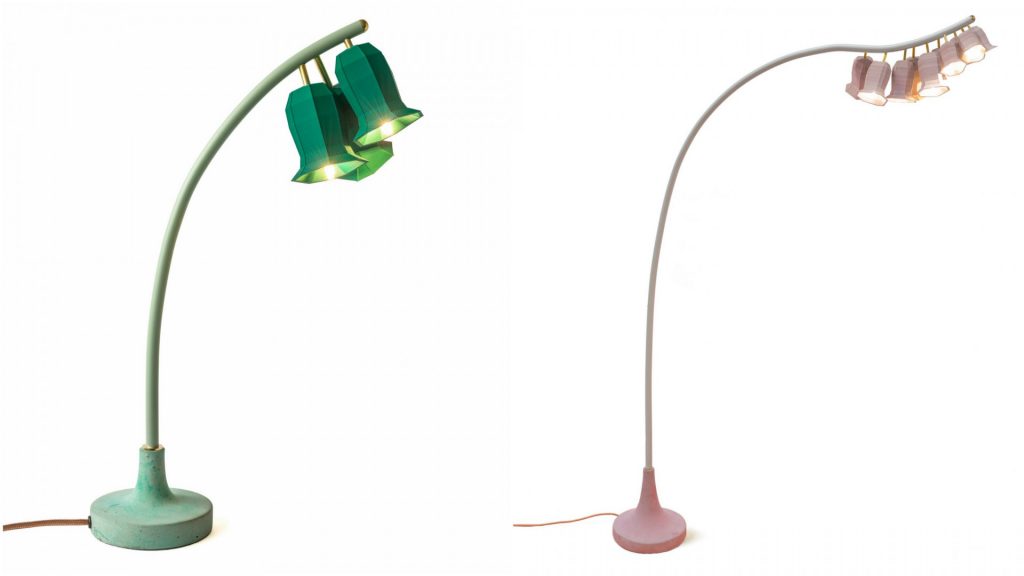 License: The text of "Designer Van Eijk 3D Prints Foxglove-Inspired Lampshades" by All3DP is licensed under a Creative Commons Attribution 4.0 International License.
Subscribe to updates from All3DP
You are subscribed to updates from All3DP
Subscribe
You can't subscribe to updates from All3DP. Learn more…