Dave & Buster's and HTC Vive are teaming up to bring VR headsets and multiplayer games to 114 locations across the US and Canada starting from next week. They're calling it the largest commercial VR arcade deployment. 
Dave & Buster's, the American restaurant and entertainment business, is pairing up with HTC, the computer manufacturing company behind the VR headset, HTC Vive. By teaming up, the two companies can together offer visitors to 114 Dave & Buster's arcade locations across the US and Canada the opportunity to play VR multiplayer games.
There will be 500 HTC Vive VR headsets installed. HTC has promised not only premium hardware but also exclusive content, although no specifics have yet been divulged. However, they have promised a "multi-participant motion platform".
"VR has proven to be a consistent traffic generator in entertainment venues and we're thrilled to be partnering with Dave & Buster's to take Vive nationwide into their locations," said Daniel O'Brien, HTC VIVE GM for the Americas. "Through our collaboration, we're combining their location-based entertainment expertise and the world's best VR in VIVE."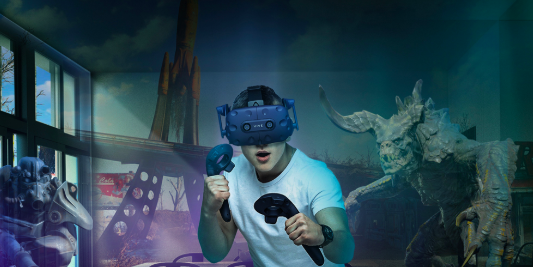 Making VR Accessible to Consumers in North America
So far, the press release is sparse on details. However, it's thought HTC is hinting at a Jurassic World VR Expedition multiplayer game being available. This is due to both announcements being released on the same day. For this game, climb into a motion simulator to be transported to Isla Nublar. Up to four friends can play.
Kevin Bachus, Senior Vice President of Entertainment & Games Strategy at Dave & Buster's, said: "We're excited to partner with HTC Vive in the largest location-based VR activation in U.S. and to bring the most immersive VR system to our customers. Across all of our locations, we know families will enjoy the stunning entertainment that virtual reality offers, and our guests can look forward to experiencing new exclusive content throughout the year."
If you're excited by what you've read so far and live near to one of the 114 locations mentioned, visit next week on June 14th to enjoy the multi-player games created by HTC exclusively for Dave & Buster's.
Source: PR Newswire
License: The text of "Dave & Buster's to Introduce HTC Vive Headsets to 114 Arcade Locations in North America" by All3DP is licensed under a Creative Commons Attribution 4.0 International License.
Subscribe to updates from All3DP
You are subscribed to updates from All3DP
Subscribe
You can't subscribe to updates from All3DP. Learn more…