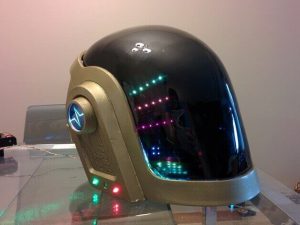 Party with style: This 3D Printable Wearable Helmet isn't easy to assemble, but the look's really worth the work
As if listening to their music and enjoying Daft Punks shows wasn't enough (I know, it's never enough these days), now you can dress like them too!  Maker bendiger (a.k.a. Ben Diger) has posted plans on Thingiverse.com for a Daft Punk Guy Manuel 3D Printed Wearable Helmet.  You're welcome world!
According to Mr. Diger's description, "all parts zip tie or glue together," so don't expect this helmet to be ready to wear right out of the printer.  But all of that work will be well worth it as Mr. Diger has made his design compatible with AlexPlusLED fans and chin lights for that extra dash of authenticity.
And for all of you with size issues, Mr. Diger has kindly formatted his design to fit small 3D printers with 6 x 6 inch print beds.  So even if you can't yet afford a large-scale 3D printer, you can still be on the cutting edge of cool – some assembly required.
You can download plans from Thingiverse and print it yourself or upload said plans to a service like Shapeways or Sculpteo and have them print it for you.
License: The text of "Daft Punk Helmet" by All3DP is licensed under a Creative Commons Attribution 4.0 International License.
Subscribe to updates from All3DP
You are subscribed to updates from All3DP
Subscribe
You can't subscribe to updates from All3DP. Learn more…