Convert your smartphone into a pocket holographic projector with the Holo-Z, a 3D printed accessory available to buy on Sculpteo.
Holo-Z is a 3D printed accessory which allows you to create visually stunning holographic effects with your smartphone. Cyril Dieumegard, the designer of the Holo-Z, explains his inspiration:
"It all started in 2014 when I discovered that some American makers were creating little holograms with their smartphones, using pieces of plastic to be cut in CD cases. The result was nice! But of fairly low quality. That's when I decided to create an improved version of the system."
Dieumegard decided to 3D print the holographic support, and contacted Jaime Mansilla to collaborate with him. Together they created a printable high-quality STL file, generating many prototypes before reaching the final version of the Holo-Z.
For the device to work, all you need to do is to attach a Holo-Z to your smartphone and launch Youtube or the Holo-Z application. Check out the effects in the video below.
Why did Holo-Z choose 3D Printing?
Dieumegard said: "We chose 3D printing for a very simple reason: investment cost. When you start a company, raising funds is always a primordial issue, tightly linked with the control over your own company. I wanted to keep control over the company in order to progress at my own rhythm without pressure from investors. The first investment for 3D printing is almost null and it allows a really fast production."
Dieumegard goes on to point out that if he had wanted to do the same thing with traditional plastic injection techniques, he would have had to invest in a mold costing between €30,000 and €50,000.
With 3D printing, the process was a lot simpler and designs were created using SolidWorks before being printed by Sculpteo. It took 12 versions to reach the final product.
Dieumegard said: "At first, we thought of only using 3D printing for prototyping, but very quickly, considering the quality of the printing, we thought production could work too!"
Freedom in creation, edition, and customization is also made easy by 3D printing and when ordering a Holo-Z at the online shop, customers can choose the color and material of each of the three parts.
If you're interested in creating holograms on your phone, you can order your own Holo-Z online for $55. The company's future plans include creating a Holo-Z for your iPad. Let us know what you think of this design in the comments.
(Source: Sculpteo)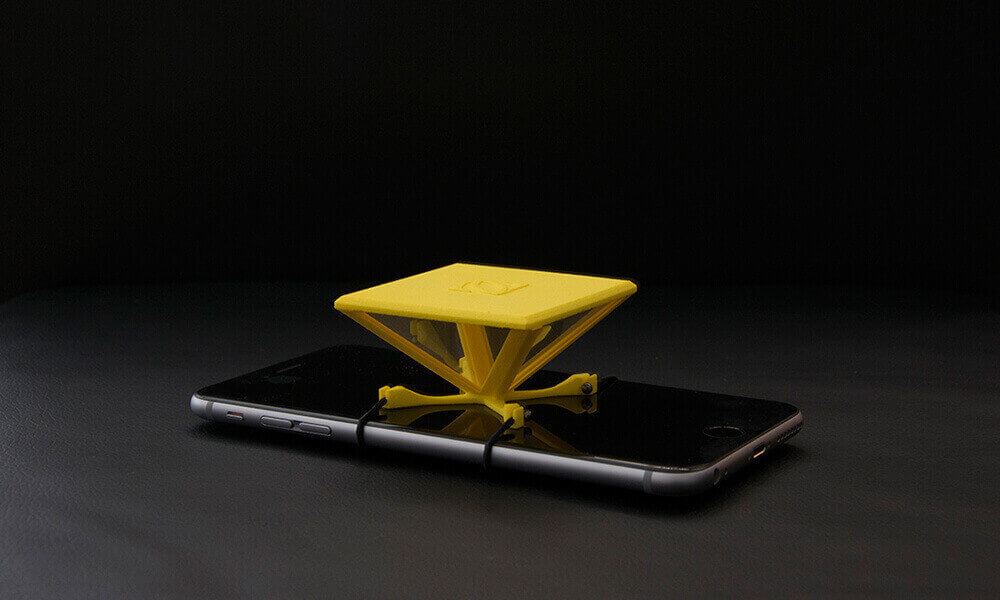 License: The text of "Create Holograms with your Smartphone using Holo-Z" by All3DP is licensed under a Creative Commons Attribution 4.0 International License.
Subscribe to updates from All3DP
You are subscribed to updates from All3DP
Subscribe
You can't subscribe to updates from All3DP. Learn more…