As Americans age and gain weight, the traditional crash-test dummy is losing its relevance. Instead, 3D printing has helped create older – and even obese – alternatives.
After trauma surgeon Stewart Wang, M.D., told car safety engineers that "crash-test dummies look nothing like my patients," it was clear that something needed to change.
Engineers at Humanetics have now created dummies which more accurately reflect today's population. For example, the models are 106 pounds heavier than traditional designs, weighing in at 273 pounds. There is also a prototype for an overweight 70-year-old woman.
Wang is now in demand as a collaborator on car safety. This is due to being the director of the U-M International Center for Automotive Medicine (ICAM). He explains:
"You can't talk about injuries without talking about the person — it's individuals who are hurt. The condition, size and shape of an individual is hugely important in how severe their injuries are in any given crash."
ICAM has insight into patients of crashes due to thousands of CT scans. Engineers can very easily use these scans for 3D printing dummy prototypes. The technology has completely changed how dummies are made and how they look.
Obese Crash-Test Dummies Could Save Lives
Changing crash-test dummies is important as obese and elderly people often suffer more severe injuries at a higher rate from crashes. Another problem is that once these vulnerable people suffer from crashes, their treatment and recovery can take a lot longer.
"The typical patient today is overweight or obese — they're the rule rather than the exception," Wang says. Speaking from experience, he has seen many fatal injuries resulting from crashes. Because of this, his aim is to create concepts from complex medical information, enabling automotive engineers to understand.
Wang also explains how the risk of injury goes up fifteenfold as the structure of the chest changes from the 20s to the 80s. The new dummies have a redesigned chest and torso with a physique which is drastically different to the current models.
Chris O'Connor is president and chief executive officer at Humanetics. He added: "Few would have envisioned that people would drive into their 80s, but we have to look at that. As the population changes, we must have test equipment that resembles consumers today."
Source: Science Daily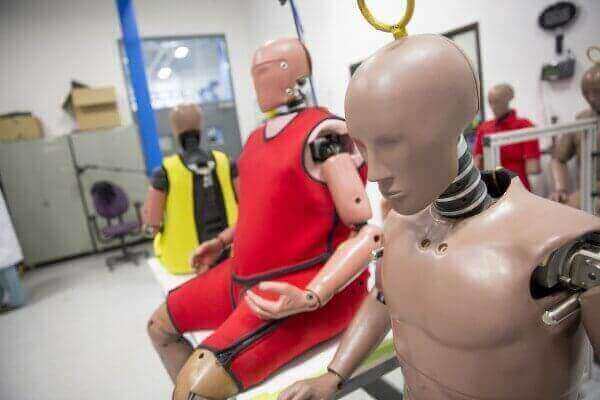 License: The text of "Old and Fat Crash-Test Dummies to Better Represent Humans" by All3DP is licensed under a Creative Commons Attribution 4.0 International License.
Subscribe to updates from All3DP
You are subscribed to updates from All3DP
Subscribe
You can't subscribe to updates from All3DP. Learn more…