Boy, if there's anything that really gets my goat, its cords.  Every time I have to deal with the cursed things, I'm pretty sure I say the exact same thing:  "Man, I hate cords!"  Take a look behind your computer or under your desk, and you're likely to find the same mess that I've got.  And when you think about it, you've probably spent countless hours during your lifetime just trying to corral the tangle of wires and keep them from taking over.  God forbid you work in a job that requires the constant use of these wretched inventions – I think I'd go mad.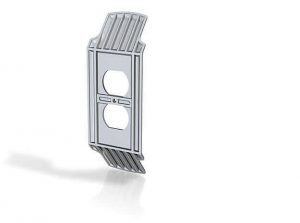 That's why my prayers were answered, and my heart skipped a beat when I saw this 3D printed wall cleat on Shapeways.com the other day.  Designer boyzahn (a.k.a. Karl Zahn) has come up with a simple yet elegant way to bring order to the chaos.  The tabs on the top and bottom of the cover plate allow unused cord to be discreetly stored to make room for other more pressing electrical engagements.
This cover plate doesn't come without its caveats though:  At no point should the user run electricity through a coiled cord or supply wire – this creates a resistance coil which can cause overheating.  Just unplug the cord before winding, and you'll be fine.
This cover plate is currently available in white or black plastic (gloss white ceramic coming soon) and can be purchased for immediate use on Shapeways.com for $63.50.
So tame the beast that modern electrical appliances have created by installing these wall cleats on every outlet in your home (they also make great handholds should gravity ever decide to reverse).
License: The text of "3D Printed Cord Organizer" by All3DP is licensed under a Creative Commons Attribution 4.0 International License.
Subscribe to updates from All3DP
You are subscribed to updates from All3DP
Subscribe
You can't subscribe to updates from All3DP. Learn more…