Nonprofit organization, Born Just Right, has partnered with Netherlands-based 3D printing filament company, colorFabb, to iterate on "Project Unicorn". Part of an endeavor of 12-year-old Jordan Reeves, the project is to design and build a custom prosthetic which shoots glitter.
Born Just Right is a blog turned nonprofit organization started by Jen Lee Reeves. The idea of the blog is to provide a place where "parents can come to share stories, read stories and feel safe as we all learn how to be advocates for our kids."
However, it's also grown into much more than that too. The organization's official ambassador and lead innovator is Reeves' daughter, Jordan. She was born with a left arm which stops after her humerus. At just 12 years old, Jordan is helping change attitudes around physical differences.
She does this through speeches and mentoring. But, she is also redefining the superhero and designing a 3D printed body enhancement. Jordan's alter ego is Girl Blaster and, with her 3D printed prosthetic — shaped like a unicorn's horn — she can shoot sparkles.
She calls it Project Unicorn, and with this 3D printing based project alone Born Just Right is garnering a lot of attention. Check out Jordan's TEDx Youth Talk below.
Born Just Right now works with many partners. However, one of the latest pairings is with colorFabb, the 3D printing filaments company. The company is helping improve on Project Unicorn by offering up their filament, nGen_LUX.
Not all Superheroes Wear Capes, Some Shoot Glitter from Unicorn Horns
Born Just Right's custom prosthetic was printed with ColorFabb's PLA/PHA Lila. However, to add a little extra sparkle for the latest print, colorFabb used its recently released nGen_LUX.
For the print, ColorFabb used not one but three of its inhouse 3D printers, printing at a 0.2mm layer height on the Prusa i3 MK2, the Ultimaker 2+ and the Stacker S4.
Printed in Regal Violet color, a fittingly ceremonious sounding hue of purple, colorFabb's new blend it infused with light reflrcting particles. By design to hide the visible layer lines FDM 3D printing typically leaves, it serves as a fanciful new use for the material. Previous Project Unicorn prosthetics were painted with glitter after printing.
"Project Unicorn is a great project and a fantastic print. No one here has dared to shoot the glitter yet and we leave the use of it to the super heroes of this world," the company explains in a press release.
Although Jordan hasn't received the new print yet, it'll be shipped to the US very soon. If you'd like to learn more about Jordan and Jen's mission, check out the Born Just Right website.
The mother-daughter duo are also working on an autobiography together with Simon & Schuster which will be on bookshelves by summer 2019.
Source: ColorFabb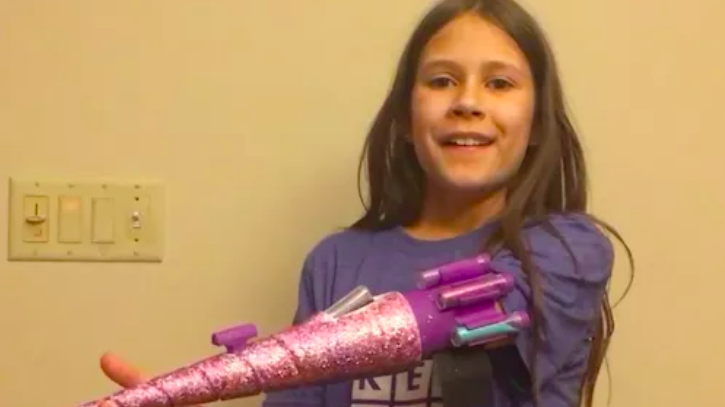 License: The text of "Project Unicorn Glitter Prosthetic Gets Extra Sparkle from colorFabb" by All3DP is licensed under a Creative Commons Attribution 4.0 International License.
Stay informed with notifications from All3DP.
You get a notification when a new article is published.