The inventor of 3D printing, Chuck Hull, is back in the spotlight as the new CEO at 3D Systems. Everything old is new again.

It's funny how things seem to have come full circle in 30 years. Thirty years ago, the Mets won the World Series and this year they might be able to do it again. Thirty years ago, Marty McFly arrived from the past into the future. And right about at the same time that he was departing from, a man named Chuck Hull had invented 3D printing.
Now, after thirty years of amazing accomplishments, and after taking a somewhat marginal role at 3D Systems as CEO Avi Reichental transformed it into a multinational giant, Chuck Hull is now back at the helm as Chairman of the Executive Management Committee. He will lead a team of experts providing ongoing leadership, and support to company-wide operations, while searching for the new CEO that will lead 3D Systems back into the future of manufacturing.
In a statement, Hull said: "As our industry continues to evolve and we look to the future, we are focused on aligning our resources and programs to best serve our customers."
For those not familiar with the early age of 3D printing, Chuck Hull is the man who invented stereolithography, the very first 3D printing process which today is known as SLA. He also invented the STL format (STL stands for stereolithography file), and holds over 60 patents related to 3D printing.
While Hull retained his role as co-founder, director and CTO of the company, in 2003 Avi Reichental moved in as CEO and led the 3D Systems through a series of high-profile acquisitions. Some of these were, and still are, of fundamental strategic importance, while some others were not as fruitful. The recent stock collapse, which saw the value of DDD stocks go from close to $100 to about $10, is likely the main reason for the sudden change in leadership, especially since Reichental himself has been accused of misleading stockholders.
Chuck Hull to select new 3D Systems CEO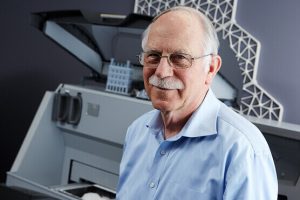 Today, 3D Systems is facing several challenges, but also has a lot of strong momentum going for it.
Reichental oversaw the acquisition of Z Corporation (the company that created the full-color line of binder jetting 3D printers), Phoenix (a French company that makes selective laser melting metal 3D printers), and Geomagic (which makes 3D scanners and 3D data acquisition software). He was also responsible for establishing the Quickparts professional 3D printing service.
Other acquisitions, mainly the ones that led to the Cube consumer line of FDM 3D printers, or the ones that led to the yet unreleased CeraFab, ChefJet and CubeJet 3D printers, were not as immediately rewarding. Moreover, they probably added fuel to the hype which caused the stock to bubble.
While there is little doubt that 3D Systems needed a drastic change in direction — like many other big players in the industry — the truth is that the company is still growing and registering profits. Perhaps not as much as stockholders would have wanted and expected, but 3D Systems is not the only company that needs to evolve in order to successfully bring 3D printing to the masses.
Today there are 3D print shops and physical photo studios in just about every city. Soon they will be in every town. The company also offers industrial technologies based on laser sintering of plastics, multi-material resin 3D printing, and laser melting of metal powders. Perhaps they're spreading themselves a bit thin, but the company is also a true one-stop shop for those who are just beginning to understand the potential of 3D printing. And now, it's up to Chuck Hull to nominate the person that will lead the company forward.
The future experienced by Marty McFly in Back to the Future was considerably more fantastic than then one we seem to be living in. However most of the inventions seen in it, with flying cars being the most obvious, are never going to be possible without 3D printing technology. Perhaps the real future of additive manufacturing is another thirty years away…
License: The text of "3D Printing Inventor Chuck Hull back at the Helm of 3D Systems" by All3DP is licensed under a Creative Commons Attribution 4.0 International License.
Subscribe to updates from All3DP
You are subscribed to updates from All3DP
Subscribe
You can't subscribe to updates from All3DP. Learn more…