Carbon and Adidas have just unveiled the Futurecraft 4D performance footwear, the world's first mass-produced 3D printed product. 
Back in 2015, the Silicon Valley startup Carbon unveiled their game-changing Continuous Liquid Interface Production (CLIP) 3D printing technology. After shocking the industry with their extremely fast resin-based manufacturing method, Carbon has been working with partners to push their innovative process even further.
But today, the 3D printing startup unveiled the most ambitious application of their technology in a collaboration with Adidas. The athletic apparel company is teaming up with Carbon to create the Futurecraft 4D performance footwear.
This remarkable sneaker is crafted with Carbon's Digital Light Synthesis, which entails the use of digital light projection, oxygen permeable optics, and specially formulated liquid resin. Using Carbon's state-of-the-art technology, Adidas has designed what could be the most innovative 3D printed product to ever hit markets.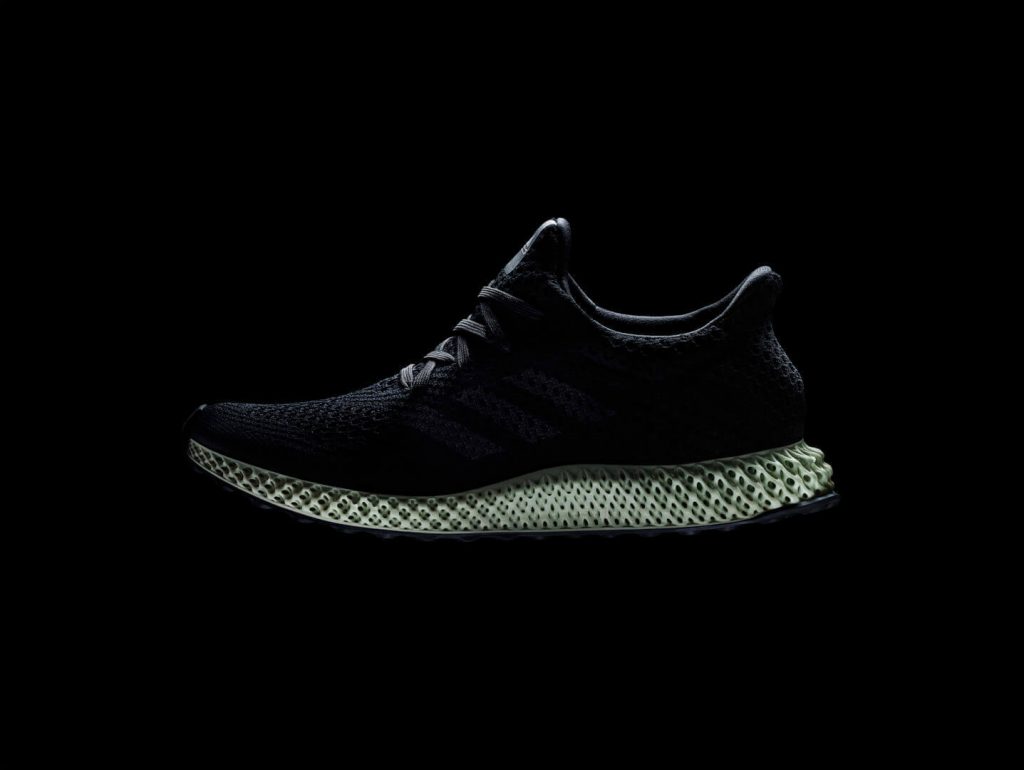 Adidas Futurecraft 4D: A Revolutionary Feat for 3D Printing
The Adidas Futurecraft 4D sneaker is taking 3D printing to a place it's never gone before, into the realm of mass production. With the ability to print at an exceptional scale and speed, Carbon is aiming to help produce over 100,000 pairs by the end of 2018.
A number of companies are testing Carbon's CLIP technology, but Adidas is the first to use Digital Light Synthesis. Their programmable resin platform offers unprecedented material durability and elastomeric responsiveness.
This will allow Adidas to address the needs of each athlete with the Futurecraft 4D. With just one 3D printed midsole, each design is adjustable for the movement, cushioning, stability, and comfort of the wearer.
Eric Liedtke, Adidas Group Executive Board Member Responsible For Global Brands, said:
"With Digital Light Synthesis, we venture beyond limitations of the past, unlocking a new era in design and manufacturing. One driven by athlete data and agile manufacturing processes. By charting a new course for our industry, we can unleash our creativity- transforming not just what we make, but how we make it."
Carbon Digital Light Synthesis Boasts Mass Production Capabilities
According to Carbon and Adidas, they will be releasing 300 pairs to family and friends in April. Once Fall/Winter rolls around, they will produce more than 5000 pairs for retail. From there, the production scale will continue to grow until 100,000 pairs are on the market by 2018.
According to to the manufacturer, adidasDigital Light Synthesis effectively eliminates the shortcomings of traditional 3D printing technology. This includes low production speed, scaling limitations, lackluster surface quality, as well as color and material restrictions.
Adidas first emerged on the 3D printing scene back in 2014 with the Futurecraft sneaker concept. They've also partnered with the environmental organization Parley for the Oceans to produce sustainable midsoles from ocean waste.  But with Carbon's Digital Light Synthesis technology inside Adidas Speedfactory, consumers will truly have access to products tailored to their individual needs and desires, all through the power of 3D printing.
License: The text of "Carbon & Adidas Unleash Revolutionary Futurecraft 4D Footwear" by All3DP is licensed under a Creative Commons Attribution 4.0 International License.
Subscribe to updates from All3DP
You are subscribed to updates from All3DP
Subscribe
You can't subscribe to updates from All3DP. Learn more…