With a new "SpeedCell" system and the industrial-grade "M2" 3D printer, Carbon 3D enters the realms of high-volume manufacturing.
Carbon 3D is launching a new service called "SpeedCell". The professional 3D printing system consists of a new, bigger 3D printer, a specialized washer, and a new software. SpeedCell is aimed at contract manufacturers and 3D printing services – so don't expect it to be on sale in your 3D printing shop.
Heart of the system is the new "M2" 3D printer. It has twice the build volume of its successor (now 7.5 x 4.6 x 12.8″, 190 x 118 x 326 mm, 75 µm resolution). That means 3D printing services can manufacture bigger or more parts per run. The M2 can also be integrated into a robot-controlled fabrication system. "You could have a fleet of printers serviced by robot-mechanics," Carbon CEO and co-founder Joseph M. DeSimone said.
For the first time, a Carbon 3D printer also offers expansion ports for new additions and components.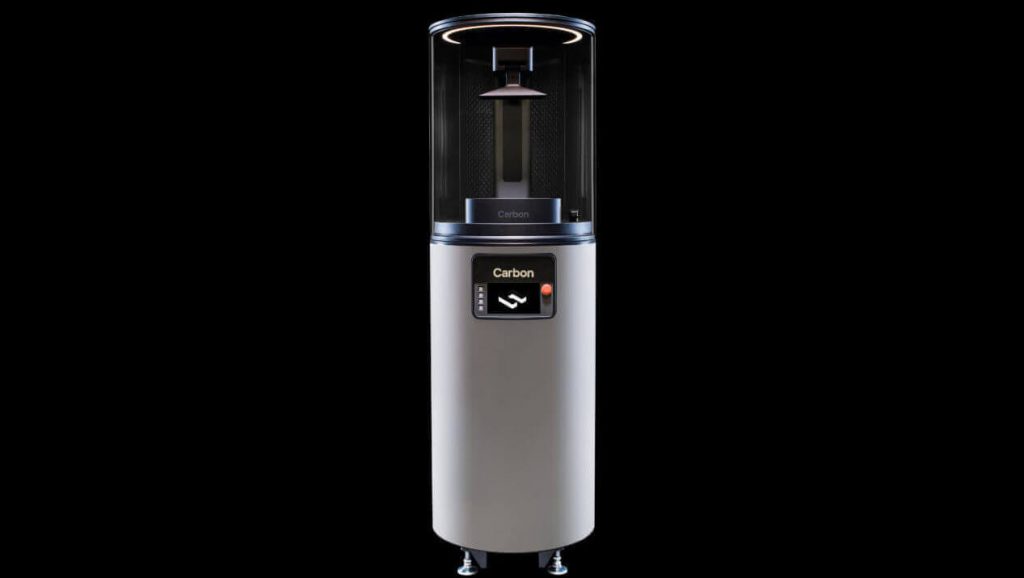 The second part of the SpeedCell system is the "Smart Part Washer". According to Carbon 3D, it automates repeatable part washing. After the treatment, pieces can be serialized, scanned and shipped. Manufacturers can keep a record of when a particular object was made. The washer will make Carbon's service useful for medical products.
The system is made to be scalable. According to Carbon 3D, the newly designed software "lets you use fleets of internet-connected Carbon 3D machines".
At launch, Carbon will offer SpeedCell in the following configurations:
Design Speed: Cell couples one M Series printer with a Smart Part Washer for product designers and engineers.
Production SpeedCell: designed for industrial manufacturing applications, pairs multiple production floor compatible M2 printers with a Smart Part Washer.
The price for the M2 is $50,000 per year. The Smart Part Washer sets you back $10,000 per year.
You can watch the new system in action in the Diamond Suite at AMUG 2017 in Chicago, March 19-23, 2017. 
Build Better Bendy Bits: Flexible Polyurethane (FPU) Material added to the M1
Also, Carbon 3D added Flexible Polyurethane (FPU) to their 3D printing materials. It is now accessible through Sculpteo's 3D printing service.
If you're not familiar with CLIP resins, let's clear things up a bit. CLIP is an acronym meaning: Continuous Liquid Interface Production. This is a proprietary photochemical process developed by Carbon 3D. It adds a layer of oxygen to the 3D printing process. That makes the 3d printing process extremely fast and – according to Carbon 3D – delivers better results. You can watch this process in actionin the video below. As you'll see, this process can quickly 3D print resin parts due to carefully balancing light and oxygen. 
CLIP resins are predominantly technical engineering materials. They are mainly used in the industry to create prototypes and now even functional parts too.
Flexible Polyurethane (FPU) is the newest addition. It is designed to withstand repetitive stresses, making it ideal for tough enclosures, hinging mechanisms, and friction fits. Sculpteo's suggested uses of FPU include: "housewares, toys, rigid packaging, living hinges, and anything that requires a lightweight and flexible plastic material." You also might notice that all of these uses are similar to those of injection-molded polypropylene. 
Sculpteo adds: "Our FPU resin is a black semi-rigid material with good impact, abrasion and fatigue resistance. The final material has a black colored and smooth surface. The object has to be cured to obtain its final mechanical characteristics."
Other materials include Rigid Polyurethane (RPU), Prototyping Acrylate Resin (PR), Elastomeric Polyurethane (EPU), The Cyanate Ester (CE) and, as mentioned, Flexible Polyurethane (FPU).  RPU is an extremely strong material. PR can be found in six colors and can create smooth or shiny prototypes. EPU is a rubbery, high-performance material, therefore great for seals, cushioning and gaskets. Finally, CE has an impressive glass transition temperature of up to 225°C [437°F].
Want to find out more about the guidelines surrounding each of these materials? Simply head to Sculpteo's FPU material page.
Source: Carbon 3D, Sculpteo
License: The text of "Carbon 3D adds New "M2" Pro 3D Printer, New FPU Material" by All3DP is licensed under a Creative Commons Attribution 4.0 International License.
Subscribe to updates from All3DP
You are subscribed to updates from All3DP
Subscribe
You can't subscribe to updates from All3DP. Learn more…