Elago just introduced an Apple Watch stand looking like a Classic Macintosh. Even better: Download a similar design and 3D print it for free.
When it comes to nicely designed Apple accessories, the Elago company is a great place to go to. At CES 2017, they showed a great looking Apple Watch stand in form of the original Macintosh.
You just add your charger to the case, then pop your watch into it – and suddenly, the whole thing looks like a miniature version of the original Mac while your Watch is charging on Nightstand mode. While using the stand, you even can access alarm clocks, Siri, messaging, and all other features of the watch.
With just $13,49, the charger is very affordable. It comes in classic computer beige, but you can also have a black version (if you dare to differ from the classic Mac design.) The stand is made from silicone, which makes it easier to slide your watch in and out of the stand.
But… if you have a 3D printer, you can get the design for free and 3D print it yourself.
Free Apple Watch Charging Dock looking like am Original Macintosh
Enter Charles Mangin. He is known on Thingiverse as option8 and does some extremely nice retro computer designs. All of his designs are free to download and can be used under a Creative Commons license. He also sells 3D printed and fully assembled designs on Retro Connector and his Etsy Store – definitely worth checking out.
Charles Mangin came up in February 2016 with an Apple Watch design which looks very similar to the one from Elago, as you can see below.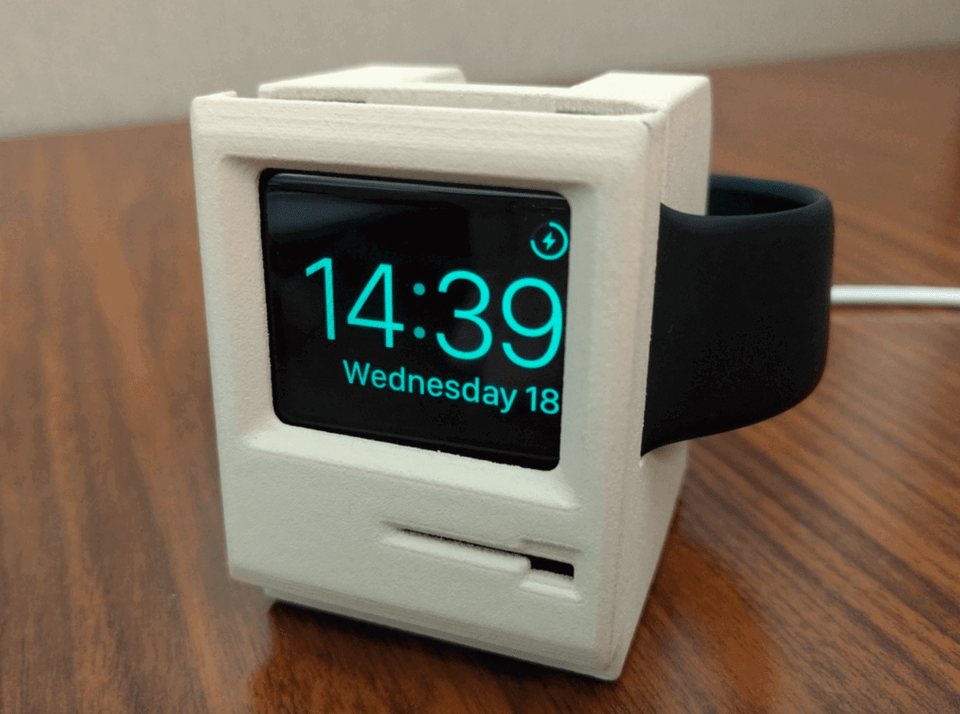 With a 3D printer and some minimal tinkering knowledge, you can print this for free. Simply download the STL files right here.
It's a two-part print, so there's minimal assembly required. If you want to, 3D print it with glow-in-the-dark material to get that eerie glow on your nightstand.
You can also go for these alternative free retro designs:
All the designs require an insert to hold your Apple Watch charger. It can be found right here.
And if you don't have a 3D printer, you can always have the parts printed by a professional 3D printing service. To get the best price, please use All3DP's price comparison service.
License: The text of "Buy this Classic Mac Stand for Apple Watch (or 3D Print it for Free)" by All3DP is licensed under a Creative Commons Attribution 4.0 International License.
Stay informed with notifications from All3DP.
You get a notification when a new article is published.