A new bi-directional energy flow platform has been developed to radically change the way we power our homes and vehicles.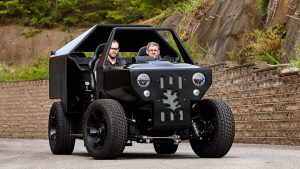 Can you imagine a 3D printed car that powers your home. And then a 3D printed home that powers your car? The research team at the Oak Ridge National Laboratory's (ORNL) Department of Energy have invented exactly that.
Their project, which shows us how we can connect the way we power our homes and vehicles, has been dubbed AMIE — short for Additive Manufacturing Integrated Energy.
This platform features technology that allows a bi-directional energy flow between a building and a vehicle, meaning your home could fuel your car and vice versa.
AMIE is made from 3D printing technology which was used to build both the dwelling and the vehicle.
It is the world's very first working level 2 (6.6 kW) bi-directional power system, and the new energy system has been successful in trials.
How Does Bi-Directional Energy Flow Work?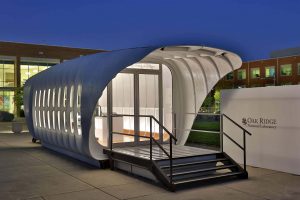 Carbon fiber-reinforced ABS plastic composite material was used to print around 80% of the house components and 30 percent of the vehicle.
The building was then fitted with a flexible 3.2 kW solar photovoltaic system, which is then paired with electric vehicle batteries, providing renewable power generation and storage.
Energy can flow in either direction between the house and the vehicle via a wireless transfer system — this also means the vehicle can power the house when the sun has gone down or during cloudy periods!
3D printing was used as it meant that design elements could be tested without losing any time or momentum. As usual, it also meant the team could create shapes and pieces which are limited in traditional building and manufacturing.
ORNL's Roderick Jackson, who led the AMIE demonstration project, told Gizmag:
"In the AMIE demonstration project, we are trying to illustrate what our future might look like if we shared our energy streams for buildings and transportation, using additive manufacturing as a tool to drive rapid innovation."
The 3D printed utility vehicle features an electric hybrid power-train, which makes use of natural gas to extend its range. And because the vehicle was created with 3D printed components, the appearance of the vehicle can be modified with new body parts as desired.
Jackson said:
"In one-direction, AMIE can charge the car battery and in the other direction, the car can power AMIE. The efficiency of the bidirectional wireless power transfer (BWPT) system is roughly around 85 percent. BWPT uses a resonant technology that allows higher efficiencies through larger gaps."
However, the current prototype was not designed around speed or performance, merely to show the capabilities of such technology. So hopefully it will only get better from here!
License: The text of "Boffins invent 3D Printed Home and Car with Bi-Directional Energy Flow" by All3DP is licensed under a Creative Commons Attribution 4.0 International License.
Subscribe to updates from All3DP
You are subscribed to updates from All3DP
Subscribe
You can't subscribe to updates from All3DP. Learn more…