Doting father, Bob Clagett of I Like to Make Stuff, used 3D modeling and printing to turn his son's drawing into a 3D printed toy and his latest YouTube video shows you how you can do the same.
Entrepreneur Bob Clagett is a father of four who recently left the software industry to work on his side hustle, I Like to Make Stuff. He now has 1.7 million YouTube subscribers and a popular blog thanks to his love for making.
For his latest project, Clagett decided to turn his son Hawk's drawing into a 3D printed toy. "My son Hawk loves to draw. He is always drawing cool robots and I archive them on a separate Instagram account. Recently he and I have dabbled in 3D modeling and I wanted to show him that his cool designs can easily be 3D printed," Clagett explains.
However, he warns at the beginning of the video that this project is 3D modeling and printing heavy. But, he encourages his viewers to follow along so they can learn a little about free Fusion 360 modeling software.
Perhaps the best part of this video is the moment when Clagett surprises his son with the finished 3D printed toy. After declaring that the print is "awesome", Clagett receives a big hug. Watch the heart-warming moment in the video:
Turning Drawings into Toys with 3D Printing
Clagett begins by scanning his son's image into his computer. He uses Fusion 360 to turn the drawing into a 3D object and slices it using Slic3r (but he also recommends Cura). He then prints this model using his 3D printer.
After the print is finished, Clagett paints the toy and assembles it. He explains that if the joints are too tight, simply sand them down. Or, if they're too loose, add primer and paint to close the gaps.
Clagett used filler primer and spray paint to add the white and orange color to his print. The result is a smiley robot which certainly went down well with Hawk.
"In conclusion, my son really loved the 3D printed toy made from his drawing. I was super excited to see him react to something that he created and that I made a reality. This could be the beginning of a whole line of specialized and one-off toys for you or your family," Clagget adds.
In order to make sure you don't get lost, you can follow along with either the YouTube video or detailed blog post. Here you'll find clear instructions and images.
Source: Makezine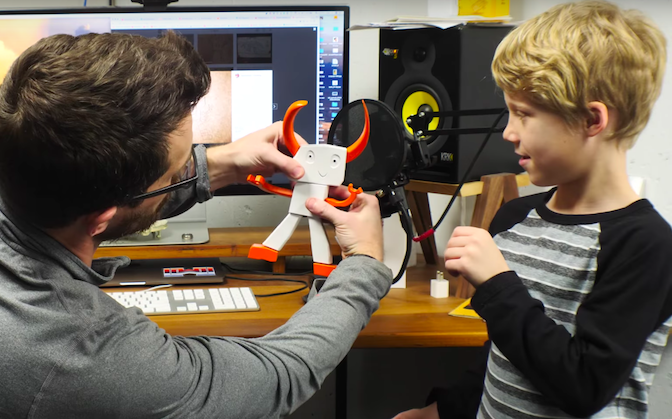 License: The text of "Dad Turns his Kid's Drawing into a 3D Printed Toy" by All3DP is licensed under a Creative Commons Attribution 4.0 International License.
Subscribe to updates from All3DP
You are subscribed to updates from All3DP
Subscribe
You can't subscribe to updates from All3DP. Learn more…