A team of creators at the Blender Institute in Amsterdam are using LulzBot Mini 3D printers to bring their creations to life.
Don't Miss:
Nestled just outside of central Amsterdam in the Netherlands, the Blender Institute is a leading light in the open source software movement.
The Blender Foundation is best known for developing the 3D creation software suite Blender, which spans everything from 3D modeling to video game development. Now, the Blender Institute is bringing artists and developers together to collaborate on projects and further enhance the open source software.
According to Andy Goralczyk, art director at Blender Institute, everything created by the team will be under a Creative Commons license. From there, their 3D printable ideas will be published on the Blender Cloud to be freely experimented with and shared.
In addition, the Blender Institute has been utilizing the Lulzbot Mini 3D printer to bring their digital creations to reality. Not only does the Lulzbot Mini provide the Blender Institute with a convenience and high quality 3D prints, but just like the Blender software suite, the 3D printer is also open source.
While open source and free software provide a number of advantages over proprietary technology, the accessibility to information and community is perhaps the biggest benefit.
Using Lulzbot Mini to Bring Ideas to Life at the Blender Institute
The Blender Institute utilized the Lulzbot Mini to print two popular characters from the Blender Cloud platform. The first print was of the legendary open source animated character Big Buck Bunny.
But their most ambitious printing project thus far was Agent 327, a comic book character that was created by Martin Lodewijk. For Agent 327, the large-scale project was separated into seven different printed parts before it was assembled, sanded, and smoothed down.
The Blender Institute is not keen on using too much material, and thus their prints are usually not very solid. They generally utilize ABS, PLA, and colorFabb nGen filaments, and have found the Lulzbot Mini to be the perfect machine to help with their intensive projects.
"I've used various other printers before, so I think right now the LulzBot [3D printer] just beat them all in terms of ease of use, " Goralczyk said.
"I'm a big fan of the auto-leveling and the prints are really easy to remove and there's virtually no maintenance right now. It's been really smooth I'm totally impressed."
In the near future, the Blender Institute plans to continue using 3D modeling and 3D printing to help with physical character development. Watch this space!
Source: Lulzbot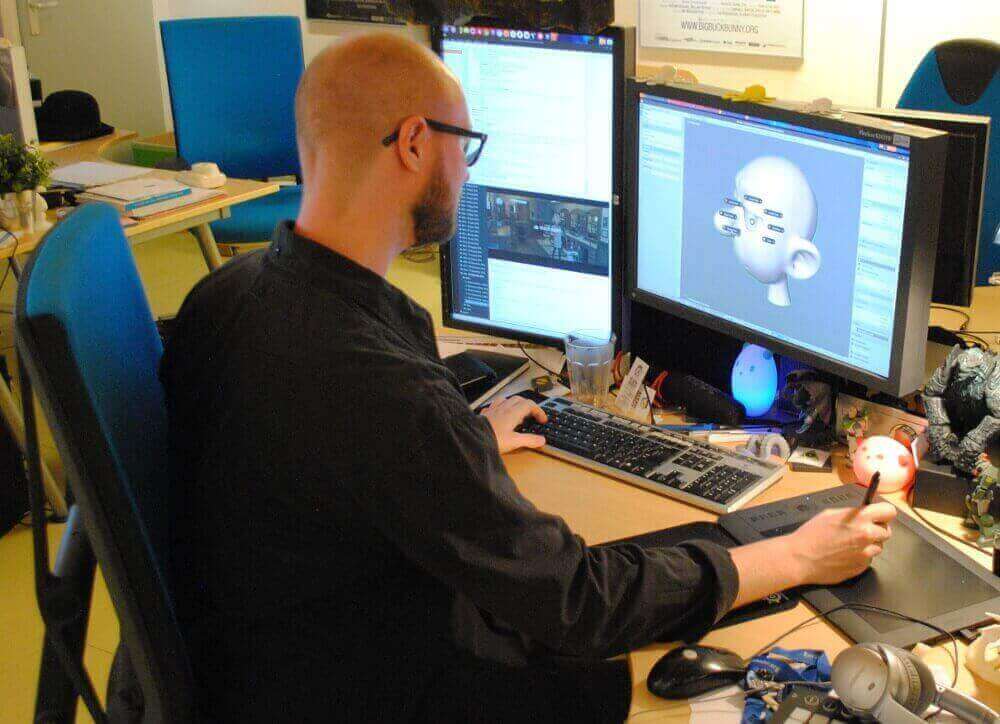 License: The text of "Artists Design and 3D Print at Blender Institute in Amsterdam" by All3DP is licensed under a Creative Commons Attribution 4.0 International License.
Subscribe to updates from All3DP
You are subscribed to updates from All3DP
Subscribe
You can't subscribe to updates from All3DP. Learn more…