FPV drones will blow your socks off sideways! This guide to the beginner's FPV drones will get you inducted to the new sport of racing.
In this article, you will find the most important questions and answers about the action packed sport of FPV drone racing. And for the sake of convenience, you can use the jump links below to skip to a specific section about Beginner's FPV drones.
1. What Are Beginner's FPV Drones?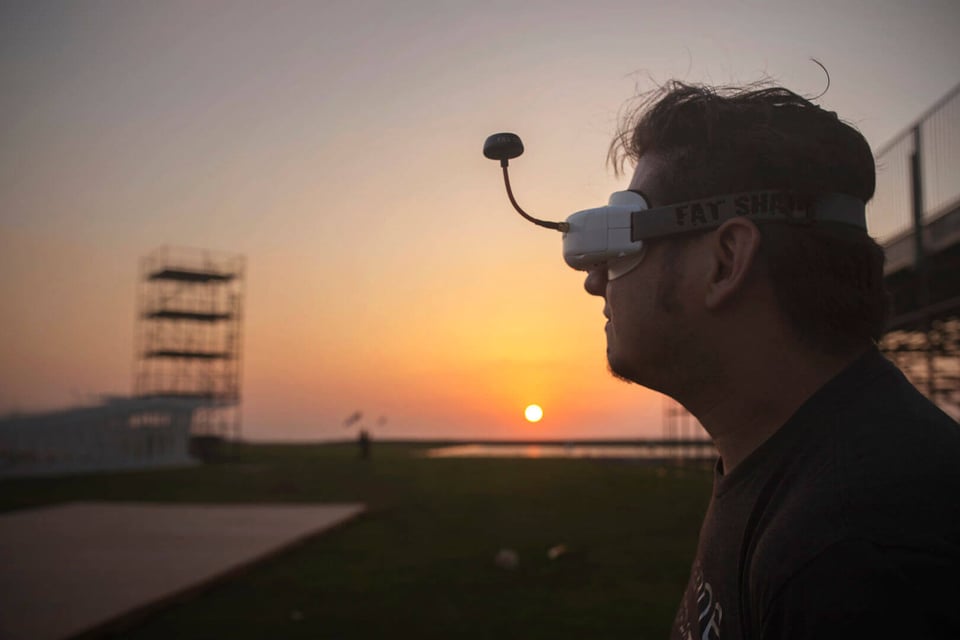 Though the notion of high speed remotely viewed and controller racing drones is a very modern phenomenon, the idea of a flying object powered by several rotors is an old one. In fact, more than a hundred years old.
At the turn of the 20th century French brothers Louis and Jacques Breguet, together with Professor Charles Richet, embarked on an ambitious project. Their objective was to build a flying object that was both easy to operate and could take off vertically.
The technological basis for their work? Four rotors on each jib – hence quadcopter – propelling inversely. With this simple design, they eliminate the primary problem faced by helicopters when they debuted some 30 year later. Despite their newness, helicopters experience a self-rotation of their bodies (caused by the spinning main rotor,) that must be counteracted. Hence the small tail rotor.
On the 29th of September 1907, the Breguet brothers reached a height of 24 inches (60 cm) with the Gyroplane No.1.
More than a century later and four-propeller flight systems similar to the Breguet's design are racing at 80 mp/h (130 km/h) against each other. The big difference however, is that these are often no bigger than the palm of your hand.
For these Beginner's FPV drones (shorthand for first-person-view racing), the piloting is done by operators with lightning quick reactions and a special video headset. Known as goggles, these FPV drone headsets place the drone's viewpoint on a screen in front of the pilots eyes, isolating them from the distractions from the environment. The Beginner's FPV drones each carry a tiny camera which transmits live video to the goggles of the pilot. The pilot then controls the 'copter as if they were sitting in a cockpit.
The pilots are calling this sport FPV racing. And have named their vehicles FPV drones, racing drones, FPV racer, FPV copter or – in the inside lingo – simply Quads.
2. The Fascination with Beginner's FPV drones
Beginner's FPV drones are quadcopters designed for speed and agility. They are pure racing machines for competitions, not casual play, inspections, traffic monitoring or any other sedentary pursuits — there are other 'copters for that. Beginner's FPV drones' combination of exacting precision and high speed is what makes them appealing for many, with their movement resembling something out of fiction. Think futuristic video games like Wipeout, and you're on the right track.
The following overview introduces various copter systems and their area of usage:
Beginner's FPV Drone: Hubsan X4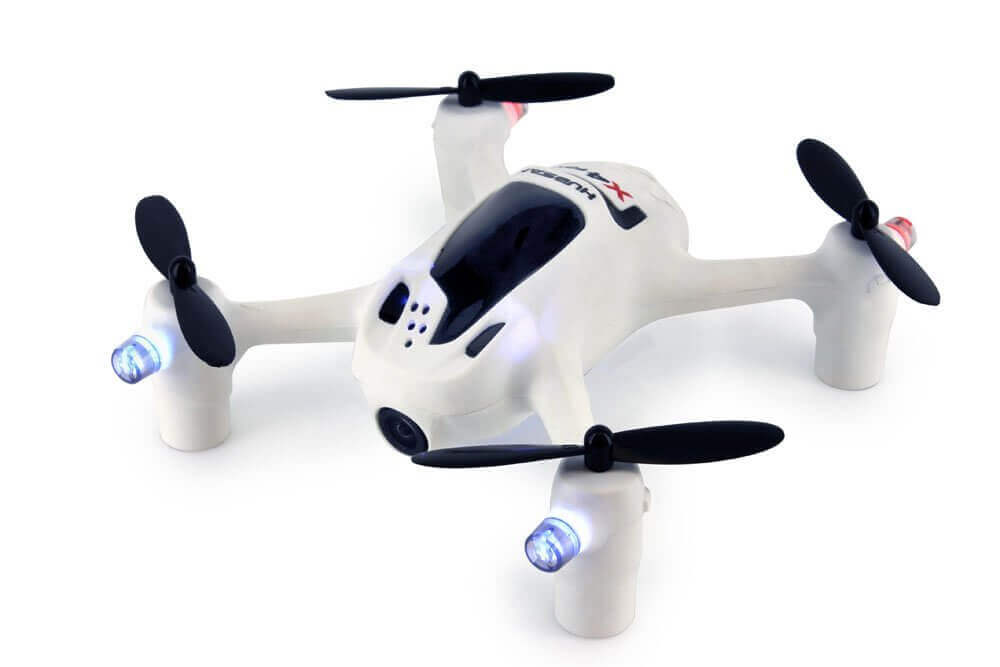 If you are looking for a budget fun-copter for beginners, this might be the one. It comes pre-built and is ready to use straight out of the box.
FPV Drone for Selfies: Hover Camera Passport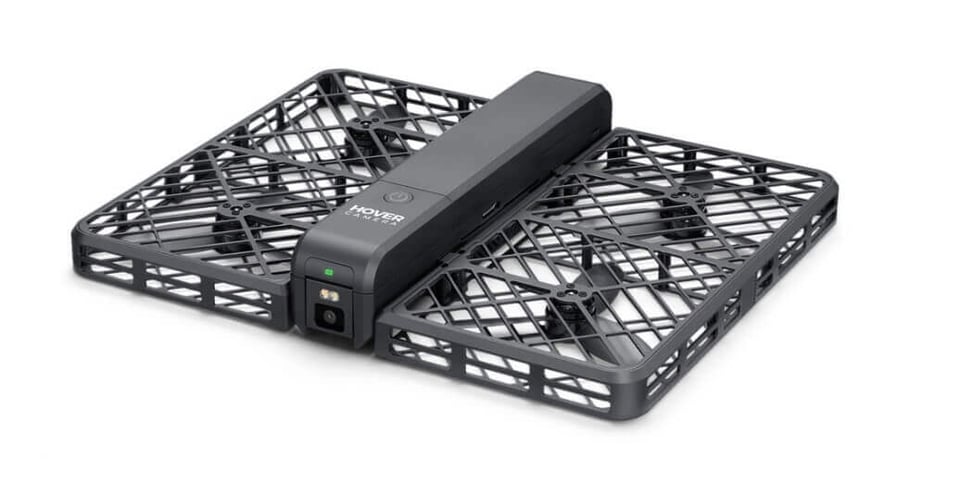 This is an easy-to-use, portable video-copter for instant snapshots and videos. It also has a "follow me" option, capturing your travel moments in glorious 4K.
FPV Drone for Semi-professionals: DJI Phantom 3 / Phantom 4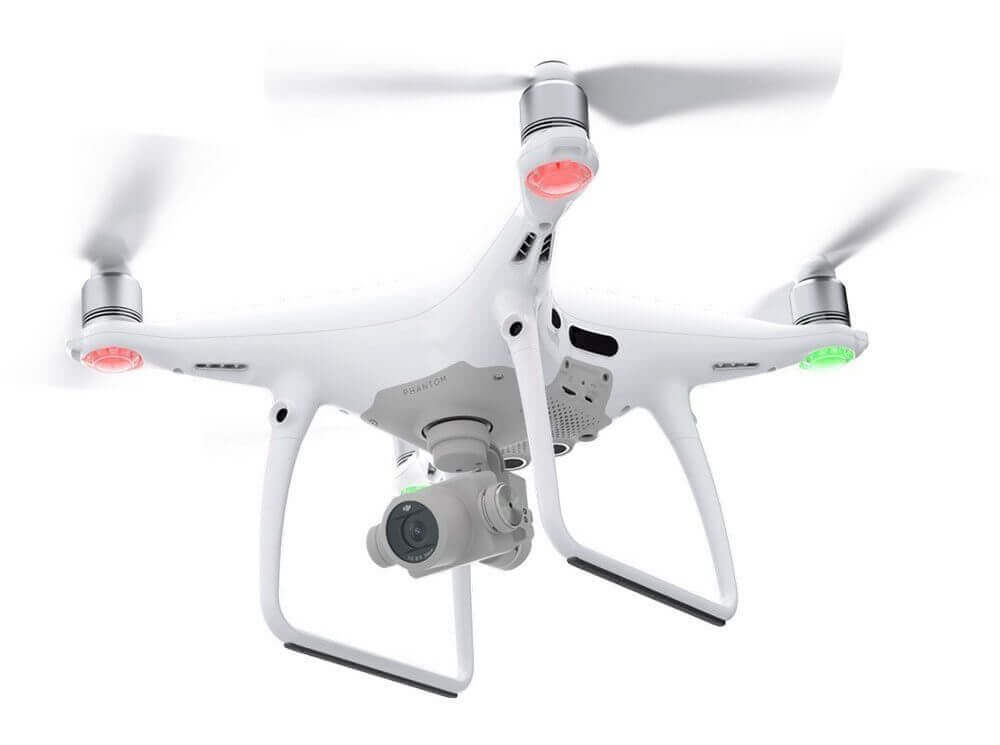 The Phantom 3 and Phantom 4 are semi-professional photo- and video-copter. They are mainly used for capturing beautiful landscape shots.
FPV Drone for Heavy-lifting: TEC-8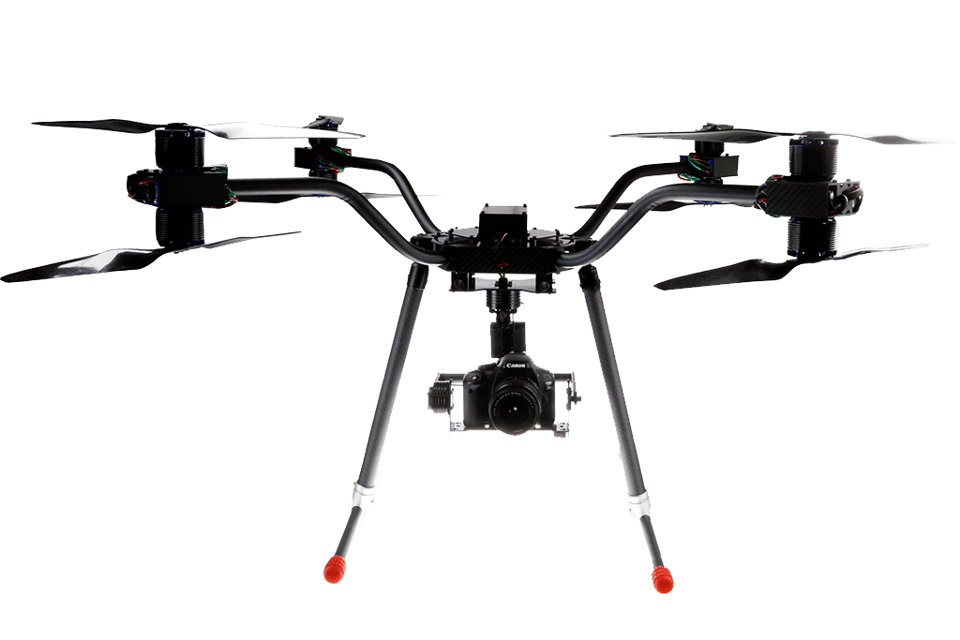 If you want professional drone footage, this photo-copter for inspection and surveillance will deliver. The highly reliable model can lift more than 1kg.
Find more information on the Tec-8 here.
3. Operating a Beginner's FPV Drone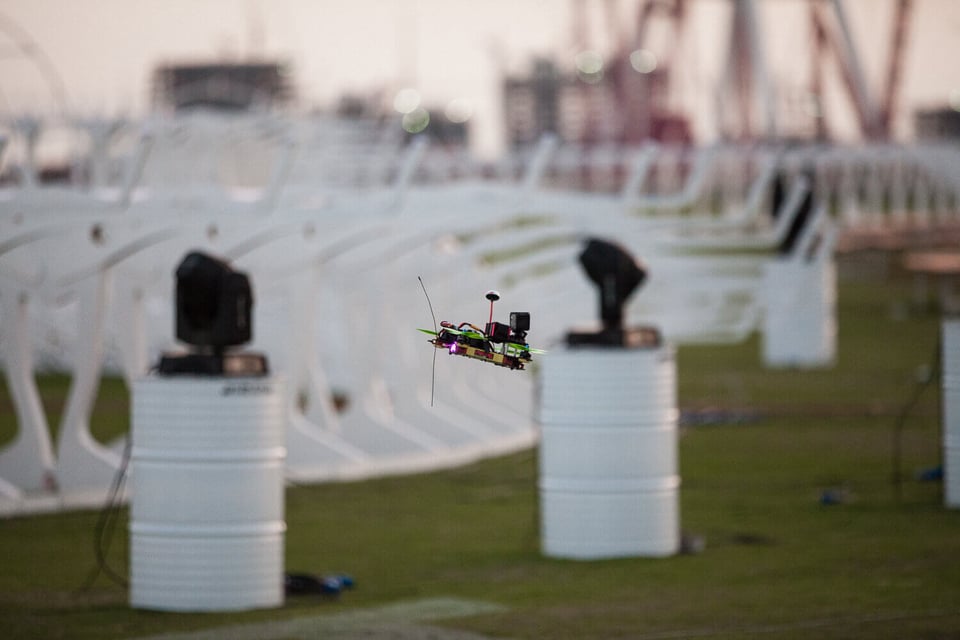 The key to the experience is the sheer speed and responsiveness of an FPV Drone, as well as the immersive connection between pilot and machine. To navigate, pilots use remote controllers similar to the ones that are used for model planes. In addition to this, a FPV headset is required, which displays the drone's perspective in flight.
The controllers have two control sticks, which are operated with the left and right thumb for changing speed and direction. The electronic steering inside the copter receives the signal and changes its course accordingly. The angle of the copter nose changes as soon as the pilot brakes or accelerates.
Gyroscopic sensors detect the flight position of the Beginner's FPV Drone and, depending on the quality of the components inside, can send such instructions several hundred times per second. On the basis of this data, the steering balances the number of revolutions from the four propellers. Thus, it ensures a stable flight position.
But for the initiated, such automated stability flies in the face of the extremes beginner's FPV drones are capable of. Proficient users denounce this computer gifted stability, and fly their racing drones in "acro-mode". In acro-mode such systems are disabled, meaning the operator can use the lack of stability in their FPV drone to their advantage. Constantly managing the racing drone on the edge of imbalance and making corrections in the opposite direction, this allows for daring maneuvers on the fringe of physical possibilities.
Pair this to the requisite speed (it is racing, after all) and you have an adrenaline sport like no other.
4. Headsets/Goggles for Beginner's FPV drones
A perfect video transmission is of paramount importance when racing FPV drones. You need to see obstacles clearly in real time to react quickly and effectively, so interrupted and pixelated video just won't cut it. Here are some of the options out there to suit a range of budgets. With FPV goggles, as with most tech, you get what you pay for.
Headsets/Goggles for Begginer's FPV Drones #1: Google Cardboard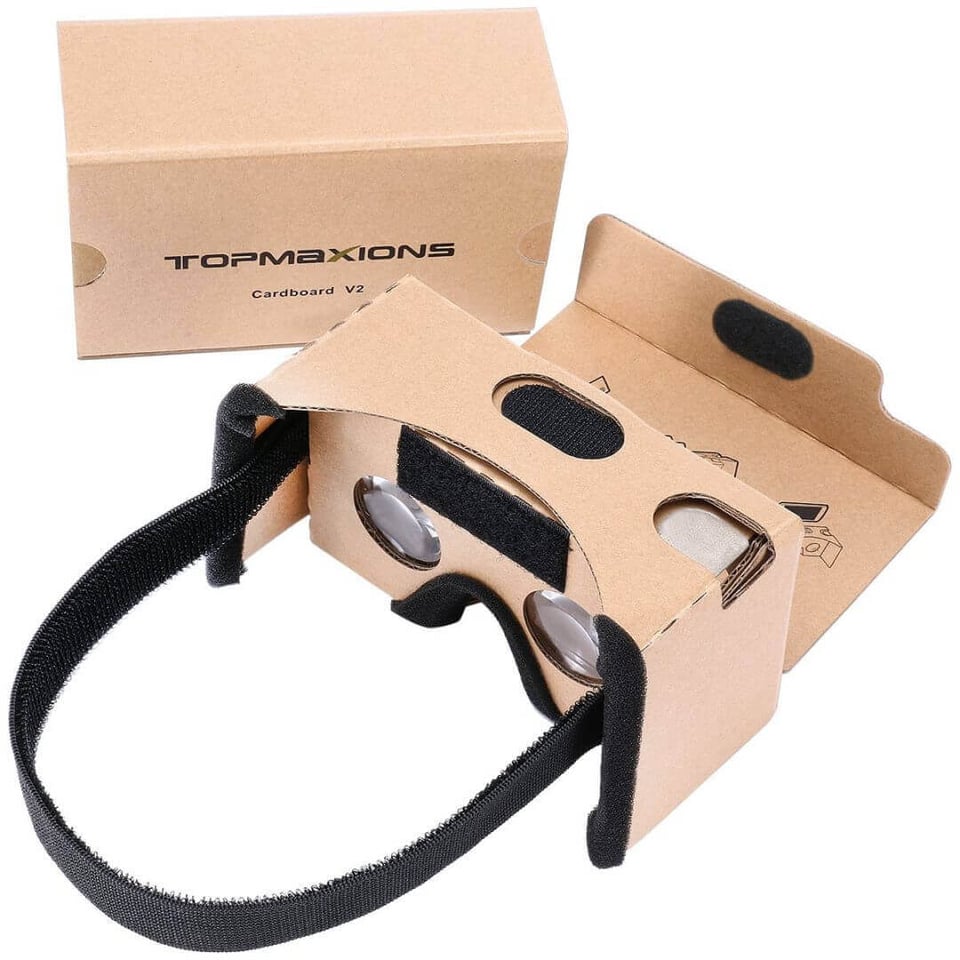 Google's cardboard VR headset comes in many shapes and sizes. All in all, it's just a simple card box to hold ordinary smartphones. The device gets the signal from compatible 'copters via WiFi. Though the quality of the video is dismal and on the verge of what's bearable — same with the wearing comfort — this beginner's FPV drone viewing solution is really just for beginners to get a general idea feel for the topic. Cheap, not very cheerful, but for its basic purpose, effective.
Headsets/Goggles for Begginer's FPV Drones #2: Furibee VR01 FPV Goggles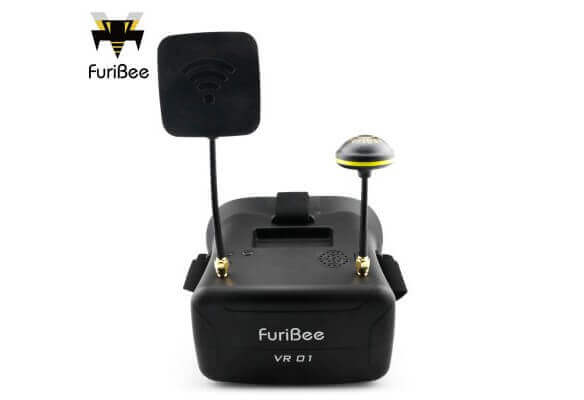 FuriBee is a popular maker of well-rated budget beginner's FPV drone racing equipment, and their VR01 headset is no exception. In fact it sports a 5.8GHz dual antenna and offers 40 channels for finding interference-free airspace.
Headsets/Goggles for Begginer's FPV Drones #2:
Fat Shark Dominator V3 Headset FPV Video Goggles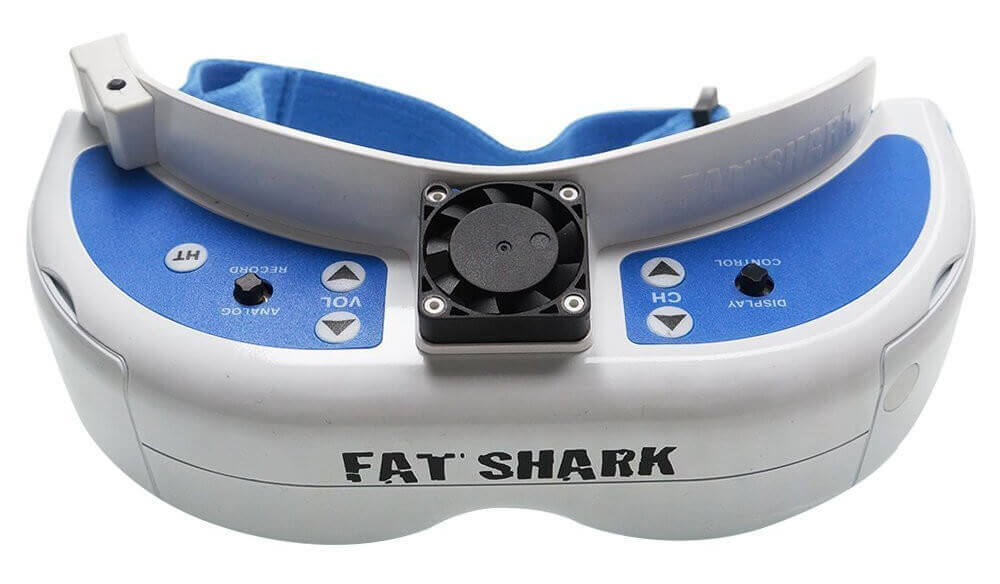 Updated for 2017, this is a high-end headset for almost every racing drone. Although it does suffer from the occasional short-term picture dropouts in its analogue video transmission, it does have sharp focus and a 30 degree FOV diagonal. Add to that DVR functionality and you have a FPV racing goggle for advanced users with an advanced lump of cash to spend.
Headsets/Goggles for Begginer's FPV Drones #3: F
at Shark 1048 Attitude V4 Anniversary Edition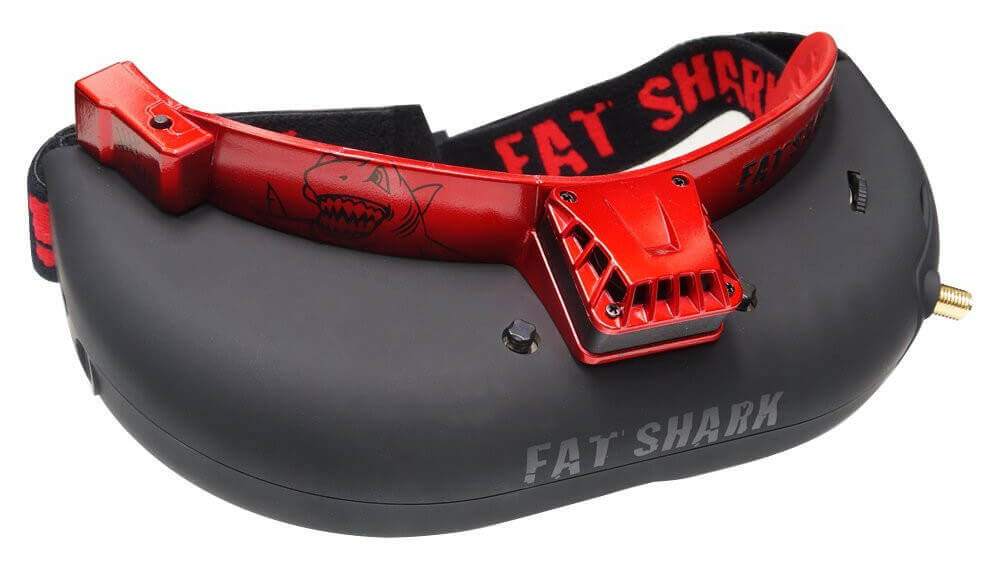 A FPV goggle released to celebrate Fat Shark's 10th anniversary, these racing drone specs feature a 32 degree FOV diagonal, DVR functionality, a 32 channel receiver and 5.8Ghz omni antenna. That, and it comes in a dapper red trim, too.
5. FPV Racing for Beginners
FPV drone racing is a fast-pace obstacle race. The pilot navigates their drone through a circuit at high speed, flying through winding gates and turns. Pros can navigate their beginner's FPV drone at some 80mph (130 km/h) closely above the ground. This requires a high amount of skill and faster than quick reactions. Not to mention a general knowledge of flight and awareness for momentum. Beginners would do well to fly without a headset initially, and follow the flight of their quad with their own eyes until they are proficient at basic maneuvers like starting, landing and flips.
Crashes and collisions with obstacles, the ground or other FPV drones are standard, even for advanced pilots. Malfunctions with propellers, the motor or the frame are inevitable and have to be dealt with. Starters are advised to train with cheap quads at the beginning. Here are some examples:
Beginner's FPV Drone #1: Dromida Vista FPV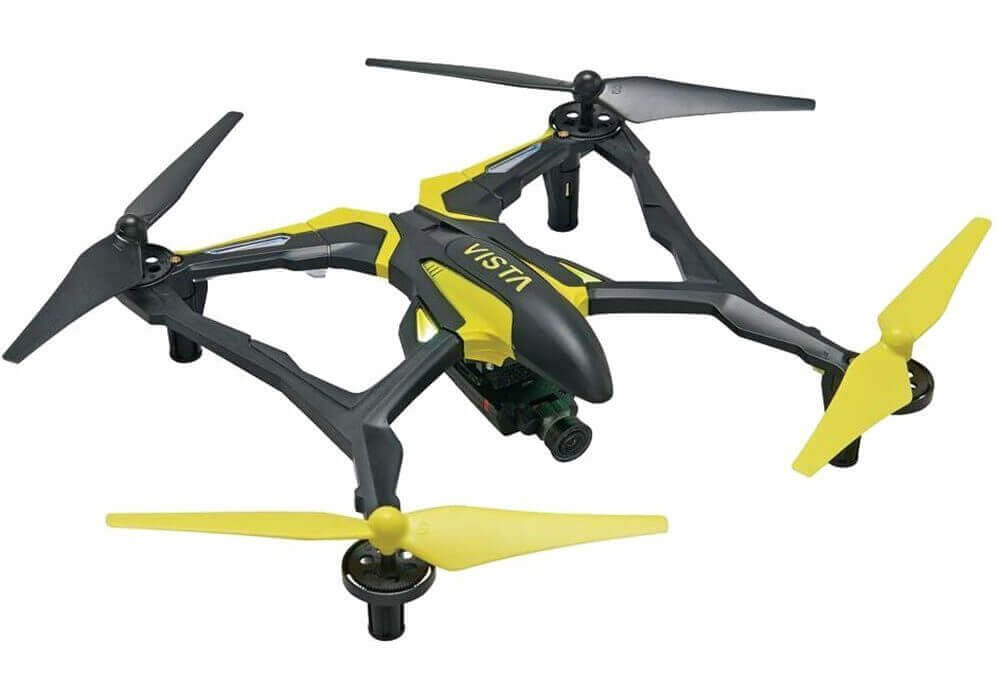 Very simple 'copter with an integrated camera to transmit live images via WiFi to iOS or Android smartphones. Pair it with a smartphone in a Google Cardboard and this beginner's FPV drone will give you a faint idea of what FPV Racing is like. Apart from the headset, the ready-to-fly kit contains everything you need.
Beginner's FPV Drone #2:
LHI 250mm Pro Pure Carbon Fiber Quadcopter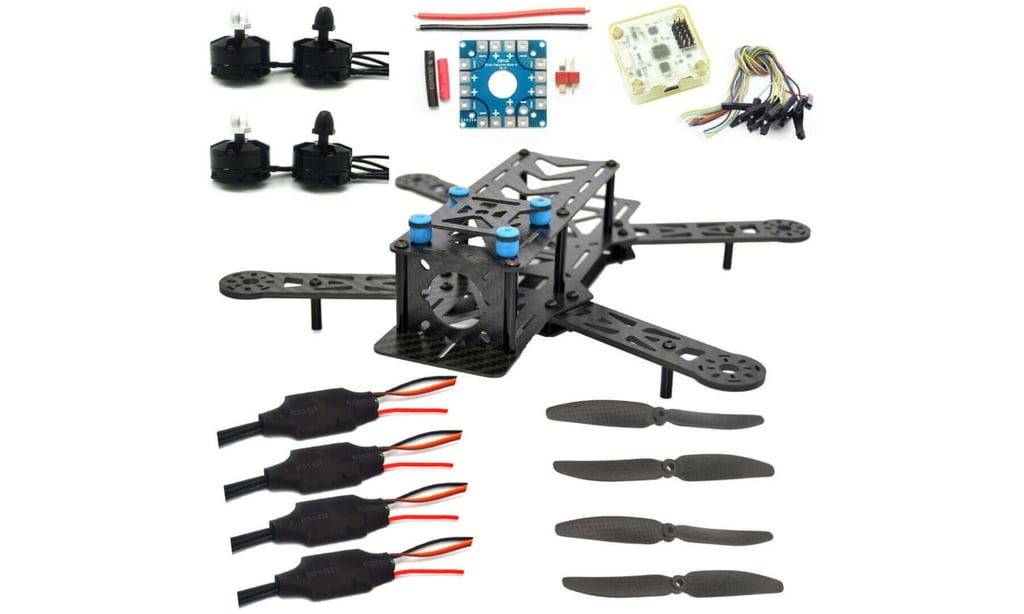 Do you want to assemble a ready to race quadcopter yourself? This beginner's FPV drone DIY-kit is the right choice for you and contains everything essential like frame, motor, rotors, and remote control. It doesn't come with a headset but that's not important for beginners. Anyway, it is advised to follow your first flights with your own eyes.
Beginner's FPV Drone #3: Walkera F210 Beginner's FPV Drone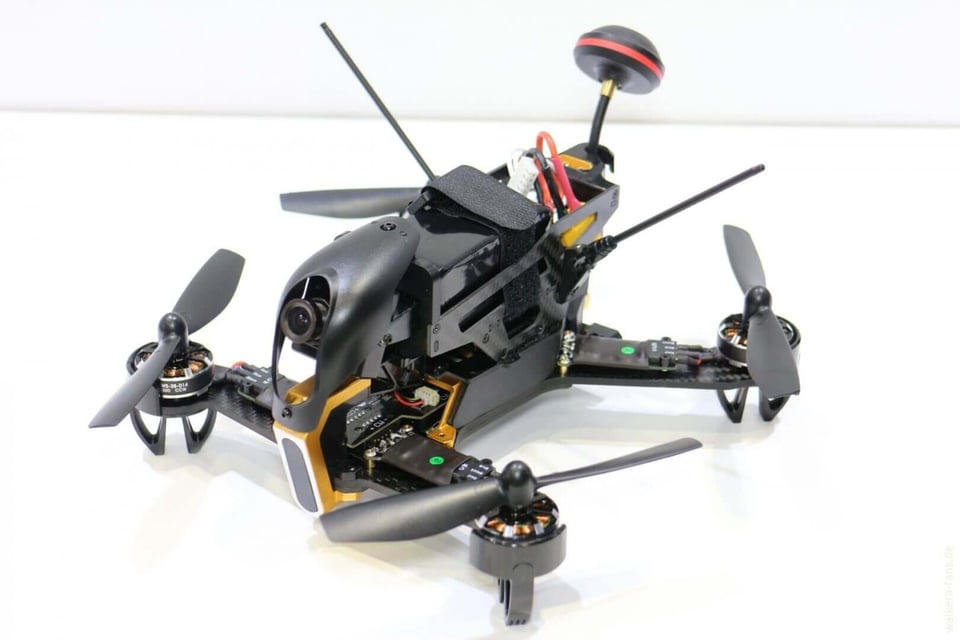 Fast FPV racer for pros, fully assembled. Does not include a remote controller or headset.
The Future of the FPV Drone Racing Scene
FPV racing is a competition pilot against pilot, with the FPV drones as the buzzing, delicate craft they cajole into ever more incredible feats.
Organizers construct circuits with flags, ramps, hoops and gates. For dramatic flourish, you'll sometimes see sophisticated lighting effects, too. In fact it all seems quite similar to a motorsports event. Lots of flash, with high speed machinery in center stage.
Indeed, also like in motorsports – the pilots get to test out the tracks before competing in the qualifying stages. The results of the qualifying stages determine the starting position for the main race, with pilots placed into Rookie and Pro classes.
There are up to eight pilots in one race pushing their FPV drones to the limit. Interestingly, some participants use retail bought quads, while others customize and even build unique FPV drones with high-quality components. However, the rules are the same for all participants. If they fail to pass one of the gates or obstacles with their FPV drone they incur a time penalty and can even be disqualified.
In Pro Racing the teams comprise of a captain, mechanics, and managers. Ultimately, though, each pilot is on his own. Especially so, when ever greater prize money goes on the line.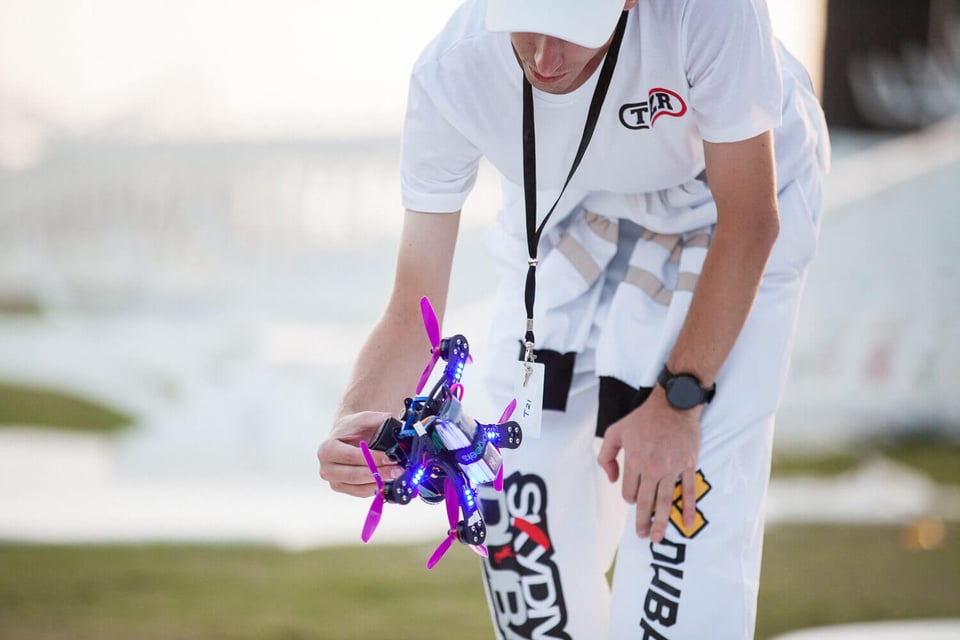 The FPV drone racing scene is still young. Some of the first competitive FPV drone races took place in Australia as recently as 2014. Despite its freshness, the scene has professionalized quickly, and continues to do so at pace.
In March 2016 Luke Bannister, a 15-year-old from England, won the World Drone Prix in Dubai, scooping the $250,000 prize money. In this first world championship for FPV racing, the total prize money on offer came in at more than one million dollars. Several organizations, including the Drone Racing League, have since established. These groups travel from city to city, filling thousands-capacity arenas with spectators eager to consume this new sport.
FPV racing thrives on the group experience. And perhaps best of all, in addition to a welcoming and inclusive set of players, the price barrier to entry is remarkably affordable.
We could espouse the wonders of racing beginner's FPV drones for an age, but where's the fun in that. Check out the pros making it seem like a walk in the park, below.
The scene is barely three years young, yet it's already highly professional. In fact, at the World Drone Prix Championship in Dubai (where else), in March 2016, the total prize money reached one million dollars.
(Author: Richard Löwenstein)
License: The text of "Guide to Beginner's FPV Drones and Goggles" by All3DP is licensed under a Creative Commons Attribution 4.0 International License.
Subscribe to updates from All3DP
You are subscribed to updates from All3DP
Subscribe
You can't subscribe to updates from All3DP. Learn more…