Barilla has selected three winners for their second 3D printed pasta competition, chosen from a pool of over a thousand entries!
Did you know that there are over 300 different forms of pasta? And each one, with its unique shape, influences not only the look of a meal, but the way the flavors and textures reach the palette.
Still the question remains: Could other, better shapes exist?
No need to answer it yourself. Italian food company Barilla is already on the case. In combination with the development of their own pasta 3D printer, they've now held two 3D printed pasta competitions, with the help of innovation design platform Desall.
The first was three years ago, with the latest being held this year. In fact, the company intended to announce winners in May, but selection took a little longer than anticipated. Maybe that's because of the massive number of entries: 1,200 from 124 countries!
First prize went to 26-year-old Italian designer Andrea Anedda:
"When I first saw the Barilla SMART PASTA contest I immediately found it interesting and I thought I could give it a chance… I thought I could use my experience in 3D printing to design something new and innovative but at the same time producible by this technology that allows you to design anything you want but still has strict rules to follow."
His design, called "Turbine", incorporates a corkscrew pattern and is the perfect balance between simplicity and practicality.
Helping Anedda was his mother — "the best cook of the world". It was she who clued him into the fact that pasta should both look good and stick to the sauce.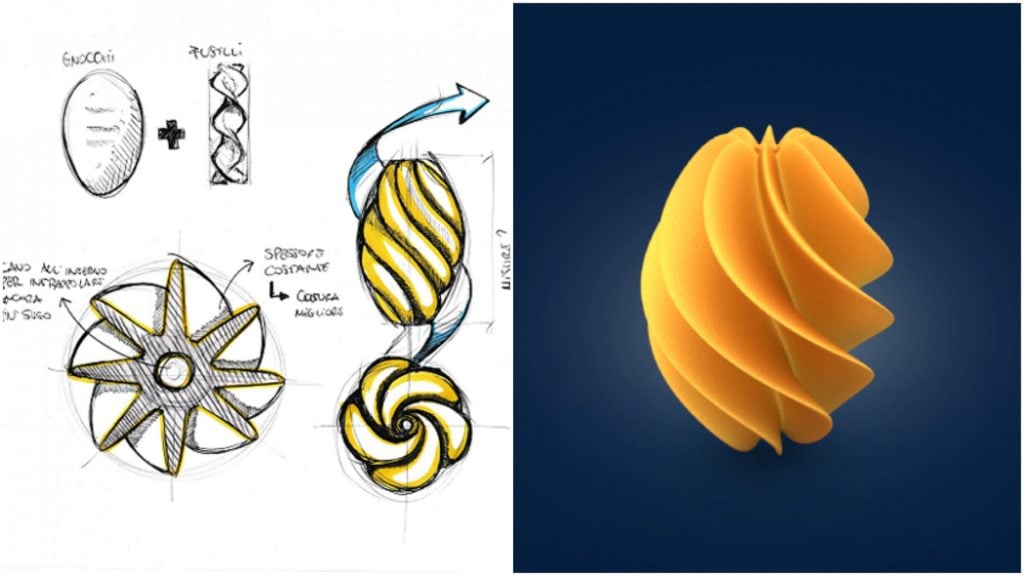 3D Printed Pasta Inspires Different Perspectives and Creativity
Participants in the Smart Pasta competition had until March to submit their entries. A brief explanation encouraged designers to consider several different aspects that make a good pasta, including how geometry affects flavor and texture. In a blog post, Desall had this to say:
"The competition was in itself very appealing: the idea of designing new shapes of pasta to be 3D printed with an exclusive 3D printer specifically designed for the purpose introduced a series of challenges that arose the interest of the participants, that interpreted the request from different perspectives and with great creativity."
Indeed, some of the designs were truly unique.
Case in point is the design that took second place, called "Water Lily". It comes from Cornelius Comanns, an award-winning designer living in Germany. According to the contest page, his pasta floats on soap and is able to carry several ingredients.
The third place pasta was also inspired by nature. Italian designer Marco Ferrarin's "Pignabarilla" resembles a pinecone, and its walls are apparently of a perfect thickness for cooking.
Each of the three winners are to receive €1,000, indicating Barilla's commercial interest in their designs. All that remains now is to see how long it will be until these beautiful patterns hit the shelves.
Source: 3D Printing Media Network
License: The text of "Barilla Announces 3 Winners in 3D Printed Pasta Competition" by All3DP is licensed under a Creative Commons Attribution 4.0 International License.
Subscribe to updates from All3DP
You are subscribed to updates from All3DP
Subscribe
You can't subscribe to updates from All3DP. Learn more…