Paying tribute to F1 racing legend Ayrton Senna, this 3D printed replica of his Mclaren F1 Car is truly a labor of love.
Ayrton Senna, one of the most influential and skilled drivers to grace Formula One, died 22­ years ago on 1 May 1994, but one fan is keeping his legacy alive.
Car fabricator and composites expert Brett Turnage has been an automobile enthusiast all his life, growing up close to the Historic Riverside International Raceway in Riverside, California. He says he has childhood memories of "sounds of engines filling the air."
After a quick lesson in 3D printing, Turnage realised he could 3D model and print his very own Formula One RC cars. He then released his first unique design: the RS­01 Chassis for the OpenR/C F1 car.
Turnage has now released his second design, building upon this RS­01 chassis, and has recreated Ayrton Senna's 1993 Mclaren MP4/8 — arguably one of the most beautiful cars in F1 history.
More about Ayrton Senna's 1993 Mclaren MP4/8 Model
The highly detailed body is accurate to the original car, and even includes updated RS­01 suspension parts, rims, and tires that can all be 3D printed.
The chassis uses the running gear (carbon fiber rear shaft, differential, front uprights, motor mounts) from a Tamiya F1 RC race car that is readily available.
Impressively, the car can use either foam tires, 3D printed tires, or rubber tires on either 3D printed rims or with the original plastic rims.
In his quest for accuracy, Turnage described changing from his current software to Simplify3D. He said:
"Immediately I noticed a difference with the way my machine moved along the paths as it built layers. No longer was my machine mindlessly moving, it was almost as if it was thoughtful — like it had eyes and could actually see what it was doing. It didn't speed through detail sections, it slowed down and went through them carefully. The retraction blobs that previously covered my prints were gone due to the smart retractions."
Turnage modified the retraction settings in Simplify3D and was able to improve his print quality. He then printed all 54 parts to his RC car with mechanical accuracy.
If you fancy creating your own 1993 Mclaren MP4/8 model, the details of Turnage's project can be found on Thingiverse, Pinshape, and elsewhere. Turnage adds: "I loved making this car, and I hope that others enjoy printing and building it just as much as I did."
(Source: Simplify3D)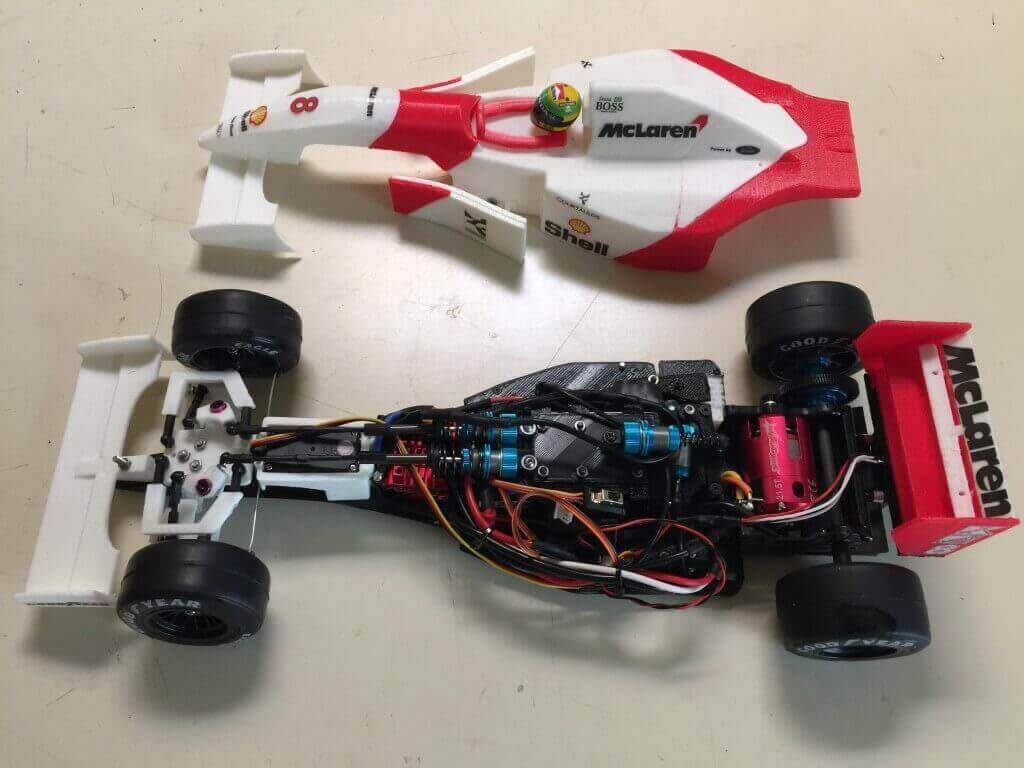 License: The text of "3D Printed Replica of Ayrton Senna's 1993 Mclaren F1 Car" by All3DP is licensed under a Creative Commons Attribution 4.0 International License.
Subscribe to updates from All3DP
You are subscribed to updates from All3DP
Subscribe
You can't subscribe to updates from All3DP. Learn more…