Who should read this: All Minion fans, whether you have 3D printing experience or not.
"Despicable Me" and "Despicable Me 2" were a box-office success. Especially the helpers who served the super-villain Gru were so cool that the movie-goers immediately fell in love with them. Now the minions finally get a chance to star in their very own movie. The newly released trailer will give you a taste of the highly anticipated movie with the little yellow heroes.
The film tells the story before the villain Gru. Three of the minions embark upon an adventurous journey in search of the ultimate villain so that they can serve him.
To sweeten the long wait a little before the film is released in summer 2015, there are lots of designs on Thingiverse's and Shapeways' websites that you can either print out yourself or have printed for you ‒ pretty cool memorabilia.
Minion Shirt Button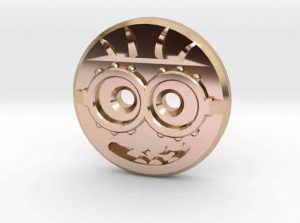 Young and old alike love the Minions. Those who have little fans at home know how often their kids' buttons seem to vanish into thin air. A great button to replace them with is available from a 3D printer. The button has the shape of a Minion's head. A special button like this is probably not going to get lost that quickly. The plastic version is available in a variety of colors. If you're looking for more durable buttons, they are also available in different metals ‒ adults may especially appreciate these.
The Minion buttons are available at Shapeways.
Minion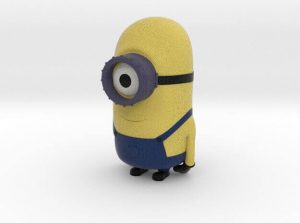 Who wouldn't like a Minion at home? They're hardworking, loyal and cute. Too bad these are only fictional helpers. As a small consolation, though, let 3D printers do the work and print out Minions for you. The material used for these Minions is dyed sandstone. The coarse yet delicate surface of the Minion figure makes it stand out from the masses of ordinary plastic ones.
The 3D printed little Minion can be ordered through Shapeways.
Minion Goggles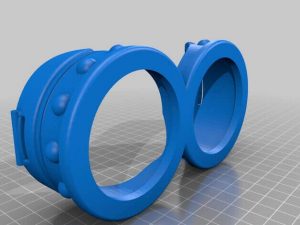 A special feature of the Minions are their goggles. If you'd like to look at the world through the eyes of the Minions, you can download the digital 3D model of the Minion googles and print them out at home. And if you attach an eleastic band to the goggles, they'll fit you or anyone perfectly ‒ a fun party gag or toy for the big fans.
The digital 3D model is available for download at Thingiverse.
If you don't have a 3D printer, you can order the model online from Shapeways, iMaterialise or Scultpeo.
Minion Cookie Cutters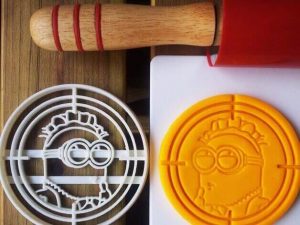 Christmas is approaching, and it's time to bake those delicious cookies. Stars, Santas and Christmas trees are all very nice, but wouldn't it be great to add something a little different? The Minion cookie cutter is sure to add some pizzazz to your cookie plate. You can print out the models on a 3D printer from the convenience of your home. Those looking for new cookie cutters can get them from Thingiverse.
Minion Chess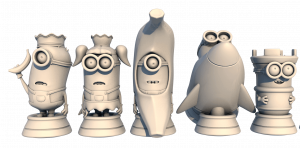 The regular Minion figures are cute, but for how long before they start collecting dust on the shelf? Here's a great 3D idea for Minion fans who like to play chess: Minion chess pieces. Make your moves with fun pieces, a Minion in a rocket or in a silly banana costume, for instance. Use colored materials for the pieces and you're ready to go.
The Minion chess pieces are available from MY MINI FACTORY.
License: The text of "Awesome Minions straight from a 3D printer" by All3DP is licensed under a Creative Commons Attribution 4.0 International License.
Subscribe to updates from All3DP
You are subscribed to updates from All3DP
Subscribe
You can't subscribe to updates from All3DP. Learn more…