Reynold Poernomo has blended art and science in a beautiful fusion to create a 3D printed croquembouche that's fully baked. How did he do it?
Update 03/11: It's been revealed the 3D printed croquembouche is an elaborate stunt by Samsung Australia to promote STEM awareness. Jump here for the details on their "Creators Wanted" campaign.
---
An Australian chef and MasterChef competitor appears to have invented a way to make baking pastries a lot easier.
Instead of laboring over a dozen puffs for a traditional French croquembouche, Reynold Poernomo decided to simply 3D print them. He shows off his technique on Instagram to the complete bemusement of us all.
He wrote: "Check out my latest dessert creation! A lot of trial and error, but daaaaaamn! It actually worked this time lol. Gotta love 3D Printers."
Poernomo is co-owner of the KOI Dessert Bar together with his brother. The eatery is located in a stylish two-storey glass building in Sydney.
If his custom-built 3D printer really can print pastry — and we're waiting to learn more details — it could potentially turn the industry on its head. Forget about 3D printed pizza or candy, Poernomo's croquembouche could be perfect for any high-end restaurant or delicatessen.
Watch the video below to see the printer in action:
3D Printed Croquembouche Looks Delicious?
A croquembouche is traditionally a popular choice for French weddings and Catholic confirmation parties. Although 3D printing makes creating one look easy, don't be fooled. To pull off one of these towering treats, you need dedication and a way with pastry.
To make the desert from scratch requires baking puff pastry balls filled with the perfect amount of cream. These are then glued together into a towering structure and covered in sugar and caramel. A 3D printers is — of course — fantastic for creating laborious structures, but how is the dessert also cooked to perfection?
Poernomo has yet to release any further information on how he managed to create such a masterpiece. But he has previously spoken about the art and science of dessert-making in a Tedx Talk.
If you live in Sydney, Australia, perhaps you can extract the information from him yourself (or catch a glimpse of the 3D printer) by visiting the KOI Dessert Bar on 46 Kensington St, Chippendale NSW 2008.
---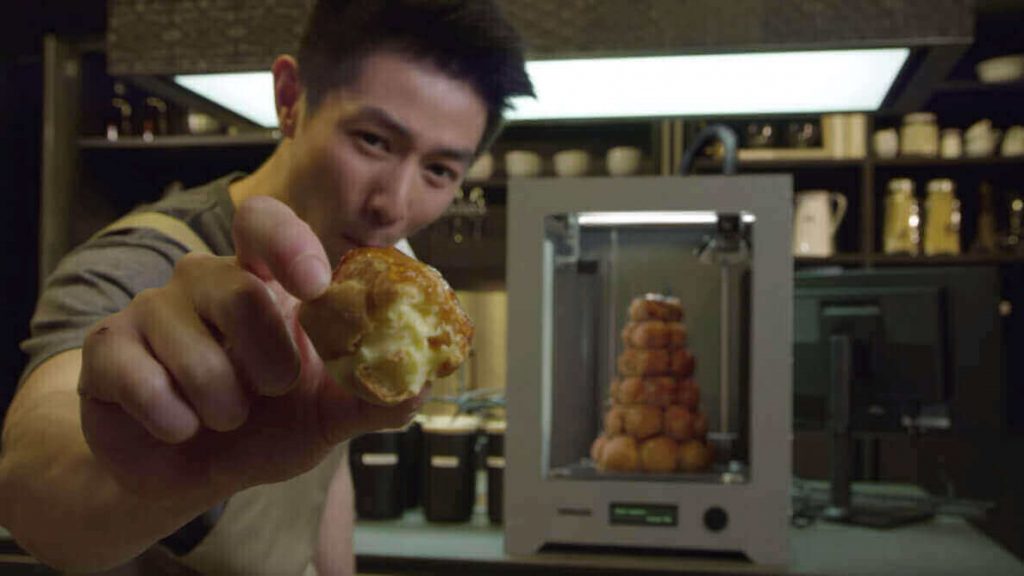 Update 03/11

:

Surprise! 3D Printed Croquembouche is a Hoax
Ah, we just *knew* it was too good to be true.
It turns out the 3D printed croquembouche was one of several stunts to launch a new campaign by Samsung Australia and Questacon — the National Science and Technology Centre — to raise awareness of STEM (science, technology, engineering and mathematics) careers among high-school students.
The campaign is called "Creators Wanted". Together with the non-existent pastry, it had also trolled the internet with crazy inventions like a dress that changes color and a self-retrieving ball. The idea is that the world needs a new generation of STEM educated folks to make such amazing things possible.
The official press release is pasted below, and you can read an interview with Poernomo about his participation here.
Samsung and Questacon join forces to help close Australia's STEM skill gapSamsung and Questacon partner with well-known Australian personalities in a new STEM campaign aimed at high-school students.SYDNEY, Australia // 3 November 2016: Samsung Electronics Australia and Questacon – The National Science and Technology Centre have partnered with Jane Lu(Founder of Showpo) andReynold Poernomo (2015 MasterChef contestant) to launch Creators Wanted– an educational resource designed to show students how skills in science, technology, engineering and maths (STEM) are becoming increasingly relevant across all industries and future career paths.

Creators Wanted has been launched across Australia through the release of captivating video content conceptualised and developed by Leo Burnett, designed to capture the attention of students and drive uptake of STEM subjects at Australian schools and universities.

"STEM goes beyond science, technology, engineering and mathematics, by inspiring design-thinking and encouraging the development of a practical skillset, opening students up to a variety of career options. In my experience, the problem-solving and hands-on skills I learnt from engaging in STEM subjects have been integral in my journey of growing Showpo to the thriving business it is today," said Jane Lu, Founder of Showpo.

"While I don't work in a traditional STEM-oriented career, I see the skills I learnt in these subjects come through in my everyday work. Whether it be the building blocks of my desserts, or the chemistry behind the best recipe, STEM is everywhere," said Reynold Poernomo, 2015 MasterChef contestant.

Creators Wanted is specifically designed to target students selecting subjects for their senior years at high-school, as well as those that are considering tertiary education options. It will help bridge the growing skills gap between the learning of STEM subjects at a senior level and the growing demand for STEM skills across Australia's workforce,

"Samsung and Questacon are working together to help address the declining level of STEM skills across Australia," said Tess Ariotti, Samsung Corporate Social Responsibility Manager.

"We know that 44 per cent of all jobs in Australia are likely to be automated in the next 20 years, yet Australian students remain passive towards STEM subjects. One of the reasons for this is that there is no clear indication of the variety of work opportunities STEM skills can lead to.

Therefore, given that 75 per cent of Australia's fast growing occupations require STEM skills, we believe helping to educate students about the potential of these skills through campaigns such as Creators Wanted, is crucial to building a workforce for the future."

As part of the program, the Creators Wanted website has also been launched to help support students in the selection of high-school subjects and university courses, as well as provide insights into the job possibilities associated with STEM.

"We are constantly looking at new ways of engaging students in STEM," said Professor Graham Durant, Director of Questacon.

"It's vital that young people see that studies in STEM subjects provide key skills that are valued across varied careers. So far, the combination of the Creators Wanted videos and website has proved extremely successful in capturing the attention of students across Australia. To date the videos have received over 14 million views. We're excited for this launch and look forward to continuing to explore the unique ways we can successfully show students the importance of STEM and the opportunities it can lead to."

Grant McAloon, Co ECD, Leo Burnett Sydney, added, "We are exceptionally proud to be working in partnership with Samsung and Questacon on Creators Wanted. It is more than work designed to educate and empower the next generation of innovators. It helps every student rethink what STEM can mean in their education."

The Creators Wanted initiative forms part of Samsung Electronics Australia's Corporate Social Responsibility portfolio, which primarily focuses on bridging socio-economic, cultural and academic divides between students and STEM education.
License: The text of "HOAX: Australian Chef Invents 3D Printed Croquembouche" by All3DP is licensed under a Creative Commons Attribution 4.0 International License.
Subscribe to updates from All3DP
You are subscribed to updates from All3DP
Subscribe
You can't subscribe to updates from All3DP. Learn more…