Audi's fully developed Lunar Quattro rover is equipped with lightweight aluminum 3D printed wheels. Good news for scientists: They can now launch more payload into space.
All across the world, car manufacturers have turned to 3D printing as an innovative tool for prototyping and short-run production parts. But for the German automotive company Audi, this emerging technology has implications that reach far beyond our planet Earth. After partnering with the space travel group Part-Time Scientists in 2015, Audi has been on a mission to create and successfully launch a lunar rover to the moon.
The automotive manufacturer has recently announced that the Audi Lunar Quattro rover has been fully developed. It is scheduled for launch in late 2017 through Spaceflight Inc.
According to Audi, 3D printing technology played a major role in the completion of their space exploration vehicle. The Lunar Quattro is equipped with four aluminum 3D printed wheels, which helped to speed up production time and reduce weight.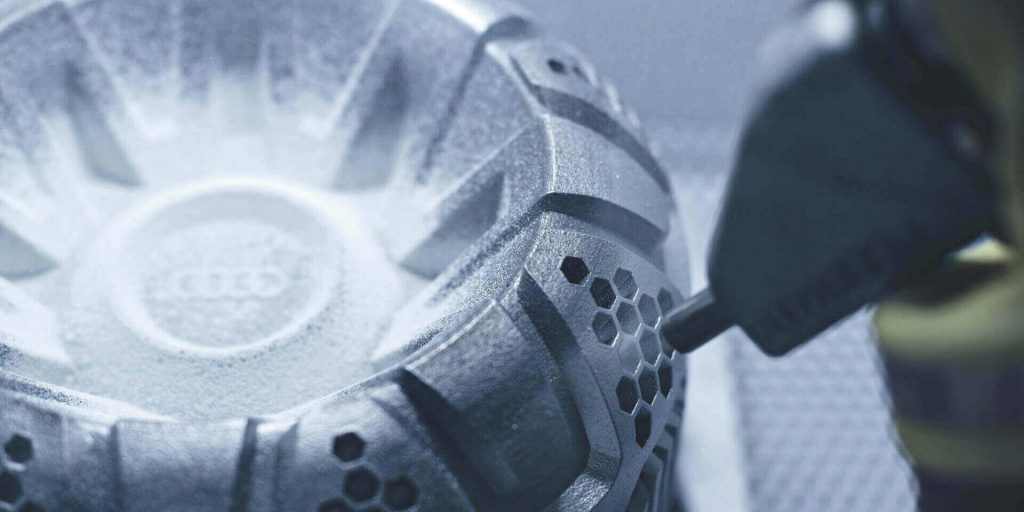 Audi Lunar Quattro: Less Weight Yet More Stability
The 3D printed aluminum wheels come out to around just 1.6 kilograms, a significantly low weight that allowed the Audi and Part-Time Scientists team to equip the lunar vehicle with around €1.28m in additional scientific payload.
The lightweight 3D printed wheels also enabled improvements to the rover's suspension, wheel drive housings, swing arms, and camera head. Each aluminum wheel took the Audi team around 32 hours and 20 minutes to 3D print.
The top speed of the rover will be a comfy 3.6 km/h. But especially important attributes for travel on the uneven surface of the Moon are its off-road characteristics and its ability to navigate reliably.
According to Audi engineer Harald Eibisch, the 3D printed wheels of the Lunar Quattro has a wall thickness of one millimeter, but their AlSi10MgSr aluminum material offers exceptional strength. The wheel design was based off of the open spoke wheel used for Part-Time Scientist's Asimov Rover. But it was increased in size by 22% and turned into a closed system to reduce vulnerability to moon dust. Additionally, like most Audi cars found on Earth, the lunar rover has all-wheel drive and electric motors in each wheel.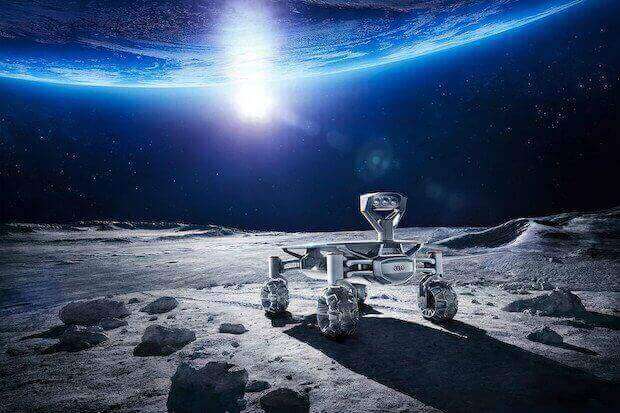 The project will aim to satisfy the requirements of the Google Lunar XPRIZE competition, which calls upon privately funded companies to successfully place a spacecraft on the moon, travel 500 meters on the surface, and transmit video and photos back to Earth.
Before launching the Lunar Quattro rover up to the moon, Audi will simulate the entire mission in the Middle East to test for faults.
All in all, the use of 3D printing technology for the development of the Quattro Lunar rover has allowed Audi to satisfy one of the most critical needs in space exploration: reduced weight. Both sturdy and lightweight, the rover's aluminum 3D printed wheels played a major part in the completion of this amazingly innovative project.
Source: TCT Magazine
License: The text of "Audi's 3D Printed Lunar Rover Scheduled to Launch Next Year" by All3DP is licensed under a Creative Commons Attribution 4.0 International License.
Subscribe to updates from All3DP
You are subscribed to updates from All3DP
Subscribe
You can't subscribe to updates from All3DP. Learn more…